Culture
Mark Zuckerberg's company marks Sukkot with a virtually empty virtual sukkah
You've never Meta sukkah like this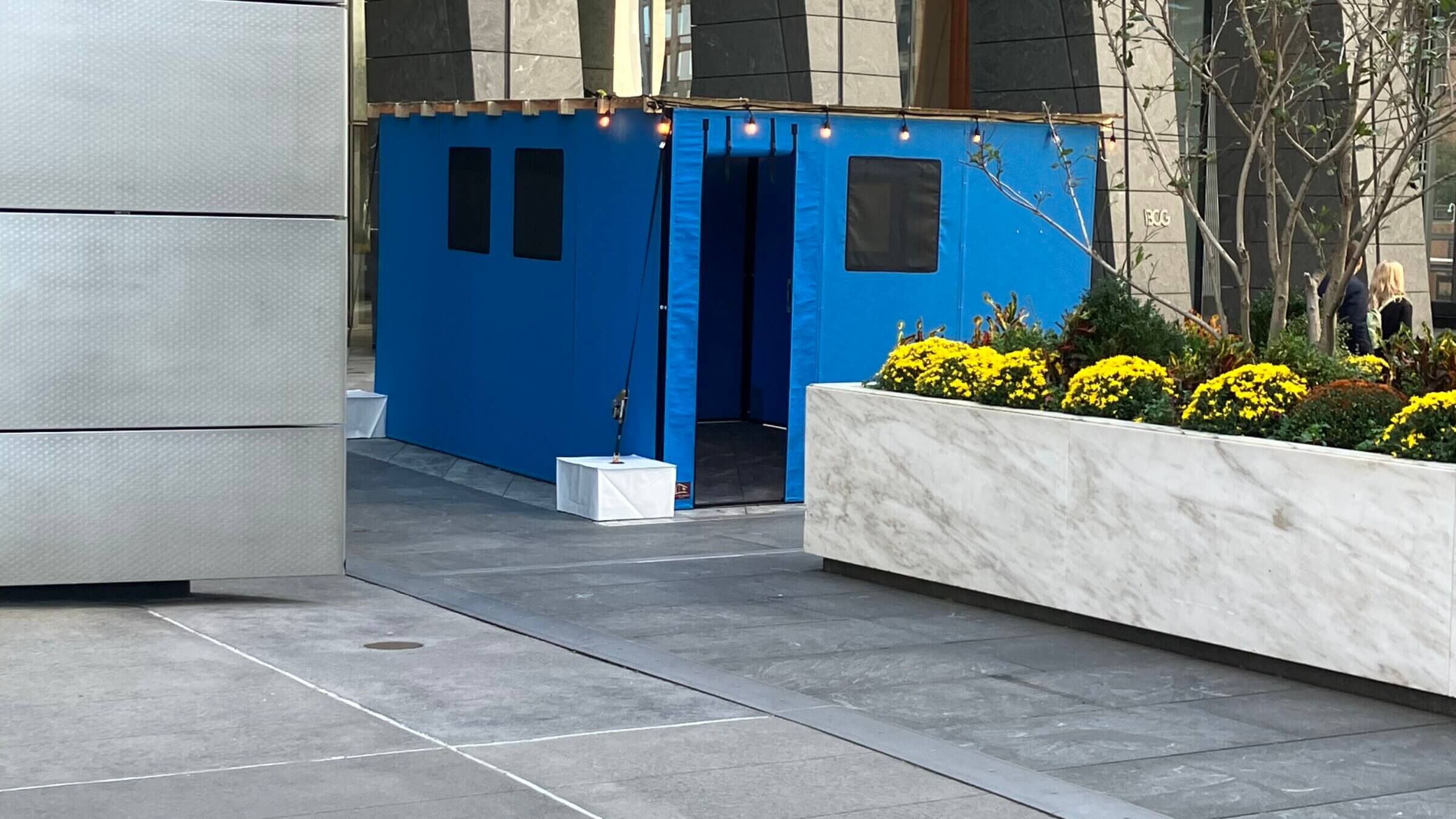 This Sukkot as we join our families to dine outdoors, welcoming guests and stories as we have done from time immemorial, have you spared a thought for the metaverse? Meta has, and you're invited. Though you may need to update your phone first.
Hot on the heels of the metaverse's first Torah class, the folks at the company formerly known as Facebook have erected a sukkah near their Hudson Yards office, just around the bend from the Vessel and across from The Shed, a visual and performing arts space. It's there until Oct. 19.
It's an unremarkable-looking sukkah, blue with mostly bare walls and constructed by the company Litton Sukkah, but if you hold your phone up to a laminated QR card posted to the wall and tap your phone, the space springs to life with decorations. You can even shake an augmented reality etrog and lulav with nary a Chabadnik in sight.
Meta posted the simple structure on some of the most expensive real estate in the world on the initiative of the employee resource group [email protected] Meta. The sukkah was imagined as a place where Jewish employees — at Meta or surrounding offices — could eat their lunch during Sukkot. But, given Meta's mission to develop the metaverse, which uses virtual reality headsets and AR tech to create virtual experiences, an Israeli artist Yarin Lidor was brought on to give it a high-tech twist.
"We aim to bring the world closer together and enable people to build community here at Meta, and the sukkah is such a great manifestation of that idea," said Alex Luxenberg, a client partner and one of the global leads of [email protected] Meta.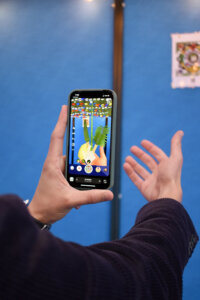 When I went to visit the sukkah at 11:30 a.m. on Monday, amid a sea of tourists and another nearby tent boasting rows of SoulCycle bikes, I was one of the only people to take notice. When I was inside, a couple of Israeli teens poked their heads in to read from a laminated sign in Hebrew on the wall. An older couple tried, with no luck, to get the QR code to work. As did I. When I scanned the code, I was pinged with a message on Instagram that said "unable to use effect on your device" (my device is an iPhone SE). 
I found this strange, as the interface doesn't seem to be much more elaborate than Pokémon Go, which I definitely played on a more primitive iPhone years before. I then wondered what sort of Pokémon one could catch in the sukkah. Probably a grass type.
Perhaps I am too much of a luddite to troubleshoot, or, maybe, Hashem, reminding me that this is a day of Sukkot where you're not supposed to use technology, shut me down. In any case, I was not allowed into the metaverse.
I was an ushpiz, a would-be guest, outside looking in, a humbling experience that perhaps grounded me to the nature of the holiday's spirit, right there in the shadow of some of the ugliest works of public art ever devised, including one — The Shed — which will soon be housing a play about Robert Moses.
I wish I could say I walked away less skeptical about the metaverse's future role in Jewish communal life, but given my own technical difficulties and the struggle that was acclimating our tribe's elders to Zoom, I have my doubts. But then, what is Sukkot but a testament to Jewish endurance and adaptability? We made it through 40 years living in tents, surely we can learn to flourish in a Meta Workroom. And smarter minds than mine have mused that the way forward may well lie in that uncanny valley frontier, where minyans can be made of virtual avatars.
"Even if we're from places from all over the world, that could have very little in common culturally, we still feel this sense of connection, and I think the metaverse will foster that," Luxenberg said. "What the metaverse in its purest forms enables you to feel a sense of proximity to someone who isn't necessarily with you at the same time."
Alone in the sukkah (and, to be fair, many more observant Jews were at home in their own) I longed for that sense of connection — if only for tech support.