First Person

What to wear to become a Jewish mother-in-law?

How a vintage gown midwifed by extraordinary women helped me find my way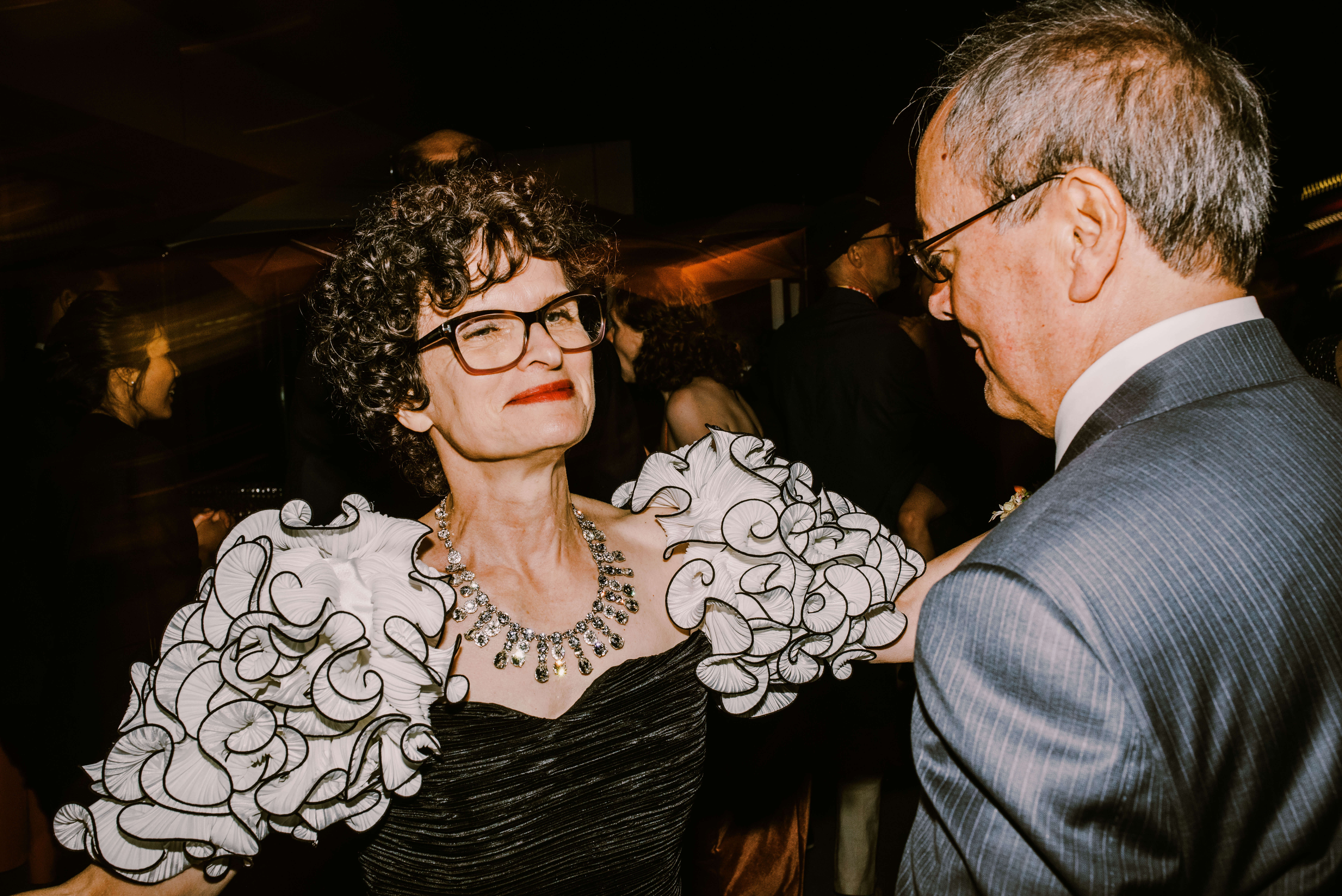 Jewish humor has long suggested that mothers-in-law are excess baggage, and Borscht Belt punchlines have assumed a natural antipathy between a woman and her daughter-in-law. This legacy pessimism was daunting me as my son's wedding approached. I'd attended many weddings, coordinated many more, and been a Jewish mother for 30 years. But this was new: What should one wear to become a Jewish mother-in-law?
MJ Ernst, a local couturière, had seen me and my daughter through every important occasion, and I gathered the particulars for her. There would be a band, and dancing was an argument for flats, so a snazzy pantsuit seemed the thing — colorful, translucent, possibly with butterfly appliqués, the better to coordinate with Seattle's Chihuly museum, where the wedding would take place.
With apologies, MJ reported that she'd left Chicago and was caring for her father full-time in Michigan.
When March brought me to a California bar mitzvah, I stayed unexpectedly with my friend Moshi, whose resumé, like mine, included a stint in the movie business. Asked if she still knew any Hollywood costume designers, she deemed my approach impractical given the many fittings required. And gently she urged me to abandon my design concept. "You don't want to look like you're part of the scenery. Maybe beige?"
A seamstress from an unlikely source
I returned home, where I volunteer with the Progressive Chevra Kadisha, a Jewish burial society that ritually bathes, dresses and prays for the dead. In April, I worked alongside a woman named Annie, who told me she'd embarked on a project to produce the rudimentary muslin garments required.
She could do so because she was a patternmaker, the first I'd met since 1972, when my sister needed a wedding dress and turned to the patternmaker from my grandfather's long-shuttered dress company.
Annie had moved from Baltimore to Chicago in order to study with Rabbi Benay Lappe, the charismatic founder of the SVARA yeshiva, who had enhanced the groom-to-be's Jewish education years before. And Annie was equally eager to design a mother-of-the-groom pantsuit. Still, remembering Moshi's caution concerning fittings, I decided to consider something ready-made.
Finding the dress
My principal business is designing custom invitations, and my studio neighbor is a vintage clothing entrepreneur, Melissa Carter, who sent me to the annex where she keeps special-occasion pieces. I wasn't hopeful; at 5-foot-2, I've learned that a random collection of women's apparel will hold out for me what a conventional restaurant does for a vegan — a paucity of mouthwatering possibilities.
Seeing the clothes arranged by color (not size) was another discouragement. Yet I was drawn to a plissé gown with a white skirt and black bodice. It was far too big, but the sleeves' exuberant ruffles — ribbed, piped, wired, and sculptural — made me smile. They echoed my curly mop and the spun-sugar marvels that Dale Chihuly rendered in glass. If I wore the dress at the wedding, it would be like having joy cascade down my shoulders.
I asked Melissa if I might purchase the dress, contingent on Annie's being able to alter it.  "I don't do returns," she said, then lent it to me outright.
I found Annie at the classroom where she teaches refugee women to use commercial sewing machines. Posters on the wall showed the words for "fabric" and "pins" in Somali and Urdu. When I tried on the dress, Annie  pronounced it salvageable — but only if the garment was remade as if from scratch.
The good luck quotient
What made me commit to the expensive and time-consuming undertaking was Annie's assessment that the dress dated from the late 1980s, when my husband and I married. Though I'm as rational as the next person, I also believe in good luck, and I fancied the notion that wearing this dress could increase the odds that my son and his bride, too, would one day be celebrating decades of togetherness.
I wouldn't match Chihuly's  brilliant colors — that I could leave to the mother of the bride, who'd chosen rich shades of orange — nor would I find safety in beige. Rather, I would wear a charming gown that could double as a talisman of happiness and longevity.
Annie approached her task with the rigor of a ballet mistress. The hands that I'd last seen dressing an elderly woman for burial now turned me this way and that as she took my measurements for a moulage, a model composed of 14 not necessarily mirror-image parts.
The gown's original owner
When I returned to her shop, Melissa told me the dress had belonged to the late Sandra Shelton, one of the first Black women to earn a Ph.D. in accounting. An endowed professor, Shelton had worked with a client of mine and attended a dinner party I planned for him. I remembered her smiling presence. Another reason to think this outfit was bashert.
I returned to Annie's classroom on Memorial Day. She had been teaching her refugee students despite the holiday, to make up for the next week, when she would be observing Shavuot. The unprepossessing moulage looked like a mashup of motel curtain linings. Yet when my daughter zipped me into it, something magical happened; I felt as though I were wearing a second skin. Finishing the dress took  an auspicious 18 hours (chai!) of Annie's labor.
When the wedding day arrived, the weather was gorgeous, the vows with which the bride and groom surprised each other were tender and charming, and their friends had turned out in droves.  "Festive attire" was the dress code, and my gown fit the bill.
My friend Sally, a hospice chaplain, knew the backstory. "At these moments of transformation, the veil thins," she observed. "We're reminded of our connection to everything and everyone else." 
Indeed, my quest for an outfit had connected through a couturière turned caregiver, a chevra kadisha team performing our mitzvah, a businesswoman relaxing her rules, a patternmaker shepherding refugees towards a livelihood,  a Black scholar making history and more. Theirs were stories of women's love, trust, admiration, generosity, and defiance of oppressive assumptions — in short, a bouquet of virtues I could draw from as I embarked on my new role.
When the time came to offer a toast, I stood up straight and introduced myself.  "I'm a mother-in-law," I began.