Culture
Why are we afraid to call Kanye West's posts antisemitic?
The rapper tweeted that he wanted to go "death con 3 on Jewish people," yet numerous major outlets called this "purported" antisemitism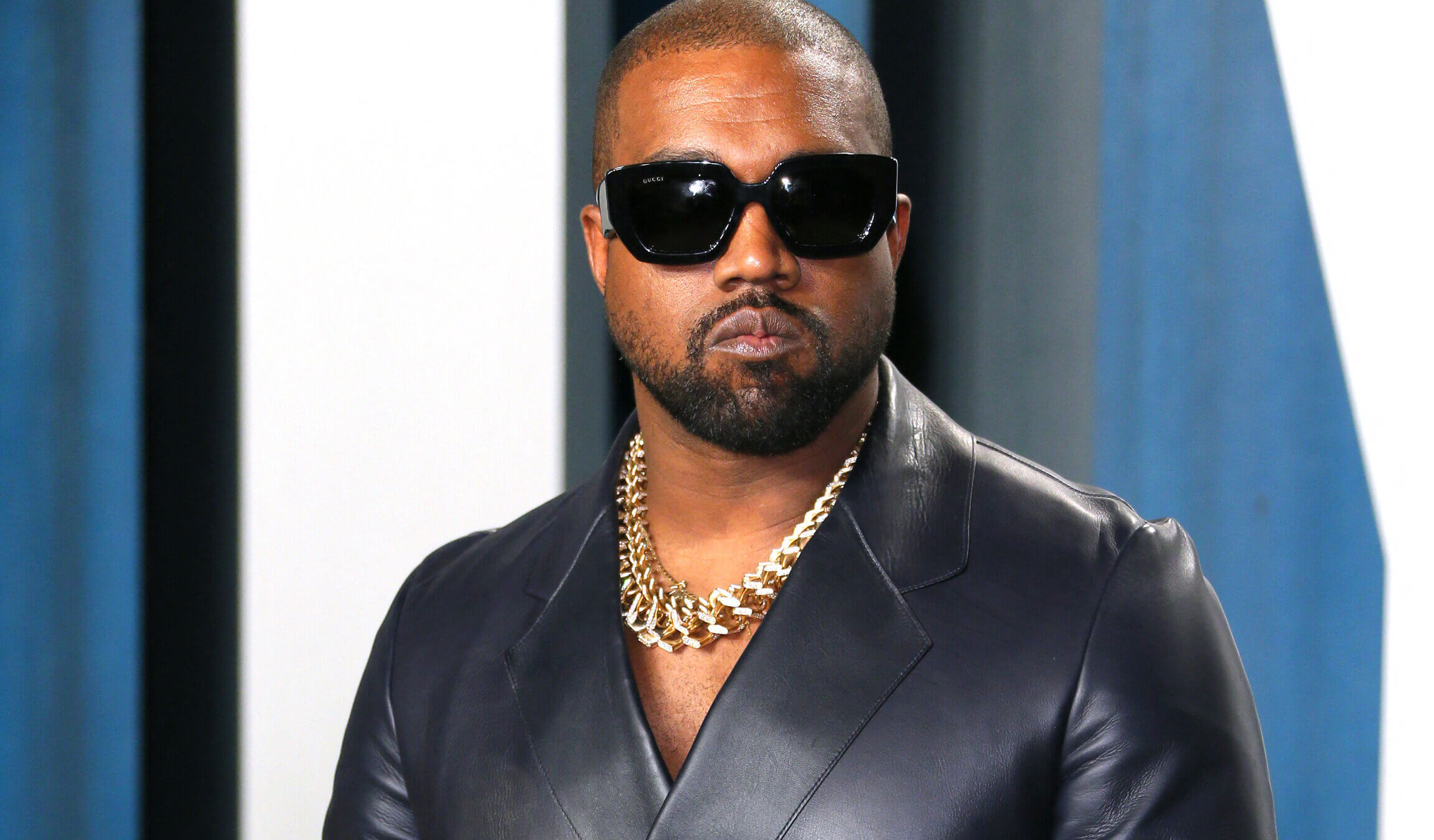 Kanye West is one of those celebrities who makes it difficult to tell the difference between what he's doing for publicity and what he actually believes. 
Perhaps that's why outlets like The New York Times and figures including Indiana's attorney general failed to clearly condemn the antisemitic statements the rapper poured out on Twitter and Instagram to his 31 million followers over the past few days. Yet despite countless debates about the definition of antisemitism in recent years, the rapper's tweets were clear-cut examples of hate speech — and important to name as such.
In a flood of posts beginning on Friday, the musician, who legally changed his name to Ye last year, repeatedly alleged that Jews maliciously control celebrities, the media and more.
First, Ye posted a screenshot of a text exchange with the rapper Sean Combs, who performs as Diddy. Combs had criticized a "White Lives Matter" shirt Ye produced and, in the text exchange, Ye alleged that "Jewish people" told Combs to call and criticize the shirts. Ye captioned his post "Jesus is Jew." (Instagram has since taken it down.)
Then, in a tweet, Ye said he would go "​​death con 3 On JEWISH PEOPLE," and that he "can't be Anti Semitic because black people are actually Jew also." The tweet ended with an unspecified reference to "you guys" who have "toyed with me and black balled anyone whoever opposes your agenda."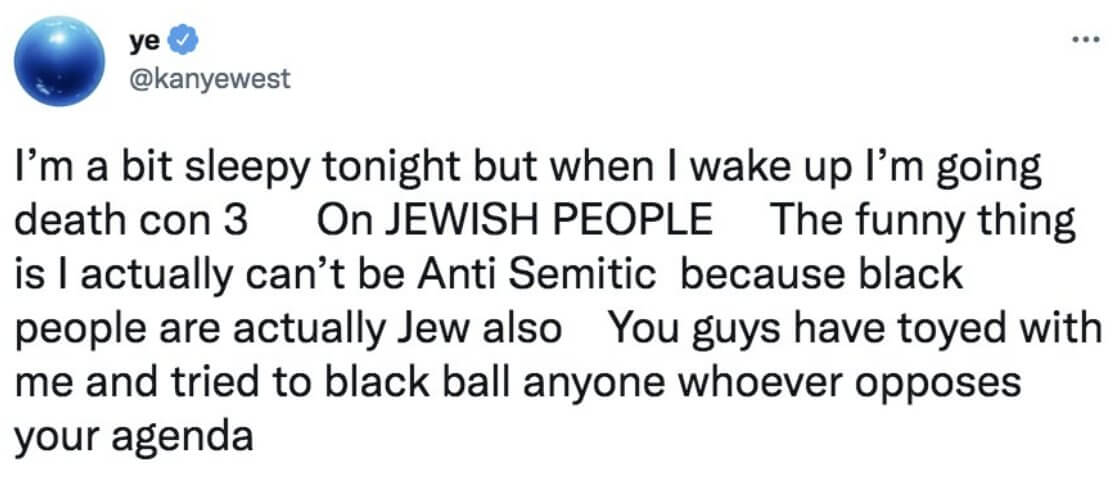 There's a lot going on here. 
The assertion that Black people cannot be antisemitic because Black people are all Jews is often associated with some Israelite groups who claim that Black people are descended from the ancient Israelites. It's not clear if Ye was referring to these beliefs or not.
Conspiracy theories about a shadowy cabal of Jews controlling the government, Hollywood or other facets of culture are the bedrock on which antisemitism is built. Ye referenced this conspiracy both in asserting that Jews were instructing Combs to criticize the White Lives Matter shirts, and in his vague reference to Jews' ability to enforce a group agenda. 
Later Sunday, after criticism began to build, Ye tweeted again: "who you think created cancel culture?" The statement implied that any disapproval of his antisemitism simply proved his point that Jews control culture.
This is neither subtle nor shielded antisemitism. The fact that Ye tried to preempt accusations of antisemitism suggests that the rapper himself understood the implications of his tweet.
Even so, The Wall Street Journal, in its article about the incident, referred to Ye's comments as "purported" antisemitism. The New York Times originally said the tweets were "widely criticized as antisemitic" but did not definitively label them as such. The Associated Press said the tweets were "widely deemed antisemitic." Reuters went with "alleged antisemitic posts," despite the fact that the posts were still up and visible. 
Meanwhile, Todd Rokita, the Indiana attorney general, tweeted a long thread in support of Ye, castigating critics of the rapper and lauding his "independent thinking." The House Judiciary GOP Twitter account left up a tweet endorsing Ye, Elon Musk and Donald Trump. When Ye's Instagram account was locked, he took to Twitter to complain and Musk tweeted in support.
The Times, The Journal, AP and Reuters have since updated their headlines and articles to call Ye's remarks antisemitic without hedging. Rokita, for his part, emphasized that he was criticizing "media and Hollywood elites" but supports Israel.
To be clear, many people, both Jewish and non-Jewish, have criticized Ye's comments and clearly called out the antisemitism. But many others attributed the rant to Ye's bipolar diagnosis, asserted that the rapper is a genius or complained that his antisemitism was getting too much attention when he has also made numerous other problematic statements in the past.
Antisemitism can be hard to define or identify. The International Holocaust Remembrance Alliance's working definition of antisemitism, which includes criticism of Israel in some cases, is hugely controversial. Debate over when anti-Zionism can be considered antisemitism is ongoing. Parasites in the bowels of the internet invent new forms of hate speech almost daily, making it hard to catch. Sometimes there are nested references that require deep cultural knowledge to decode. 
Perhaps this uncertainty has watered down news outlets' assuredness in naming hate speech when presented with a blatant example. But calling Ye's tweets antisemitic should not be controversial. It is not an opinion or a debate. Just as newspapers would never feel the need to hedge by saying that a temperature of 100 degrees Fahrenheit was "allegedly hot," they need not waffle about the facts of antisemitism — especially when it is already being normalized by Ye's fans, or figures such as Musk and Rokita.
Who knows why Ye tweeted out his antisemitic conspiracy theories. Maybe he was trying to troll people, maybe it was a publicity stunt or performance art. In the end, it doesn't really matter; plenty of his fans will absorb his statements uncritically. And regardless of the tweets' impact, there's no question they were antisemitic. It's OK to say that — in fact it's essential.