Music
Replete with biblical references, Bob Dylan's latest book showcases the artist's Jewishness and his brilliance
'The Philosophy of Modern Song' turns out to be more Talmudic than philosophical
The Philosophy of Modern Song
By Bob Dylan
Simon & Schuster, 352 pages, $45
The weighty title, "The Philosophy of Modern Song," just sits there with its faint whiff of academia, its leaden tone, and the over-the-top audacity of its implied promise. How can anyone, much less a songwriter, come up with a philosophical treatise on modern song that could possibly be deserving of its title while also appealing to a general readership? The answer, my friend, is if you are the Nobel Prize-winning author Bob Dylan, you can.
And he did.
In the course of reading this book, one's foremost thought may not be that one is reading a work of philosophy. On the surface, Bob Dylan has written short chapters on 60-odd songs — some familiar, plenty not. But by the time one finishes the deliriously readable book, which is also beautifully designed and includes gorgeous artwork and photography, the cumulative impact of Dylan's thoughts and reflections on the songs themselves, the performers and recordings, the stories and emotions these songs express, and the tangents and anecdotes that expand upon the songs like so much Talmudic commentary, is that of having immersed oneself in the philosophy, indeed, of one of the greatest practitioners of songwriting in the second-half of the 20th century and the first quarter of the 21st.
That the author makes frequent reference to Jewish scripture, stories and personages throughout the book is further revealing of how his mind works, to where it turns when he seeks foundational concepts to explore and explicate his ideas, and just plain what Bob Dylan thinks about.
Digging deeper into the lyrics
When it serves his purpose, Dylan naturally falls back upon the tradition of midrash, taking the p'shat (literal meaning) of the written Torah — analogous to song lyrics — and finding helpful ways of understanding them by digging deeper into those lyrics and beyond them, even to the point of making up stories about them.
Take Little Richard's "Long Tall Sally." Just who is the title character? Dylan thinks he knows. "Long Tall Sally was 12 feet tall," he writes. "She was part of the old biblical days in Samaria from the tribe called the Nephilim. They were giants that lived back before the cataclysm of the flood."
Discussing the Roy Orbison pop classic, "Blue Bayou," Dylan says the song's narrator has left his idyllic home to find bigger and better things in the city, only to discover there a miserable "Tower of Babel" with "skyscrapers of gibberish and double talk." The singer is left longing for a return to Blue Bayou, a pre-Babelian "place close to heaven."
Even Marty Robbins' country and western ballad, "El Paso" — a Grammy Award-winning No. 1 country hit in 1960, later revived by the Grateful Dead, who performed it nearly 400 times in concert — provokes the author to thoughts of "Moloch, the cat's eye pyramid, the underbelly of beauty, where you take away the bottom number and the others fall. The cowboy chosen one, bloody mass sacrifice, Jews of the Holocaust. This is mankind created in the image of a jealous godhead. This is fatherhood, the devil god, and the golden calf — the godly man, a jealous human being. In a way, this is a song of genocide."
Biblical interpretations
In these examples and others like them, Dylan uses the methodology of biblical interpretation to find roots of biblical import in these songs. The songs themselves are the written Torah; Dylan functions as a combination of Rashi, the Torah commentator, and Moses de León, to whom the authorship of the Zohar, the foundational mystical work of Kabbalah, is often attributed.
Sometimes Dylan's Jewish references are more casual. Regarding the song "Volaré," he writes, "This is a song that just creeps its way into the air. A song that must be played at weddings, bar mitzvahs and maybe funerals." Writing about Frank Sinatra's "Strangers in the Night," Dylan meanders on a strange tangent about the Ukrainian Jewish founder of Davidoff of Geneva, who as a simple tobacconist sold cigars to Lenin and who eventually wound up popularizing Cuban (and later, Dominican) cigars around the world.
Dylan also complains about the contemporary phenomenon of excessively relying on genre labels to categorize and market music. "Today, the charts are so stratified and niche marketed," he writes. "Nowadays, everyone stays in their own lane, guaranteeing themselves top honors in their own category even if that category is something like Top Klezmer Vocal Performance on a Heavy Metal Soundtrack Including Americana Samples." (While Dylan probably intended that as a reductio ad absurdum argument, I'm here to tell you that there is some music being made today that probably could be described in exactly that fashion. Still, his point remains and is well-taken.)
In his discussion of honky-tonk singer Webb Pierce's "There Stands the Glass," we learn about the tailor that dressed him in flamboyant costumes, a Ukrainian Jewish immigrant named Nuta Kotlyarenko, who came, Dylan writes, "like so many others, to the United States one step ahead of the pogroms of czarist Russia," just like Dylan's own forebears. The tailor became better known as Nudie Cohn, who popularized rhinestone-covered suits for hillbilly and Las Vegas acts including Porter Wagoner, Hank Williams, Roy Rogers, Dale Evans (who delivered the eulogy at his funeral), and country-rocker Gram Parsons.
According to Dylan, "He was the man who put Elvis in gold lamé." And Nudie's Los Angeles shop became a hangout for musicians, over which he presided, writes Dylan, "with his trademarked mismatched boots and ten-gallon yarmulke."
Choice of songs
Dylan's book is not intended as a list of the 60-plus greatest songs of all time. Nor is it representative of the most popular or critically acclaimed songs of the modern era: There are no entries about songs by the Beatles, Joni Mitchell, Patti Smith, Leonard Cohen or Bruce Springsteen, although most of them are mentioned in passing. Rather, the emphasis is on country and roots music, pre-rock pop, 1950s rhythm and blues, early rock 'n' roll, and 1960s soul (although the author does carve out space for a few of his contemporaries including the Clash, the Who, Warren Zevon, and the Eagles).
Dylan the philosopher quietly emerges out of the bits of wisdom about songwriting and song-listening that are scattered throughout these pages.
"Knowing a singer's life story doesn't particularly help your understanding of a song," he writes. "It's what a song makes you feel about your own life that's important." And in a closely related point, "Take two people — one studies contrapuntal music theory, the other cries when they hear a sad song. Which of the two really understands music better?"
Along the way, Dylan turns us onto people and songs we have never heard of, e.g., Jimmy Wages, a contemporary of Elvis Presley, and makes us reconsider others whom we may have wrongly dismissed, e.g., Perry Como, whom Dylan claims "could out-sing anybody." Como also "lived in every moment of every song he sang. He didn't have to write that song to do it. He may have believed the songs more than some of the people that wrote them." One listen to Como's recording of "Without a Song" and you will totally get what Dylan is saying.
Dylan the music critic
Dylan is also a terrific music critic, whose descriptions will be the envy of anyone who regularly writes about music. "'Mack the Knife' keeps on modulating till you think it will go through the roof," he writes. "A serial killer would sing this song," he says about Eddy Arnold's "You Don't Know Me," perhaps better known from Ray Charles' version. "Volaré," he writes, "could have been one of the first hallucinogenic songs, predating Jefferson Airplane's 'White Rabbit' by at least ten years."
About "Blue Moon," he says, "This song makes no sense but its beauty is in the melody." And in what is certain to be an oft-quoted observation, Dylan writes, "Bluegrass is the other side of heavy metal. Both are musical forms steeped in tradition. They are two forms of music that visually and audibly have not changed in decades."
At times, Dylan comes across as a bit of a scold or a grandpa, an old geezer who yells at the neighborhood kids to "get off my lawn!" He observes, "Today the wealthy dress in sweatsuits and the homeless have iPhones." And "That's the problem with a lot of things these days. Everything is too full now; we are spoon-fed everything. All songs are about one thing and one thing specifically, there is no shading, no nuance, no mystery."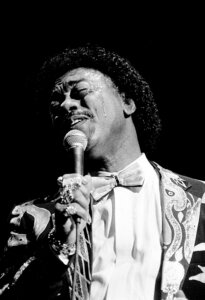 The song "Cheaper to Keep Her" by Johnnie Taylor prompts a rant about "the divorce industry" and alimony that we have heard from Dylan before, more creatively in songs from his 1978 album "Street-Legal." And Sonny Burgess' "Feel So Good" provokes a diatribe about the drugging of America "into a barely functioning torpor." If I am going to be lectured to about drug use, I'm not sure that I need to hear it from Bob Dylan.
But in his all-knowing, prophetic ways, Dylan preempts complaints about this curmudgeonly aspect of his commentary when he writes, "Way before taunts of 'Okay, boomer' and the calling of people with experience the pejorative term 'olds,' this country has had a tendency to isolate the grizzled dotard, if not on an ice floe then in retirement camps where they could gum pudding and play bingo away from the delicate eyes of youth." Busted!
Narrative strategies
Dylan employs several narrative strategies here. He sometimes uses straightforward reportorial prose; he occasionally veers towards essayistic writing (he writes eloquently about war and the presidents Bush in a piece spurred on by Edwin Starr's "War"); and he often employs an updated version of the surrealistic, imaginative writing that will be familiar to those who studied his 1960s Beat poetry-inspired liner notes and the psychedelic, stream-of-consciousness style he used for his first book, 1971's "Tarantula," and, to a lesser extent, in his 2004 memoir, "Chronicles: Volume One" (there has not yet been a Volume Two). He uses this technique often to go deep into the characters of the songs' narrators, digging out or expanding upon their back stories and emotional truths in a manner that suggests a way for us all to deepen our listening practices.
Dylan comes closest to revealing his philosophy of modern song in passages like, "The myriad of rules governing both the literature of lyrics and the mathematics of melody are mere guidelines and those who slavishly follow them, who can only color inside the lines, run the danger of never transcending craft to create anything truly lasting." And "Music, like all art, including the art of romance, tells us time and again that one plus one, in the best circumstances, equals three."
To wrap it all up, he concludes, "Like any other piece of art, songs are not seeking to be understood. Art can be appreciated or interpreted but there is seldom anything to understand." That is wise counsel coming from the man whose song lyrics have probably provoked more pages of analysis and interpretation than any songwriter of the modern era. And that is all the philosophy of modern song a listener really needs.