First PersonI'm a convert who used to love Hanukkah
Coming from a Korean immigrant family, I craved holidays. Hanukkah was magical — until it wasn't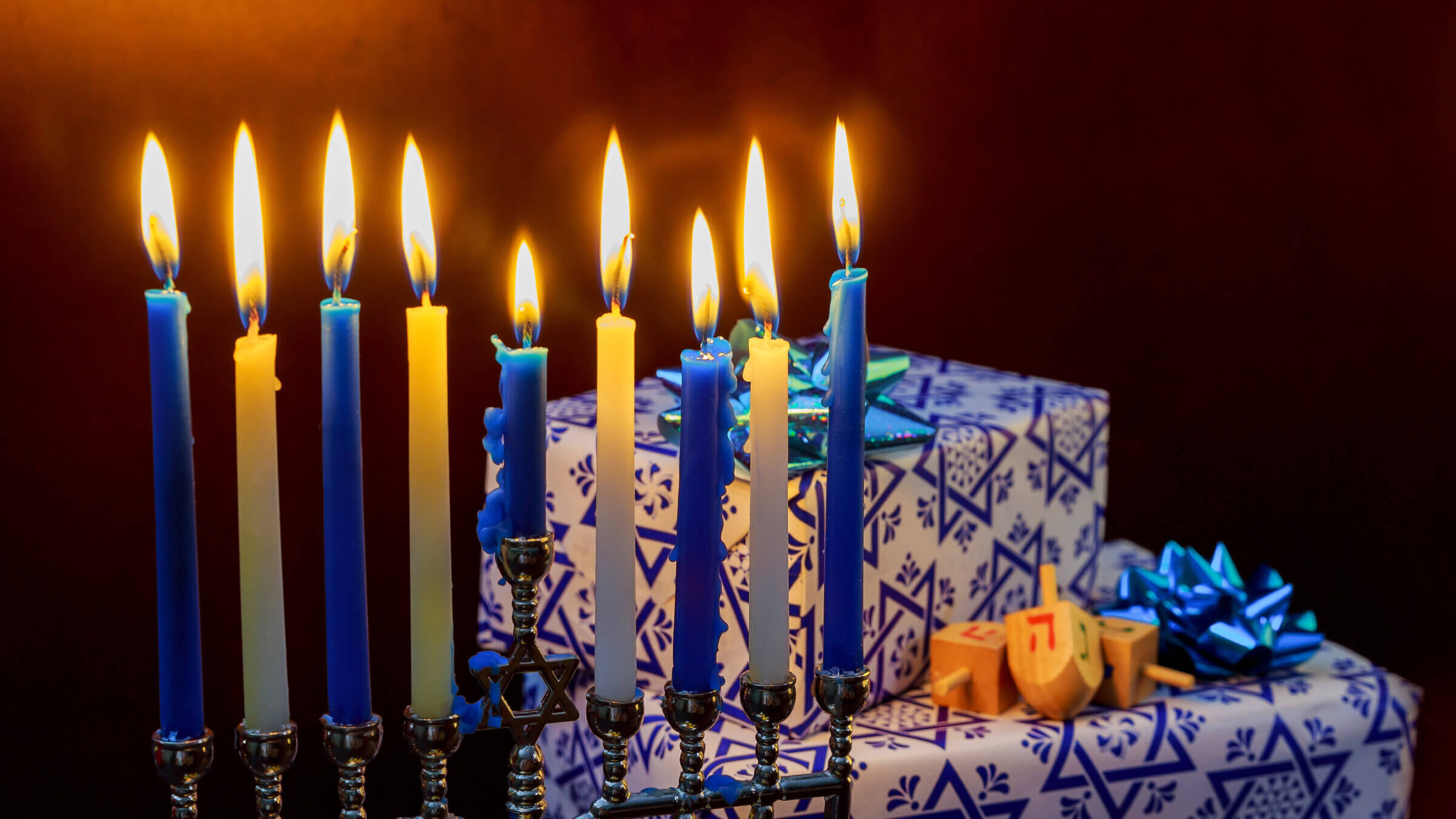 I'm a convert, and I used to love Hanukkah.
In fact, it was love at first lighting. My then-boyfriend (now my husband) placed his menorah on a sheet of aluminum foil. He then wrote out the blessings' transliteration for me and sang slowly so I could follow along.
A sense of calm came over both of us as we finished. The light from the candles flickered in the kitchen window's reflection, in peaceful contrast to the traffic noise outside on the Upper West Side. The songs were beautiful, and I especially loved the last blessing, the Shehecheyanu — all the more special because we didn't say it the following nights.
By the fifth night, I had memorized the words of the other blessings and knew to light the shamash first. By the eighth night, I felt a small miracle bloom within me. I felt American in a way I never had before. Finally, I was celebrating a winter holiday like everyone else!
Korean immigrant family
The irony of the situation didn't immediately register, but I'd grown up craving holidays. My family immigrated to the U.S. from Korea in the early '70s, and all I wanted was to be like everyone else in my small Southern hometown. I particularly coveted Christmas: All I wanted for Christmas was Christmas. A big tree sparkling with lights. Stockings stuffed with toys and candies. My atheist father finally acquiesced one year and brought home a disappointing fake tree that he assembled like a set of Lincoln logs. I decided that as soon as I was an adult, I would give myself Christmas.
During my medical internship in New York, I fulfilled my wish with my very own Christmas tree. Even buying the tree was a dream come true. Dragging the tree with my friend down the sidewalk felt like I was in a Lifetime holiday movie. I threw myself a solo tree-trimming party and festooned it with lights, tinsel and ornaments. The next evening, after a long day in the hospital, I turned the lights on and lay in bed admiring my little piece of Yuletide.
But the magic of Christmas dissipated as quickly as it appeared. Night after night, I stared at that tree, and the blinking lights seemed to tell me in code, "This is not Christmas. You can't just buy Christmas." As beautiful as that tree was, it didn't mean anything to me. My version of Christmas was rooted in envy — not in faith, community or tradition. After that year, I never bought another Christmas tree.
Perfecting Hanukkah
Soon after, I met my Jewish husband and got a second chance at winter merriment. I was going to get it right this time, I told myself. Later, as a convert, I was determined to make Hanukkah as magical as what I'd imagined Christmas to be. I bought my children presents for each of the eight nights. I wrapped their gifts in thick, shiny blue-and-silver paper, and saved the biggest gifts for the last night. I learned how to make brisket, and I served latkes with applesauce and sour cream. By the time my children became b'nai mitzvah, I had perfected Hanukkah.
As the years passed, though, Hanukkah fatigue crept in. My children were teenagers; eight nights of gifts turned to seven, then five, then three at best. One year, I found myself rooting around the junk drawer in hopes of finding a gift – perhaps a new pencil or a lip balm that I could wrap in parchment paper. But why was it that no other Jewish holiday had suffered such negligence? Even during the COVID-19 lockdown, I still managed to put together a seder and draft a Zoom-friendly version of the Haggadah for my extended in-law family. I suspect it's the same reason that the Christmas tree never brought me true joy. I'd tried hard to infuse magic into Hanukkah, but I'd never bothered to infuse meaning.
Hanukkah without meaning feels derivative — like that stuffed toy mimicking the Elf on the Shelf, but in rebbe form. And without meaning, the holiday can seem like an afterthought. Sometimes I feel that way when I see a plastic menorah in a building lobby on a side table, dwarfed by the main event, the Christmas tree. Is it there as a purposeful nod to Judaism or merely a concession? Sometimes I want to go over and give it a pep talk: "You're awesome just the way you are!"
Longing for acceptance
But even if those menorahs are tokens, I'm thankful for them. I can even understand why someone might want the Mensch on a Bench or a Hanukkah bush. As commercial as they are, they're rooted in our natural desire to be accepted and belong. I suspect that some Jews growing up in the U.S. had that same feeling of being the "other" that I felt growing up as a Korean immigrant. Not taking part in Christmas festivities can feel lonely. Celebrating another holiday altogether can feel like you're walking in the opposite direction from everyone else — especially when that holiday seems overshadowed.
But Hanukkah should not be treated as a sideshow. Derived from the Hebrew word chanuk, meaning "to dedicate," Hanukkah literally is defined as the rededication of the Temple. Just as the Maccabees reclaimed Jerusalem, the rest of us can reflect on how to reclaim what is central to our beliefs. We too can celebrate our successes in holding on to what is important and dear.
Rededicating the holiday
This year, I want to rededicate the meaning of Hanukkah to myself. Yes — all I want for Hanukkah is Hanukkah. I want a rededication to this holiday that celebrates Jewish resilience, particularly in a year when antisemitism is once again scratching barely healed scars for so many Jews.
I won't have gifts for each night. I'm not even certain that I have any leftover blue-and-silver wrapping paper. But I will light the candles with my family, and just like my very first night of Hanukkah, I will particularly enjoy singing the Shehecheyanu — the blessing that celebrates firsts.