Culture
Maccabee Bar is serving up Hanukkah warm fuzzies (and hard drinks) in the West Village
The holiday pop-up has good vibes and solid drinks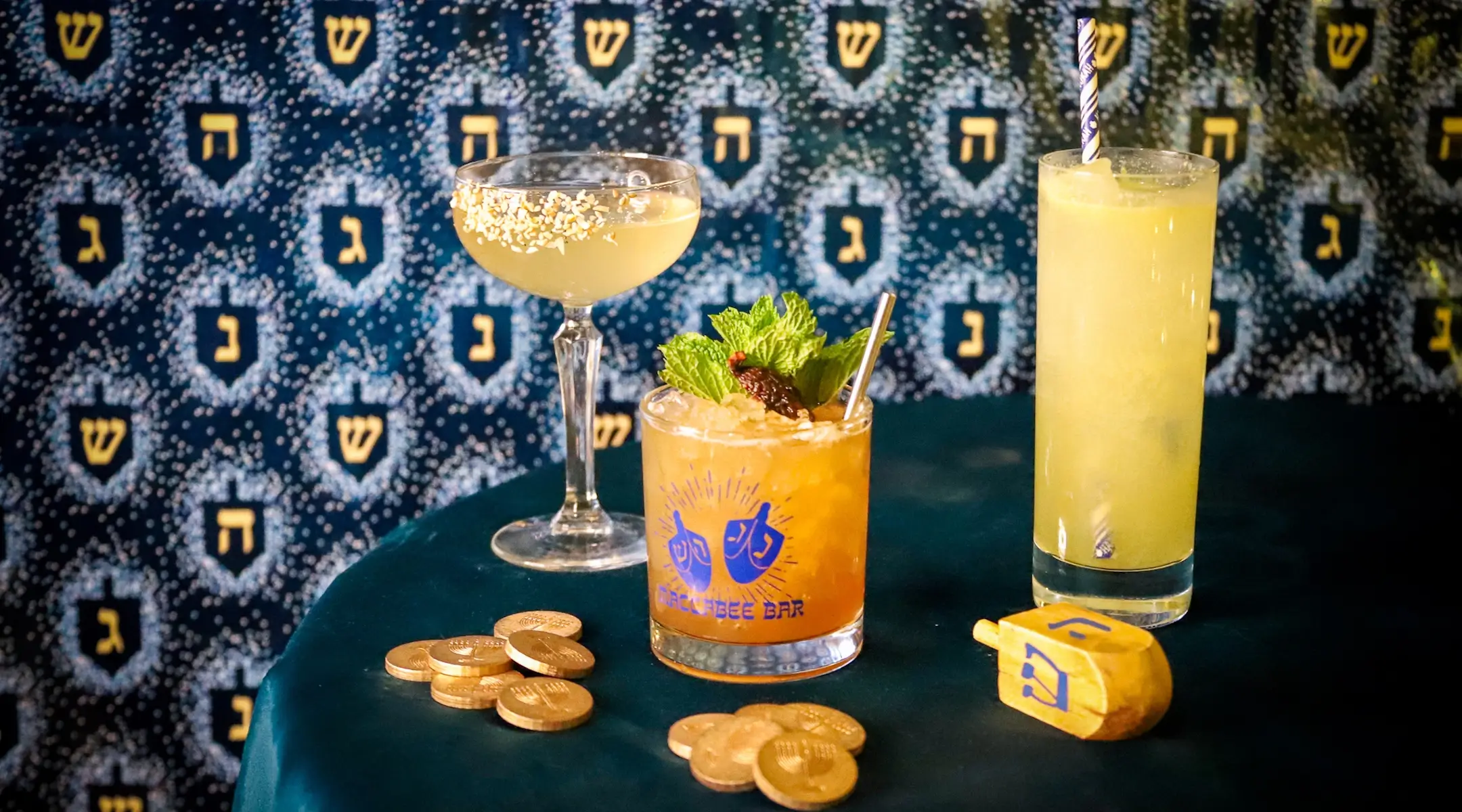 Maccabee, you might remember from Hebrew school, means "hammer," but until recently, Jews in the New York area didn't have many Instagram-worthy options for getting hammered in Judah Maccabee's honor.
Enter the Maccabee Bar, setting up shop at Ollie in the West Village from Dec. 13 to 31. Bartender Naomi Levy founded the Hanukkah pop-up in Boston in 2018 and is now serving up cocktails like the "Oy, Wat a Night," "Whiskey Shamash" and even (vegan!) Manischewitz Jello shots, to New Yorkers.
In a sea of pop-up Christmas markets, there's a clear demand for such a bar, evidenced by the fact that the Maccabee Bar is booked solid until Christmas Eve. So we arrived at the deeply uncool hour of 5 p.m. on Wednesday, the bar's second night open, in the hopes of scoring a walk-in seat.
Ollie's all-white, generically hipster interior gave Levi a blank slate for Hanukkah decor, of which there is a lot. A welcome mat reads "Happy Challah Days." Bar guests jostled for space with an inflatable dreidel and menorah. Hanukkah garlands and wrapping paper lined the walls and, we can report, even the bathroom. 
Wary of a COVID exposure before traveling to see loved ones, we channeled the spirit of the Maccabees and huddled in a redoubt, by which we mean the bar's sidewalk patio, adorned with blue-and-white lights and flanked by wrapping paper walls with a dinosaur menorah print.
After poring over the menu — surprisingly long for a pop-up and offering mocktails and appetizers along with the hard stuff — we realized we'd never make a dent in the Maccabee's offerings. But we ordered as much as we could handle. (All in the name of investigative journalism, of course.)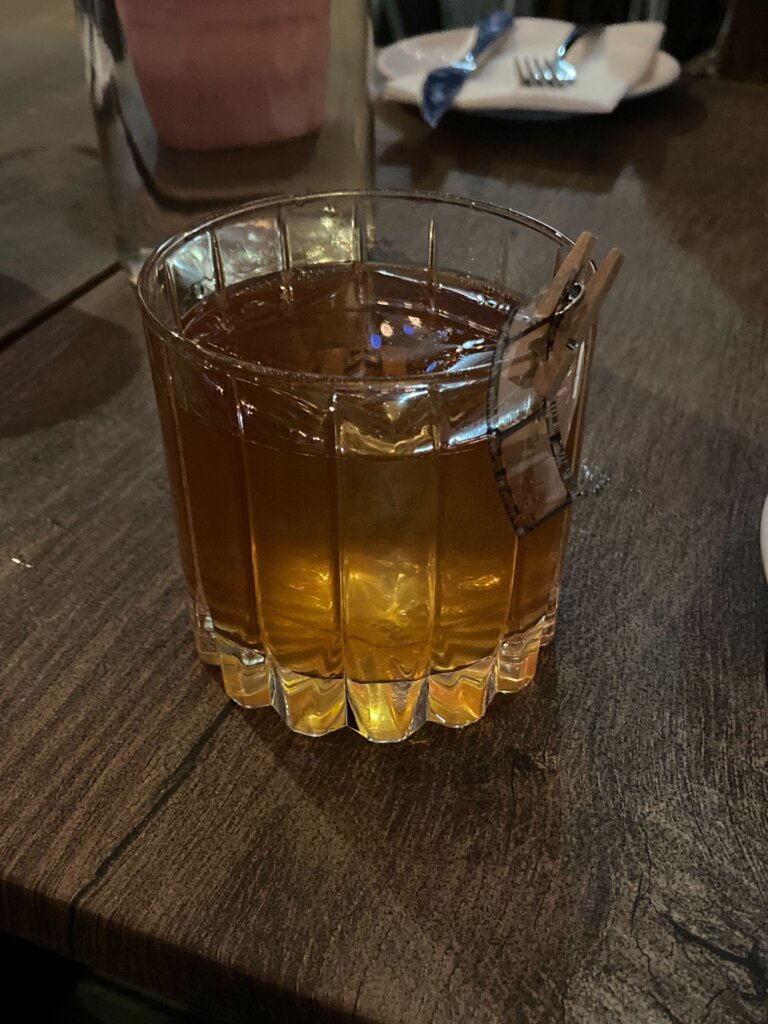 PJ sampled the "Hot Bubbe," a tzimmes toddy made with raisin-infused scotch, Grand Marnier, carrot honey, lemon, and cinnamon. Served in a metal mug, it was sweet and slightly sour — basically it tasted like tzimmes drippings. Highly recommended if you're cold and can swallow your pride and say this cordial's name aloud. (You can probably also just point at the menu or say "I'll have the toddy," like a coward.)
Mira got the "Latke Sour," a riff on a whiskey sour featuring apple brandy and, in some unknown form, potato; it also boasted a festive dash of blue edible glitter, in case you forgot it was Hanukkah. The potato was subtle, which was probably a good thing, but there was a slight starchy mouthfeel to the drink. Evoking sour cream, the egg white froth was luscious and the drink's apple brandy gave the cocktail a fruity — or, dare I say, saucey — smoothness in the place of the usual liquor's burn.
In keeping with her interfaith origins, Irene chose the "Jewish Christmas," an Old Fashioned glammed up with sesame-infused rye whiskey and Szechuan peppercorns. In case the movies-and-Chinese theme wasn't clear enough, the cocktail came with a tiny film strip clipped to the glass. A stiff enough drink to keep one warm under 2020 dining conditions, the Jewish Christmas was tempered by sesame and lacked the medicinal quality of an Old Fashioned. As a bonus, it inspired a lively discussion of our families' Christmas traditions.
While we mostly drifted toward drinks in line with our personal Ashkenazi, American Jewish roots, the menu reflected the diversity of Jews across the world. One cocktail starred berbere spice for our Ethiopian brethren, and another had zhoug and tahini. The "Ocho Kandelikas," which we did sip, feted Ladino heritage with olive oil-infused gin, which lent a savory complexity to a sweet, light drink.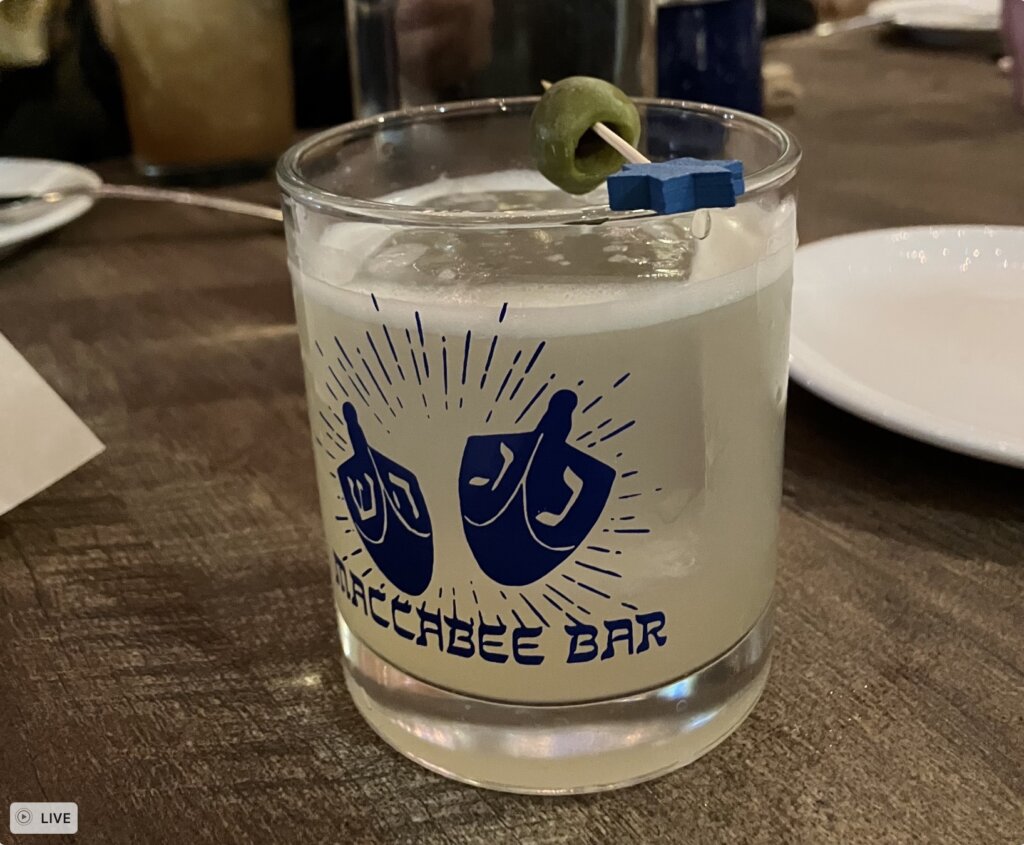 Of course, we had to sample the latkes, the true barometer of any Hanukkah eatery's success — and we can honestly say we had no notes. They come with a tiny schmear of applesauce and sour cream, and were perfectly tender within and crispy on the edges, fried to a perfect golden brown. When we asked our server if they were made from food-processed spuds, she assured us they were made the old-fashioned way. (Elbow grease, oil — a Maccabee-worthy forearm workout.)
Our curbside perch gave us the perfect vantage from which to gauge the first impressions of other bar-goers. Couples with reservations gushed over the blue-and-white lights in the windows and the bar's name spelled out on the door. One woman stopped her friends as they walked by and announced to the rest of the (apparently non-Jewish) group, "We need to go here for me!"
Most of the Maccabee's patrons were 20- and 30-somethings well-heeled enough to cough up $16 for a novelty cocktail. But two older gentlemen in the window, one of whom looked suspiciously like White Lotus star F. Murray Abraham, lent the bar an air of Old New York gravitas.
By the time we left, two plates of latkes later, the bar was overflowing with people schmoozing and kvetching, sipping festive drinks and soaking in some non-Christmas tunes.
It was perhaps chillier than the Temple Mount where the miraculous oil once burned, but we were warmed by the holiday spirit — the liquor helped too.