Culture
A Jewish guide to Christmas in New York
With the world's largest menorah, a Maccabee Bar and hidden history on the Lower East Side, who needs Rockefeller Center?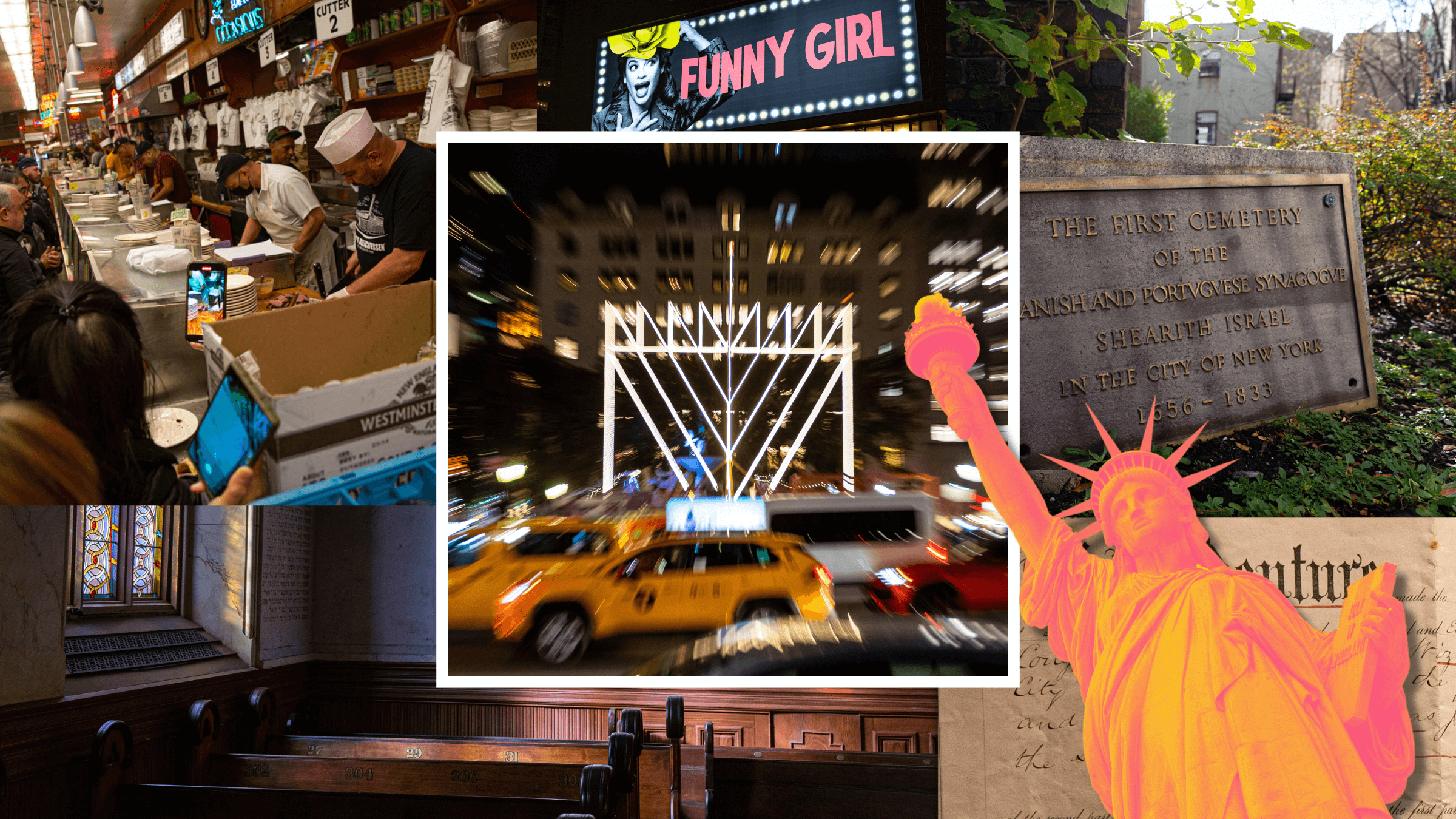 More than 6 million people will visit New York City between Thanksgiving and New Year's. Many will head straight to see the tree at Rockefeller Center, the holiday windows at Macy's and Saks, and the Rockettes at Radio City. Some will even take a bus tour of Dyker Heights, Brooklyn, where December nights are ruled by animatronic reindeer, life-size Nativity scenes and massive light displays blinking in sync to "Jingle Bells."
What's a Jew to do amid all this holiday hubbub? Even those who appreciate a nicely decorated store window can be forgiven for muttering "Enough already!" the umpteenth time they hear "All I Want for Christmas Is You."
To take your mind off candy canes and Mariah Carey, here are some ideas for celebrating eight crazy nights instead of the 12 days of Christmas. Spend Dec. 25 at a klezmer concert, see Funny Girl (not The Nutcracker), watch the world's largest menorahs get lit — or get lit yourself at the Maccabee Bar or a Hanukkah party on Christmas Eve.
Booze and parties
A Hanukkah-themed pop-up bar that originated in Boston is coming to the West Village. The Maccabee Bar takes over Ollie's Dec. 13-31, with drinks like latke sours and Hebrew hammers.
Since you won't be staying up late Christmas Eve to catch a glimpse of Santa on his rounds, why not plan the night out? The MatzoBall bash (ages 21 and up) is held in seven cities including New York. The Christmas Eve Jewbilee is billed as New York's "largest gay Christmas Eve nightlife event." Temple Emanu-El's Streicker Outreach Center sponsors a Night Before Christmas party at the trendy Tao Downtown restaurant.
You can also make merry on the first night of Hanukkah at the House of Yes club in Bushwick, Brooklyn, which promises to "cram eight nights of debauchery" into one fab celebration on Dec. 18.
Theater and comedy
On Broadway, Tom Stoppard's play Leopoldstadt tells the story of a Jewish family in Vienna. Fiddler on the Roof reimagines the legendary musical in Yiddish (with subtitles). Funny Girl stars Lea Michele in the role made famous by Barbra Streisand; songs like "Don't Rain on My Parade" still thrill.
For comedy fans, Littlefield in Brooklyn hosts a comedy-and-music Chanukahstravaganza on Dec. 22. The Stand-Up NY club on Manhattan's Upper West Side presents the Carlebach Shul's Chanukah Comedy Show Dec. 24 and comedian Judy Gold headlining A Very Jewdy Christmas on Dec. 25.
Yes, they're open Dec. 25
For Christmas Day activities (other than movies or Chinese food), consider visiting the Jewish Museum, the Jewish Children's Museum or the Museum of Jewish Heritage — A Living Memorial to the Holocaust. All are open Dec. 25.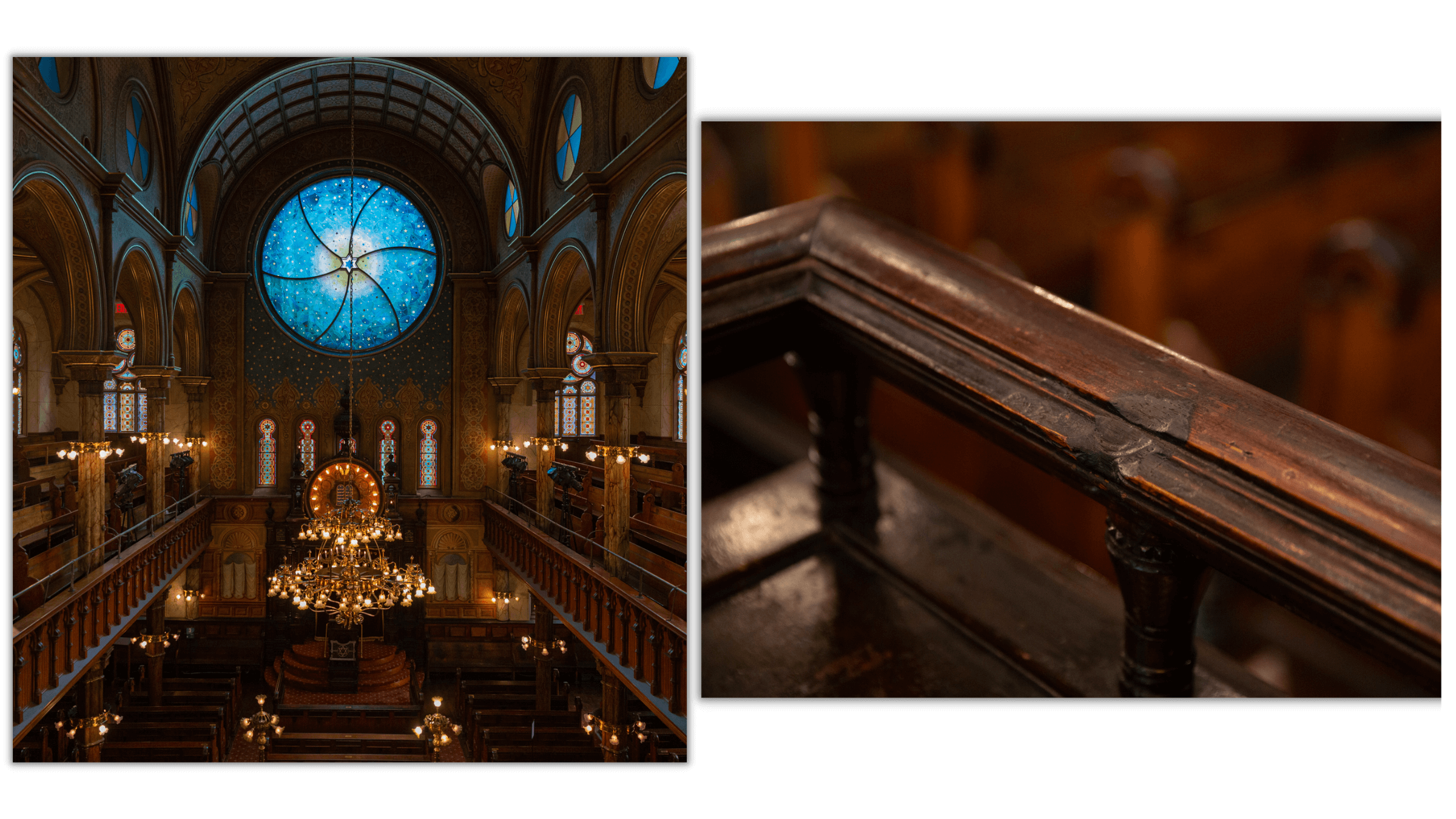 The Museum at Eldridge Street, not far from the heart of Chinatown, is even hosting a Dec. 25 klezmer concert — so you can have Jewish music and eat your Chinese food too. 
The Eldridge Street museum is located in a landmark 1887 synagogue. It was the first temple to be purpose-built by and for Eastern European Jews in the U.S. Whether you take a guided tour or stop in for a quick look, the stained glass and vaulted ceiling are glorious to behold. But don't miss the small details that were preserved when the synagogue was restored to its architectural glory. The worn floorboards bear witness to decades of davening; the bimah railing is indented from generations of hands.
The Statue of Liberty poet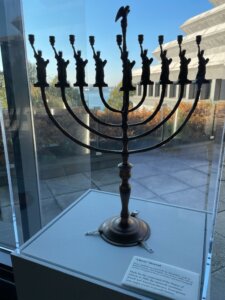 Emma Lazarus, who wrote "The New Colossus" poem engraved on a plaque at the Statue of Liberty, came from a Sephardic family. She's featured in two exhibitions at YIVO's Center for Jewish History. The center is closed on Christmas Day but hosts a Hanukkah concert Dec. 18.
You can see the statue itself from inside the Museum of Jewish Heritage, which overlooks New York Harbor in Lower Manhattan. While you're there, check out the museum's video about "The New Colossus,"  as well as The Holocaust: What Hate Can Do exhibition and the Garden of Stones installation by the renowned land-art sculptor Andy Goldsworthy. On Dec. 11, the museum hosts the New York Jewish Book Festival (including an appearance by Forward editors Adam Langer and Jodi Rudoren). The museum's Yiddish New York Festival, Dec. 24-29, offers concerts, dance workshops and more.
Tenements and a hidden graveyard
The Tenement Museum (closed Dec. 25) offers neighborhood walking tours of the Lower East Side (including one with a stop at the Forward's original building). But what really makes the museum unique are its tours of restored tenement apartments. Jewish immigrant stories are featured in the "Meet Victoria" and "Day in the Life: 1902" tours. The "100 Years Apart" tour compares two women, one Jewish, one Chinese, who worked in the garment industry a century apart. "Finding Home" tells the story of Holocaust refugees in the 1950s and a Puerto Rican family in the 1960s.
A few blocks from the Tenement Museum is a hidden piece of Jewish history at 55 St. James Place. It's the oldest Jewish cemetery in the U.S., founded in the 17th century. But you could easily walk right by, mistaking it for a vacant lot between two buildings on the edge of Chinatown. It belongs to Congregation Shearith Israel, also known as the Spanish and Portuguese Synagogue. Peer through the fence and you can still make out Hebrew letters on tombstones. Eighteen of the graves belong to Jews who fought in the Revolutionary War.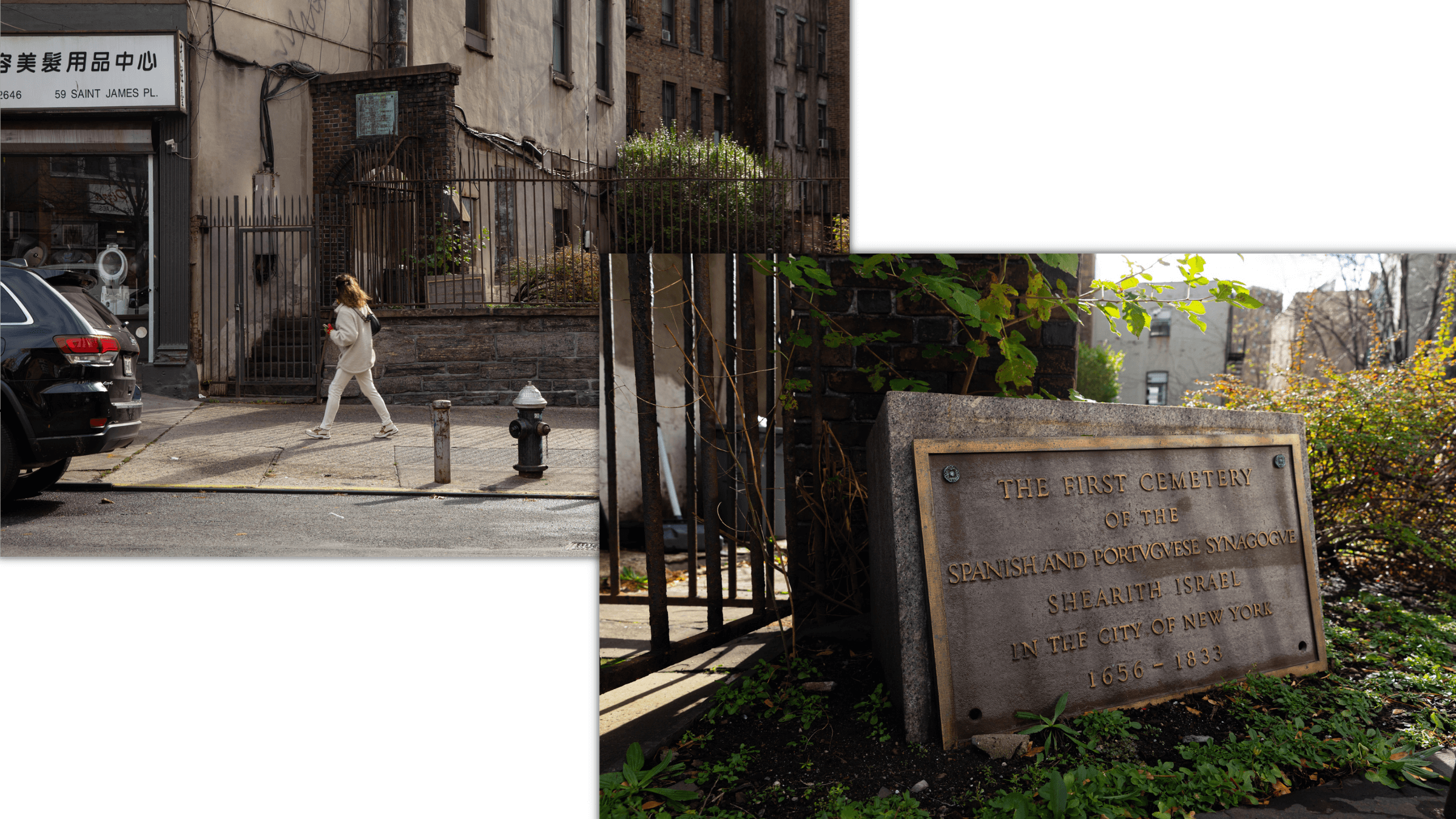 On the Upper West Side, at the New-York Historical Society, explore the history of Jewish delis. At the American Folk Art Museum near Lincoln Center, learn about a Jewish artist who started out as a shoe designer. Over on Fifth Avenue along Museum Mile, the Jewish Museum showcases the art, pop culture and history of the early 1960s in its New York: 1962-1964 exhibition. Be sure to play a song or two from the era on the show's working jukebox.
Family fun and massive menorahs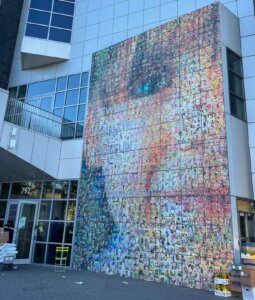 The Jewish Children's Museum in the heart of the Lubavitcher community in Crown Heights, Brooklyn, welcomes families of all backgrounds to explore interactive exhibits about Bible stories and Jewish history. Also onsite: a kosher supermarket and kitchen where kids can pretend to shop and cook; a mini-golf course on a windowed terrace with panoramic views; and workshops on Hanukkah crafts, decorating donuts and making olive oil. And take a good look at the museum's facade. Hundreds of tiny faces make up the image of one child's face. Around the corner on Kingston Avenue, stores sell a variety of Judaica and Hanukkah gifts.
Each night of Hanukkah, the world's largest menorahs — over 30 feet tall — will be lit outside Brooklyn's Prospect Park at Grand Army Plaza and outside Manhattan's Central Park near Fifth Avenue and 59th Street. On Dec. 19, Central Park's Wollman Rink will host a Hanukkah-themed ice-skating party; registration is required.
Food and shopping
West Side Judaica (Broadway near 89th) sells religious items, art and books. The store's selection of dreidels is especially impressive, from 79-cent toys to $1,200 gold pendants. In Brooklyn, Eichler's is Borough Park's Judaica one-stop.
For Jewish delicacies, make like a balabusta and shlep to the Lower East Side. Get knishes from Yonah Schimmel, bialys from Kossar's and you-know-what from The Pickle Guys. The lines are long at Katz's Deli, but the massive pastrami sandwiches are worth the wait. A few doors down, there's no finer place for smoked fish than Russ & Daughters; they also operate an upscale cafe on Orchard Street. Love sweets? Try Economy Candy.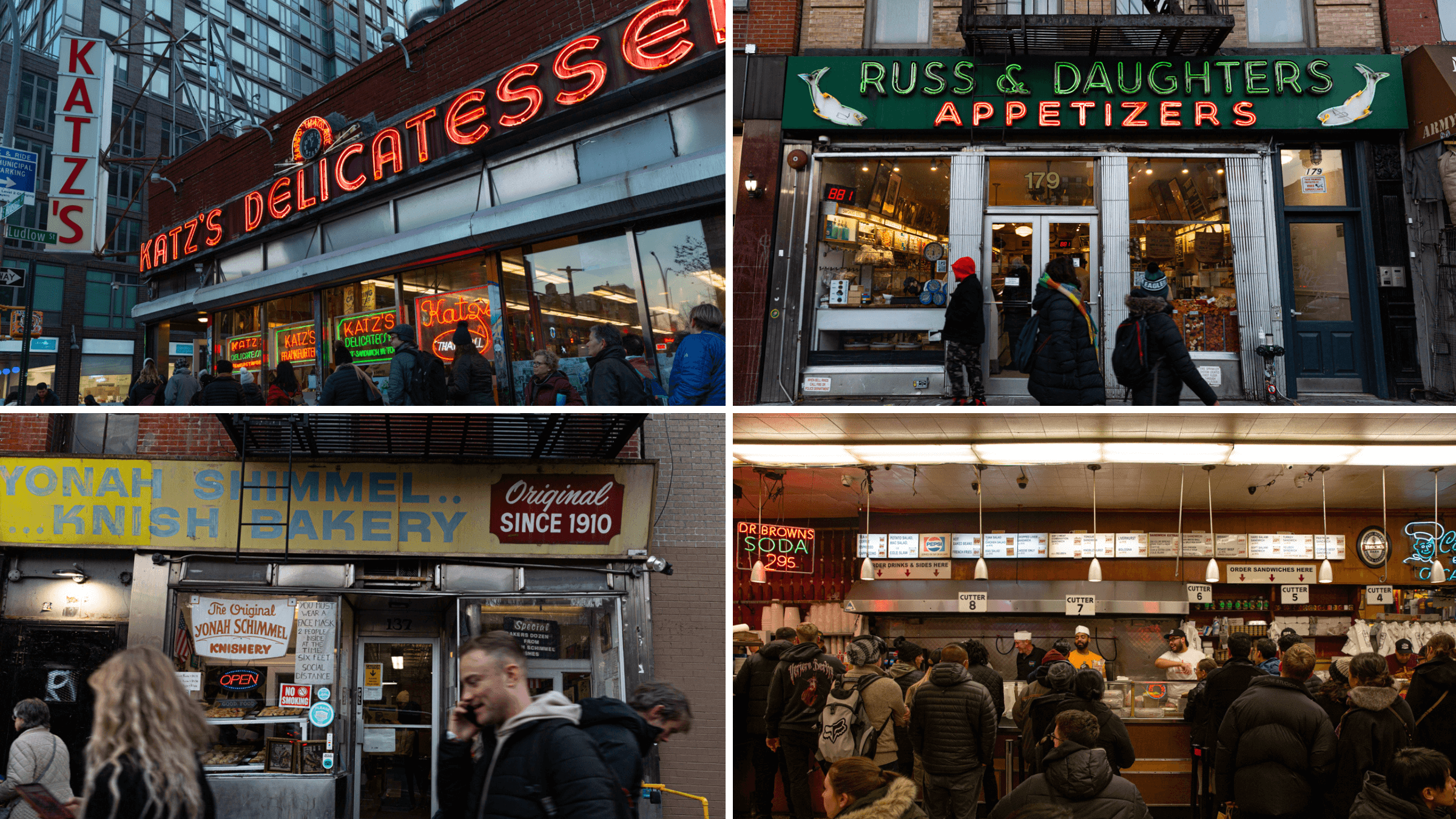 While you're tooling around the neighborhood, stop in at P&T Knitwear — but not for apparel. P&T is a bookstore named for a menswear shop that the owner's grandfather once operated nearby.
Bagels, pizza and latkes
When it comes to bagels, most New Yorkers have a favorite local mom-and-pop shop, but Ess-a-Bagel and Tal are top choices in Manhattan. And don't forget Zabar's. The original emporium is on the Upper West Side, while Eli's Market, owned by the founders' youngest son, is on the Upper East Side … and therein lies a tale.
There's nothing more New York than pizza, so check out the Forward's guide to the city's best kosher pizza.
That leaves us with just one question (not four — that's a different holiday): Where to find the best latkes? Sure, you can get them at Russ & Daughters Cafe, Katz's, the 2nd Ave Deli and many other spots. But we think the best way to have latkes, once you're done with all that sightseeing, is to make them at home. Happy Hanukkah!