Culture
At this deli, the food is as fake as the orgasms — and 7 other lessons from an exhibit about Jewish culinary culture
'I'll Have What She's Having' offers dollops of the foreign and the familiar at the New-York Historical Society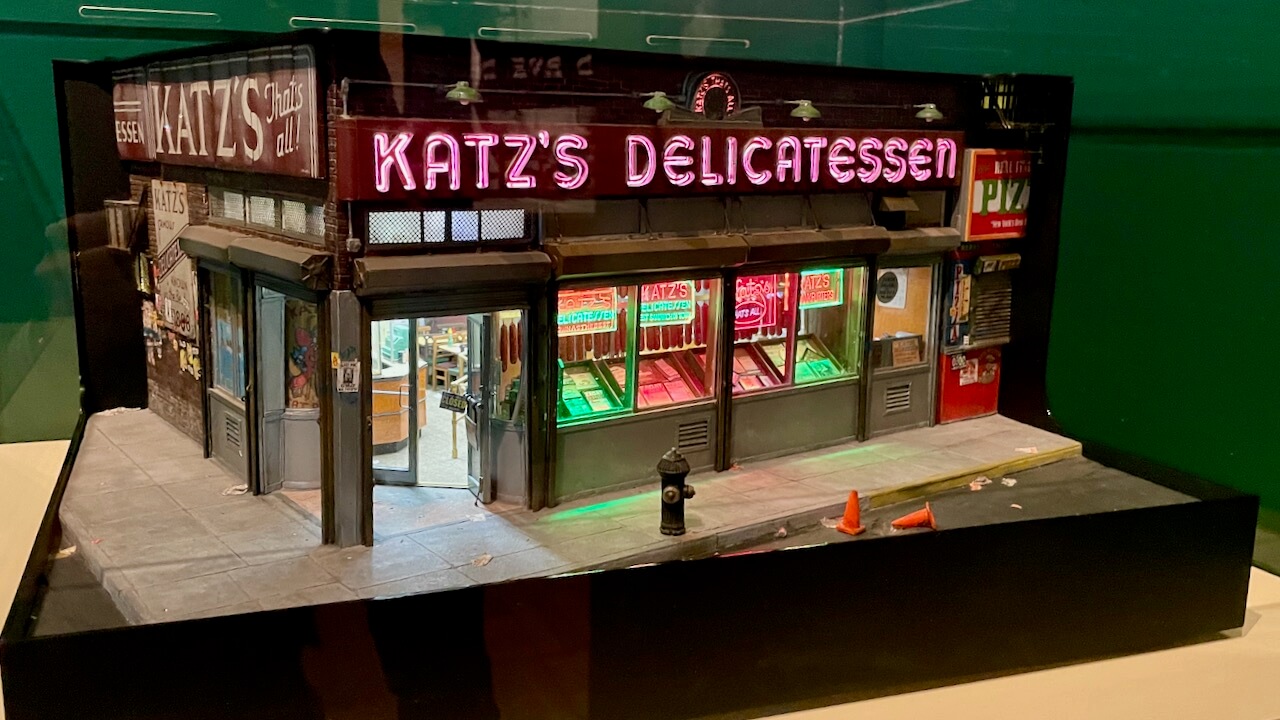 Before crossing the neon-lit threshold into the exhibit I'll Have What She's Having: The Jewish Deli at the New-York Historical Society, I wondered whether I'd learn anything new. I also wondered whether there might be deli fare for sale in the museum café in place of the usual pastries and coffee. (Here's a tip: Don't go to a food-focused show on an empty stomach.)
Granted, for me to gain new insight into Jewish delicatessens and their history, there would have to be some pretty esoteric information at hand. I was born in the land of Katz's and Barney Greengrass, and grew up a block from a deli called P.J. Bernstein, from which we regularly picked up chicken soup, corned-beef sandwiches, chopped liver and chocolate egg creams. Plus, as a longtime chronicler of the Jewish culinary landscape, I'm particularly well versed in the subject of The Deli. 
So perhaps the better question is whether the general public can learn something new at this undeniably charming exhibit, which was "organized and circulated" by the Skirball Cultural Center in Los Angeles. And with that being the case, I'll let you decide.
Did you know…
1) Deli is the ultimate fusion food. Traditional deli "combines regional food traditions from Central and Eastern Europe with available ingredients in the United States, resulting in a new Jewish phenomenon," according to the placard at the start of the show. It's fun to see a long table laden with lifesize replicas of common deli items on restaurant-ware dishes — among them a bagel with lox; a pastrami sandwich; a slice of cheesecake; a bowl of matzo-ball soup.
Above the display, a wall of information includes details about the evolution of popular foods from their Old World iterations to what they became on these shores. Pastrami, for example, came from Romanian Jewish immigrants who adapted the process of spicing, brining and smoking goose and mutton to beef, which was widely available in the U.S.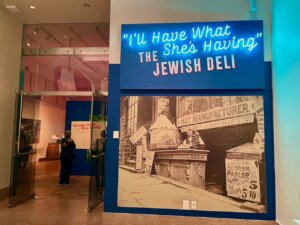 2) The delicatessen was a place of refuge for Holocaust survivors. It offered employment, community and comfort food while helping survivors acclimate to their new country. The exhibit sketches out a few of those stories, such as that of Danny Wolf, who was born in the Theresienstadt concentration camp in occupied Czechoslovakia, and whose family opened The Bagel Restaurant and Deli in Chicago in 1950. "Like many Holocaust survivors, Wolf's parents and grandparents did not like to discuss the trauma they experienced," according to the display, "but their restaurant became an anchor for the city's survivor community."
3) The kosher meat business was rife with fraud. In 1925 New York, about 40% of meat sold as kosher was in fact not kosher. And in 1933, officials seized 1,400 pounds of nonkosher beef brisket from one of the city's largest kosher deli-food manufacturers, Jacob Branfman & Son.
4) Delis and appetizing stores are two different things. The distinction derives from kosher laws. Kosher delis serve meat dishes — think chicken soup and pastrami sandwiches — appetizing stores are where to go for milk- and fish-based foods such as blintzes, cheesecake and herring.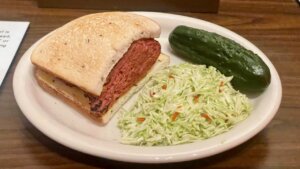 5) The famous 'I'll have what she's having' scene from 'When Harry Met Sally' was shot in Katz's. I bet you knew that. More interesting perhaps is that on display in the exhibit — next to a screen showing that most-well-known-of-all-deli-scenes along with clips of other deli depictions in movies and television — is a miniature replica of Katz's Delicatessen by a Brooklyn-born artist named Alan Wolfson, who captures the restaurant at closing time with such detail it's worth the price of admission.
6) There were about 5,000 Jewish delis in New York in the early 1930s, but only a couple dozen exist today. This striking point isn't given prominence in the exhibit. The 5,000-deli figure is tucked into a caption on a wall about midway through the show, far from a wall at the very end devoted to the "Shifting Landscape," where it is noted that only a handful of delis remain. That section highlights the new, artisanal places popping up since the start of the 21st century, offering a hopeful note to end on. But I do think the numbers are stark, so I'd have liked to have seen them next to one another, along with some explanation about the deli's steep decline during the second half of the 20th century. (I also would have liked a word or two about why the great majority of delis declined to keep kosher, or even "kosher-style.")
7) They did not turn the museum café into a deli … or did they? To exit the Historical Society at the end of the exhibit, museum-goers are led through the gift shop and a small café specializing in coffee and baked goods. There's a refrigerated case in which I spied a rather sad-looking sandwich, one of those pre-made plastic-encased triangular numbers like the kind you sometimes see in vending machines. Between two slices of what may indeed have been rye bread were a few pale, thin slices of what I was told was pastrami. After all the mouthwatering images of overstuffed deli sandwiches (and even the lifesize fake sandwich on display with the other model foodstuffs), it didn't look the least bit appetizing. Disappointed, I pushed through the glass door from the café into the building's side lobby on 77th Street (around the corner from the main entrance on Central Park West).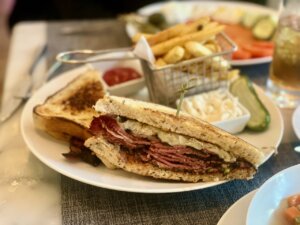 Opposite the café is a larger restaurant, Storico, also under the museum's auspices. It's an airy, high-ceilinged space serving Venetian-inspired cuisine. And it turns out that Storico is offering a special I'll Have What She's Having menu consisting of matzo-ball soup, a smoked salmon platter, and a hot-pastrami Rueben. (There's even Dr. Brown's cream and black cherry sodas.) I made a brunch reservation and returned a couple of days later.
Looking around, I observed among the locals and tourists a couple of craggy white-haired men hunched over bowls of steaming soup, seemingly as comfortable under the shiny chandeliers as they might be at the 2nd Avenue Deli. Here we all were in an Italian restaurant in a museum devoted to American history, experiencing yet another small step in the  evolution of the Jewish deli. The waiter came by and it was all I could do to keep from nodding in the old men's direction and saying,  "I'll have what they're having."
Clarification: This article has been updated to clarify that Danny Wolf was born in the Theresienstadt concentration camp in occupied Czechoslovakia.