Film & TV
In a quartet of memorable films, an acclaimed Israeli director navigates between hope and despair
Eran Kolirin exposes absurdity and nuance within a world of seemingly intractable conflict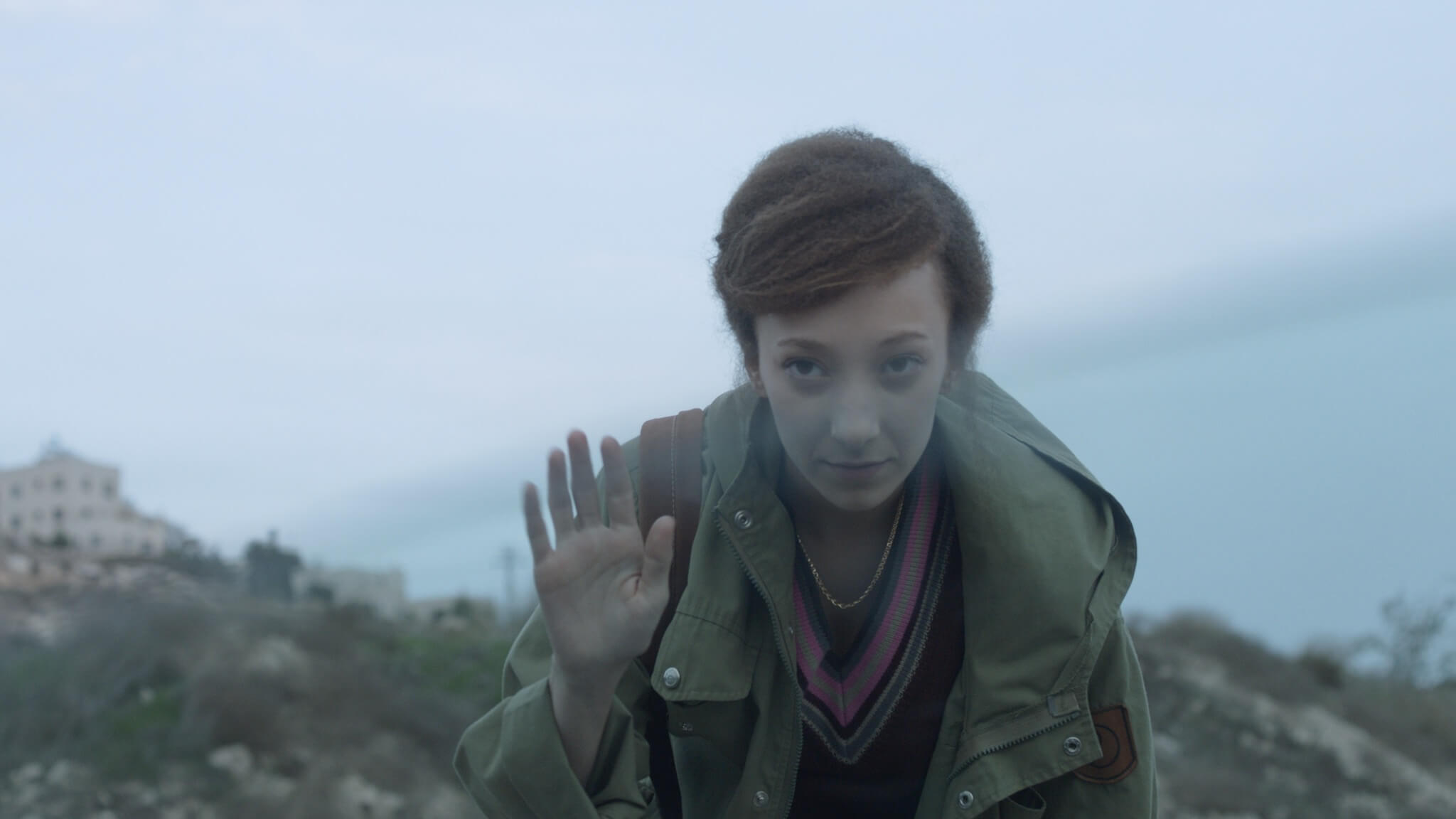 The Palestinian cast and crew of Eran Kolirin's Let It Be Morning objected to its status as an "Israeli" film and boycotted its release at the Cannes Film Festival. But the film — which went on to win nine Ophirs (Israel's Oscar awards), including best picture — presents a strikingly nuanced treatment of Palestinians.
Let It Be Morning, one of several films being screened at Quad Cinema in New York as part of a Kolirin retrospective, centers on  Sami (Alex Bakri), a Palestinian Israeli living in Jerusalem who comes home to his Arab village for his brother's wedding. Shortly thereafter, for reasons that are never fully explained, the town is put under a military blockade by Israeli soldiers. 
Sami is married to a Palestinian woman and has a young son. He can't wait to return to his executive job and Jewish mistress in Jerusalem. His mother confides that she too has endured a loveless marriage. Sami has moved on or so he wants to believe while his native village has remained static. 
In one of the film's more blatant visual metaphors, a flock of doves is released from a cage. But rather than fly to freedom, the birds stay put, then only slowly sidestep their way out of the enclosure with barely a flutter. Likewise, the villagers' lives are marked by inertia. They live in a universe that borders on farce or more precisely theater of the absurd. In the tradition of Chekhov and even Beckett, they are imprisoned at the intersection of politics and the human condition.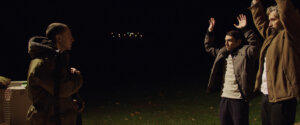 In varying degrees, the characters in all Kolirin's films suffer from missed opportunities, lost connections, delusions, pointless efforts and comic repetition in a singularly fractured Mideast universe. Yet to view these films through only a political lens is reductive.
'The Band's Visit'
The Band's Visit, Kolirin's 2007 debut, is to date his most popular and accessible film. In 2017, it became a Tony Award-winning smash Broadway musical, starring Tony Shalhoub.
On stage and on screen, The Band's Visit is a haunting work. Eight Egyptian members of the Alexandria Ceremonial Police Orchestra, led by the rigid and emotionally suppressed Tewfiq (a stunning Sasson Gabai), who have traveled to Israel to perform at an Arab cultural center, wind up unattended in a desert town. Costumed in silly robin-blue uniforms, they are gently drawn cartoonish figures and become more so as they stiffly march across the barren flat landscape in search of someone, anyone. 
In the middle of nowhere they find a cafe owned by a family of terminally bored Israelis who view the Egyptians with mild curiosity and more than a bit of suspicion. The misgivings are mutual. Nonetheless, the family, headed by the feisty, sexual and sardonic Dina (brilliantly played by the late Ronit Elkabetz), offers them shelter and food.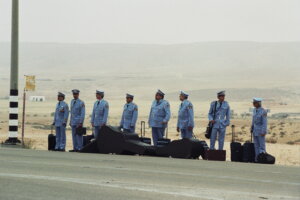 During the evening that follows, Dina makes a play for Tewfiq and he slowly responds. They share intimacies about their lives. Other relationships are forged.  Predictably enough personal connection and cross-cultural commonality prove stronger than the divides.   
The following day, the band moves on as the Israeli family returns to its routine. But unlike other films of a similar ilk, where one assumes the poignant interlude will  resonate with the characters for a time, here it may or may not.
Existential themes
 In 2010's The Exchange, Kolirin takes a turn for the humorless. The film recounts the experiences of a physics instructor who, for reasons that are shadowy, suddenly views everything in a new disorienting light, most precisely, his own purpose or lack thereof
He listlessly wanders around and meets a neighbor who is equally alienated from himself and the world at large. The two men scream out their curse-laced frustrations at empty apartments. They sleep in the basement, a bomb shelter, which one imagines to be a symbol of some sort. As is the case with Kolirin's other works, the film explores existential themes, but here it does so in dull and pretentious fashion. 
Of all Kolirin's movies, Beyond the Mountains and Hills (2016), most clearly marries complex human behavior with contemporary political realities in a world on the precipice of disaster. A sense of dread, private and public, is pervasive throughout.
After 27 years of military service David (Alon Pdut) returns home to an unnamed middle-class suburb to find that his wife, daughter and son have their own lives that no longer include him or each other. Transgressive behavior is the new normal.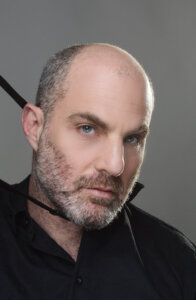 David's wife, a teacher, is having an affair with one of her young students. His son, devoid of ambition, undisciplined and crude, calls his mother "whore" to her face; and his risk-taking daughter Yifat (well played by Mili Eshet) attends political protests on behalf of the Palestinians. For David, the former military man, her views are incomprehensible. 
On the job front, David is unable to adapt to the savagely competitive "New Israel" where self-promotion is the name of the game. He enrolls in a self-help group, redolent of American pop psychology, where the leader's pedagogy centers on galvanizing the students into shouting their own praises. Volume and repetition don't work for David. He resorts to blackmailing a relative for money.
The Arab-Israeli conflict
The Arab-Israeli conflict is never addressed openly but its presence is palpable, especially for Yifat who is arguably the film's moral centerpiece. When she encounters a Palestinian who invites her for a cup of coffee in an untraveled hilltop area, instead of running in the opposite direction, she explains why it's not a good idea. 
Some time thereafter in a section that is admittedly far too coincidental, David, with gun in hand, starts shooting into the same hillside. It's unclear if he even suspects Palestinians live there.
Frustrated by his own failures, he ends up killing the same Palestinian with whom his daughter flirted. Unaware of her father's culpability, Yifat nonetheless feels guilty. Is it her shamed identification as an Israeli? One can only guess. 
In the final scene, the entire loveless family cheerfully ventures off to a rock concert together. It's the perfect coda for a domestic drama set in a place of disconnection and moral decay.
Let It Be Morning is Kolirin's most layered film, its tone desperate and paradoxically soulful. Consider Sami's shifting perceptions. He believes that he's fully assimilated into modern Israeli life. Yet when he's summarily fired from his job because he missed an important day at work because of the Israeli blockade, he is forced to identify with his Arab landsmen, whom he holds in contempt. He feels anger, deep sadness, and paralysis.
Nonetheless, he is able to establish a gentle rapport with the baby-faced, guitar strumming Israeli soldier on guard at the checkpoint who knows what he is supposed to do, but at the same time is not entirely sure why he is there.  He too is a complex amalgam and has become a kind of Israeli archetype, nowhere more pointedly than in Samuel Maoz's unnerving film, Foxtrot. Either way, the relationship between the somewhat conniving Sami and the hapless soldier is, despite its satirical edge, touching and maybe even hopeful. 
But in the end it's a world devoid of hope. The village sad-sack, who wanted to forge a protest, is killed simply because he's at the wrong place at the wrong time. The entire town silently converges at the checkpoint ready for a confrontation, but discovers that the gates are inexplicably open and the soldiers are gone. Nobody knows what happened, when or why. We're left with the possibility that all of it was imagined. 
In Kolirin's manifold vision of contemporary life in the Mideast, plans have no application. Causality has ceased to exist.  And contrary to the views of the protesting Palestinians, in Kolirin's complex cinematic imagination, identity politics are not readily definable.