BINTEL BRIEFWe plan to raise our son Jewish, but I'm opposed to circumcision for medical and moral reasons
A Reform Jew wonders how to honor tradition as well as their own sense of what is right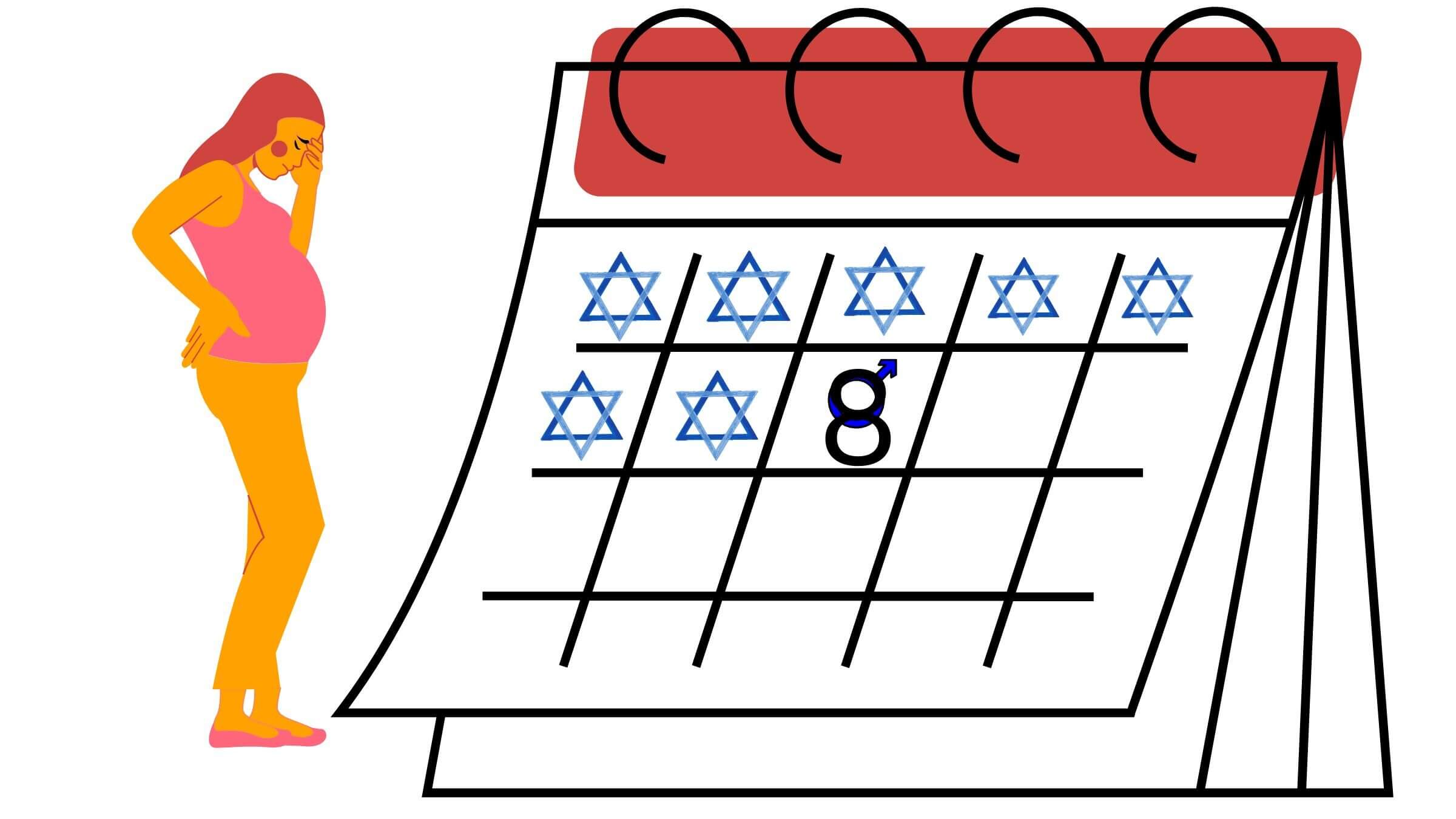 The Forward has been solving reader dilemmas since 1906 in A Bintel Brief, Yiddish for a bundle of letters. Send us your quandaries about Jewish life, love, family, friends or work via email, Twitter or this form.
Dear Bintel,
I am pregnant with our first child and recently found out his fetal sex is male. I am deeply conflicted over circumcision. On the one hand, we plan to raise our son Jewish, and I want to honor tradition. On the other hand, I don't agree with circumcision for medical and moral reasons. 
As Reform Jews, there are already so many traditions our family does differently. I don't know why this decision feels so different. I've considered alternatives to a bris like a naming ceremony. This feels right for me. Yet I still feel scared about the implications of this decision in either direction. Can you help? 
Signed, 
Conflicted
---
Dear Conflicted,
We salute you for wanting to do what feels right for you personally without dishonoring Jewish tradition or endangering your child's acceptance into a religion where circumcision has long been the norm. You should know that you are not alone in grappling with this dilemma.
An organization called Bruchim provides resources and community for Jews and Jewish families who opt out of circumcision. Rabbi Elyse Wechterman, CEO of the Reconstructionist Rabbinical Association and an adviser to Bruchim, notes that your child's Jewishness does not depend on this decision.
"Jewish status is determined traditionally by the Jewish status of the mother and in more progressive communities, like Reform and Reconstructionist Judaism, the Jewish status of any of the birth parents," she said in an interview.  
"Fifty percent of the Jewish population has never been circumcised," Wechterman added. "They're called girls."
That said, while it's not required, circumcising a male child is considered a mitzvah — so long as it is done on the eighth day by a trained mohel, and not immediately after birth in the hospital without the prescribed blessing. There are 613 mitzvot in the Torah, so one way of thinking about a bris is, Wechterman suggested, as "one of many mitzvot that people might or might not choose to do." 
"I personally don't know why that one is focused on more than many other commandments that I would value," she continued, "such as keeping Shabbat or not stealing, that feel more important to me."
And while she encourages you to find a rabbi who supports whatever choice you make, she also said there's no reason the decision can't be private: "I don't think it's a particularly good practice for rabbis to investigate the shape of children's penises as a matter of course, so why would they know."
Of course, there are settings, like a Jewish summer camp or the locker room of a Jewish day school gym, where other kids might notice once your child is older. But whether it then becomes an issue, again, depends on the community.
Circumcision was once widely performed on newborns in U.S. hospitals regardless of the parents' religion, but rates of newborn circumcision have declined over the past 45 years, according to the National Center for Health Statistics. 
The center attributes the decline to changes in medical guidance, citing American Academy of Pediatrics reports from the 1970s stating there was no medical need for it. The AAP's latest policy statement from 2012 states that the health benefits "are not great enough to recommend routine circumcision." At the same time, the group says that insurance companies and government-subsidized health care programs should pay for circumcision for parents who choose it..
The American Medical Association says the health benefits — including prevention of urinary tract infections, penile cancer, and transmission of some sexually transmitted infections —  "outweigh the risks." 
Circumcision as a Jewish ritual originated in Genesis, where God tells Abraham that "every male among you" should be circumcised as a "sign of the covenant" between God and the Jews. 
Wechterman pointed out circumcision has also been practiced in other cultures for centuries, though many performed it during puberty, not infancy, as a rite of passage into adulthood. 
Dr. Dorothy Greenbaum, a pediatrician and certified mohelet — the female term for a person certified to perform brit milah — advocated for circumcision in an essay published on the website of the Reform movement the year after the AAP's policy was issued. Greenbaum said that for Jews, circumcision "represents a partnership with God, a test of faith, a sign of trust. 
"It symbolizes a promise to remove obstacles from the child's path to righteousness, just as Moses urged us to remove the 'foreskin' of our heart as an obstacle to our faith," she wrote, quoting Deuteronomy 10:16. "Circumcision also carries with it the recognition that we are vulnerable in life, but when we bond with our heritage, our people, and our God, we find strength." 
Wechterman said that more Jews and non-Jews are questioning circumcision as part of a growing interest overall in what she called "organic parenting."
"The move to do things more naturally and more holistically, which is also a feminist movement, has led to questioning of all sorts of things we do, including why do circumcision if there's no medical necessity," she said.
She noted the significance of the timing of the Jewish ritual, and said she encourages families to hold naming ceremonies on the eighth day of a baby's life, regardless of gender or their decision around circumcision.
"If you think about the world being created in seven days, the eighth day is the first day of civilization, the first day of humans taking control, the day after Eden, the day when human history begins," she said. "In that sense, the eighth day is the beginning of our involvement in the world and our ability to change our bodies. It sets the course for human agency." 
 So, Conflicted, as a Reform Jew, you have flexibility in making this decision without worrying about your child's religious identity. May you find meaning in whatever you choose.
Signed,
Bintel