Culture
The publisher of an iconic newspaper is living Black (and Jewish) history
Elinor Tatum carries on the storied legacy of the New York Amsterdam News
Elinor Tatum doesn't celebrate Black history a single month out of the year. She lives it, and always has.
She grew up the daughter of Wilbert "Bill" Tatum, the longtime editor and publisher of the New York Amsterdam News, an iconic newspaper whose influence has reached far beyond New York City and the Harlem avenue that shares its name. Founded in 1909, its storied legacy includes coverage ranging from the Great Migration to the trial of Emmett Till's killers and the civil rights movement to contemporary articles about America's racial reckoning and bringing communities together.
The ultimate responsibility for that coverage is hers after taking over the reins from her father in 1997.
Throughout those decades chronicling Black life in New York City, Tatum has remained fiercely proud of her Jewish heritage, she said, equally shaped by her mother. Born in Prague, Czechoslovakia, Susan Kohn Tatum emigrated with her Jewish family to Ecuador and later to Queens, New York.
"I've always identified as Jewish, and that was never questioned by either side of my family," Tatum told the Forward. She recalls when a Jewish uncle, a goldsmith, made Magen David necklaces for Tatum, her mother, and her best friend. "I've worn it very proudly, basically every day of my life since I'm 16 years old."
A loving marriage
Wilbert A. Tatum was born in segregated Durham, North Carolina, the 10th of 13 children who lived in a one-room shack and picked tobacco in the summers. A Baptist, Wilbert worked with the activist Rabbi Balfour Brickner during the 1970s. He met Susan in the mid-1960s in New York when they worked for Edward Koch's Village Independent Democrats, when the then-future mayor was running for Democratic district leader. They wed in the era that Loving v. Virginia legalized interracial marriage around the country.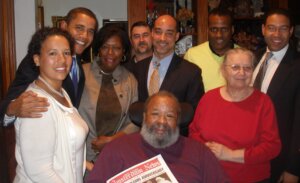 "Everyone told them that their marriage wouldn't last," Tatum said. "It lasted nearly 40 years until my father's death in 2009."
The couple's only child, Elinor, grew up in the East Village, "on a block that had everything — the men's shelter on one side, the Hells Angels on the other and famed musical composer Philip Glass' home three doors down," she recalled.
Her multicultural environment was both vibrantly creative, and "at the center of the crack epidemic, it could be very violent, terrifying at times. But it's an area I never left," Tatum said.
She described her Jewish upbringing as secular, attending the Stephen Wise Free Synagogue where Brickner was rabbi for High Holy Days and other holidays, though she did not become a bat mitzvah. When Rabbi Brickner left, the family found another spiritual home.
Profound lessons
Tatum was a bright child who struggled to read. Her first grade teacher told Tatum's parents that their daughter was smart, but had learning challenges. Some other public-school teachers labeled Tatum "dumb," put her in a corner, and refused to teach her, she recalled. 
"My parents got me tested. It was 1977 and learning disabilities were not as studied as they are now," Tatum said. For the next decade, she worked with a speech and language pathologist.  
"I was extremely lucky," she said. "I had people that believed in me, and that helped me shut out the people that didn't believe in me. Especially my parents — they would not take me being 'dumb' as an answer." 
Tatum went on to graduate from St. Lawrence University with a B.A. in government studies, then attended Stockholm University in Sweden. She later earned a master's in journalism at New York University. 
One of Tatum's fondest memories of her educational journey is a letter she received from Gloria Kagan, her sixth grade teacher at Hunter College Elementary School. 
"She wrote to me after she saw a Public Lives piece on me in The New York Times, and said, 'I love it when my kids grow up so good,'" Tatum said. "She mentioned in her letter to me that I taught her to work with kids with learning disabilities, and made her understand that they learned differently and it's not that they're bad students."
What made her former teacher's letter even more special, Tatum said, is that she learned years later that Kagan was the mother of Supreme Court Justice Elena Kagan. "So when she said, 'I'm glad to see my kids grow up so good,' that just had a double meaning for me." 
A proud newspaper legacy
Wilbert Tatum moved beyond his humble beginnings to earn a sociology degree at Lincoln University, serve as a United States Marine Corps drill instructor in the Korean War, study as an urban fellow at Yale University, then earned a master's degree in urban studies from Occidental College. 
After working in New York City government, he was one of three Black businessmen (including Manhattan Borough President Percy E. Sutton) to purchase the Amsterdam News in the 1970s. The newspaper, founded in 1909 by James H. Anderson with a $10 investment, a lead pencil and a dressmaker's table, had grown to one of the nation's leading Black publications. 
Bill Tatum served as the paper's editor, publisher, chairman and chief executive officer. In 1994, he informed his daughter, then 26, that "it was now or never" for her to come to work at the publication.
Tatum agreed — reluctantly, she said — and within months her father had a heart attack. 
"He survived and we worked together side by side for 10 years after that," she said. "He must have known something."
In 1996, her father gained complete ownership of the Amsterdam News, putting the future of the publication into the family's hands. A year later, he stepped down and handed the reins of publisher and editor-in-chief to his daughter, who remains in those positions. 
The evolution of the Amsterdam News
Tatum said that steering the publication into the information age has been "challenging, interesting, and exciting. We've had an amazing digital transformation in the last year-and-a-half, two years. We've been fortunate to be part of a few accelerators that have helped us to really take hold of this digital transformation."
She expanded the paper's coverage to include local, national and international news, and helped to create Word in Black, a news collaborative of the nation's leading Black publishers founded in the aftermath of the murder of George Floyd. 
"We've come together to do some amazing things by working collaboratively and bringing the message of what's going on in Black communities around the country and helping all of our Black newspapers move forward technologically and otherwise," she said. 
As she's grown the Amsterdam News to more than 200,000 unique readers every month on the website, Tatum stresses the need to keep the newspaper valuable both economically and socially.
"We've been spreading our wings, looking at new revenue sources," she said. "We're at the start of a huge initiative, 'Beyond the Battle of the Gun: Combating gun violence in Black and Brown Communities.' Our goal is to raise $3 million over the next three years to fund our own initiative looking at gun violence in Black and Brown communities in a very holistic way; looking at the root causes of gun violence." 
Also, she said, "We have been working hard on Black-Jewish relations." The newspaper has partnered for the last two years with Shine a Light, which works to fight antisemitism in all its modern forms. And Tatum has run articles on Black-Jewish relationships. 
"I want to represent people of color in New York and farther afield, whatever box they do or don't fit in," she said. "We're not monolithic. We don't fit in any one description. We're not all straight. We're not all gay. We're not all poor or rich. We're not all Baptist, Christian or Catholic. Some of us are Jewish. We have to represent every single person whatever the sum of their parts makes up. That's what I want to do with the Amsterdam News." 
Along with her publishing job, being a mom, a host of civic and community positions and frequent media appearances, Tatum is also a weekend ski instructor, adding to her intersectionality.
"I am Black. I am female. I am Jewish. And I am proud of every one of those things. I am an entrepreneur. I am a business owner. I am a ski instructor. Those things don't compute to people, and I don't care because that is who I am."