Culture
From frog candlesticks to watermelon menorahs — meet the designer making Instagram's favorite Judaica
Susan Alexandra's 'kooky' new Passover collection is for more than just Seder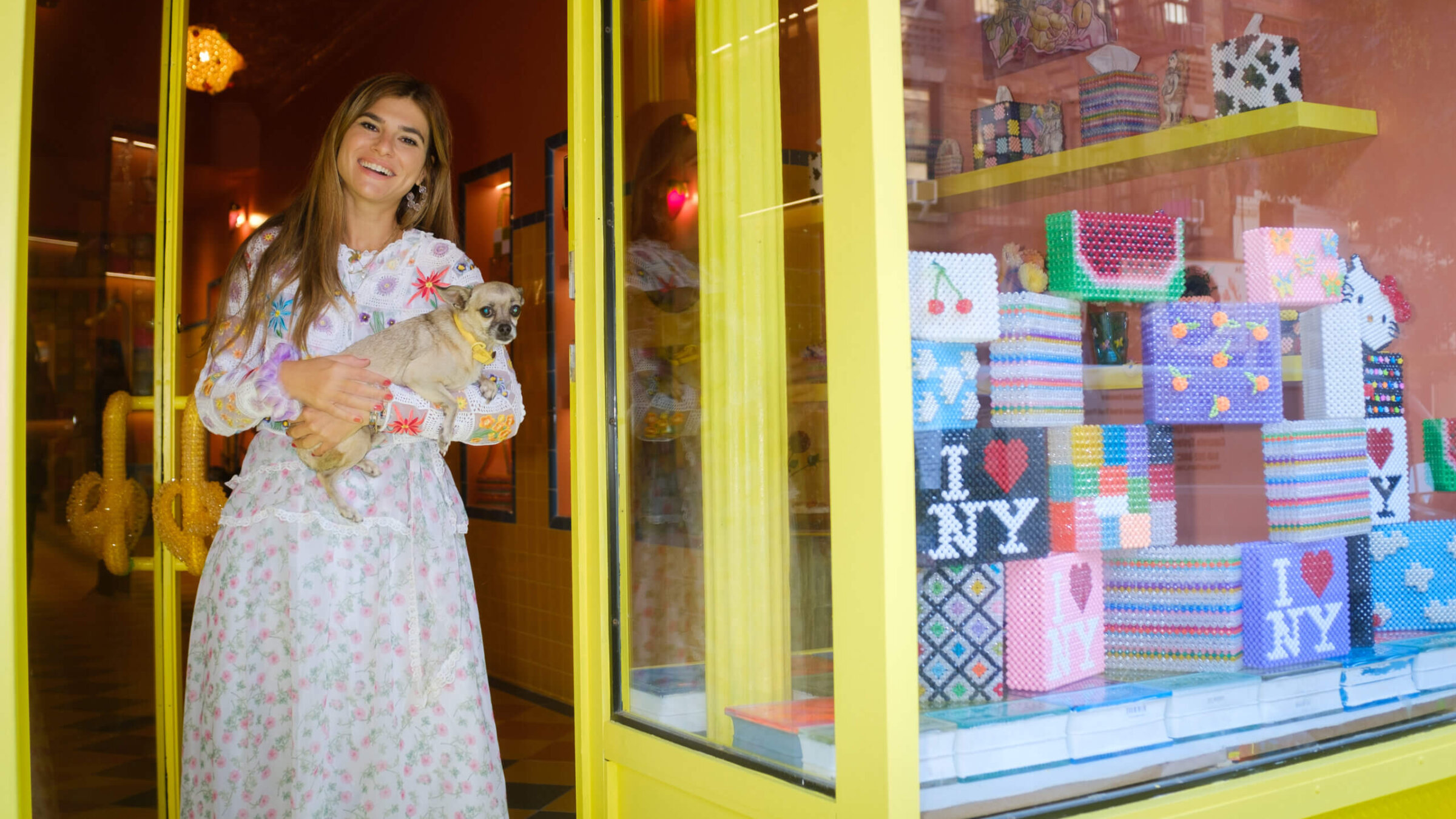 Susan Korn was on the hunt for the perfect Judaica. It was 2021, and Hanukkah was right around the corner. Korn, the 37-year-old designer behind Susan Alexandra, was getting ready to host her first candle lighting. As pandemic restrictions eased, she'd gotten more into hosting friends for dinners and gatherings, so it felt like the right time to invest in pieces she could use on Jewish holidays for years to come.
But Korn's search for a menorah and some candlesticks that were cooler than the stuffy silver ones she grew up with turned up empty. 
"They just didn't exist," she said. "I was not able to find anything remotely close to something that I'd want to own." 
So Korn, whose Instagram-famous beaded bags debuted at New York Fashion Week in 2019, decided to try her hand at designing Judaica.
It had to be beautiful, the kind of thing she'd love to have on display in your dining room year-round. It had to be special, like the Jewish heirlooms she grew up with. And it had to feel like it embodied her personal style — bright, fun, and a little kitschy, but in a cool way. 
She started sketching a menorah shaped like a slice of watermelon, with nine candles sticking out of the top. "It's such a funny, special image," said Korn, who installed a watermelon flag outside of her flagship Susan Alexandra store on the Lower East Side. "I was like, this makes so much sense." 
Korn recently launched Susan Alexandra's second line of Judaica: a Passover collection. "It's so fun to rethink the kind of old-fashioned, stuffy pieces that I grew up with," she said. With kooky, whimsical hand-blown glass pieces inspired by frogs — the "coolest, cutest dudes" of the 10 plagues — Korn is selling cool Judaica for the Seder table and beyond. 
'Anything really weird and kooky was a big influence'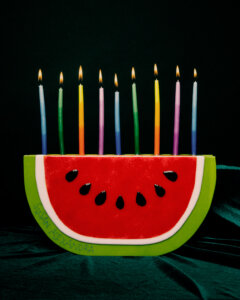 Korn was born and raised in a Jewish family in Columbus, Ohio. Growing up, she attended Hebrew school, and went to High Holiday services with her family. 
But she found that the culture of Judaism — the warmth, the cynicism, the humor — meant more to her than religious practice, she said. "I've always felt at home with people who are overtly Jewish." 
Now, she's known for producing unabashedly Jewish New York Fashion Week events, including the brand's launch at Baz Bagels and a bat mitzvah-themed show in 2019.
After studying business in college, Korn moved to New York with an idea that she wanted to work in fashion, despite not knowing what that would entail. After being turned down by her dream fashion job, Korn started working in retail for a jewelry designer. "It was this really uncreative space, but I was working for an artist," she said — it was a beginning.
A few years into the job, she signed up for a jewelry class on a whim. "I wasn't very good at it," she said, "I would cover the jewelry I made with paint, just to kind of disguise the mistakes." 
Through hiding her mistakes, Korn found the beginning of her signature style: cute and playful, but undeniably tongue-in-cheek. She found herself looking back to inspiration from her childhood — like old Betty Boop cartoons, where Betty's kitchen sink would turn into a puppy to lick the dishes clean. "Anything really weird and kooky was a big influence on me." she said. As a designer, she's like the high-end version of the coolest girl in your camp bunk who wore dangly ketchup-and-mustard earrings from Claire's when you were only allowed to wear studs. 
Korn started selling her painted enamel jewelry pieces to anyone who would buy them. They caught on. Eventually, Korn made enough money making jewelry to leave her retail job and run Susan Alexandra — which sells Larry David bracelets and custom pet portrait candles in addition to those viral handbags — full time. 
'Touching on a market that's much younger'
This past year, Korn has found a way to meld her interest in Judaica with her playful eye for design, selling "Oy Vey" chokers and gefilte fish charms alongside menorahs and candlesticks. 
"We're definitely touching on a market that's much younger and really excited and proud to show who they are," Korn said. "It's beautiful to see people who want to wear their Judaica very proudly and boldly." 
A few weeks after the Hanukkah collection came out, a girl came into the Susan Alexandra store on the Lower East Side. She told Korn that she and her sister cried when the collection came out. "It's very emotional for people," Korn said. "They were just so moved by how special it was that there was Judaica for them." 
Korn's Jewish pieces have resonated for non-Jews, too. A few friends have asked her if it would be a problem for them to wear a Star of David. "I thought about it, and I was like, I don't think so," she said. "If there are more people out there who are openly Jewish allies, I don't think there's any problem there." 
Inside the Passover collection
When Korn started brainstorming for Susan Alexandra's Passover collection, she wanted to design fun and fantastical pieces that would be accessible to seasoned Judaica collectors and new buyers alike. 
Korn found inspiration for the collection in frogs — a representative not just of the 10 plagues, but also, to Korn, of springtime. "Passover, to me, marks this transition in time to spring," she said. "I really wanted to talk about how much beauty there is in the traditions of Passover." 
Her collection is a frog pond universe, featuring crouching frog candlesticks and lily pad placemats. The line's centerpiece is a pond Seder plate, complete with water lily ramekins for bitter herbs and horseradish, that can moonlight as a charcuterie board or dessert cart. (It retails for a cool $1,448.)
There are also wine glasses decorated with frogs going fishing, frogs playing the saxophone and frogs throwing up peace signs. "Aren't those so ridiculous?" Korn asked. "I think if it makes you laugh, then you've hit the right note." 
Next week, Korn is hosting her first Passover Seder. She rented a venue in Chinatown with a beautiful kitchen, and she's still finalizing the menu and planning out the Haggadah readings she'll use. 
It'll probably be abridged – "I'm always starving and I hate to sit at the table for three hours" – but she's excited to expose her non-Jewish friends to Passover rituals. And no matter what, this year, Korn will be able to celebrate with Judaica she loves.