Fast Forward
In Brooklyn, Gov. Hochul announces boost in services for Holocaust survivors
'It is our duty not just as New Yorkers but as citizens of the world,' the governor said in a speech marking Yom Hashoah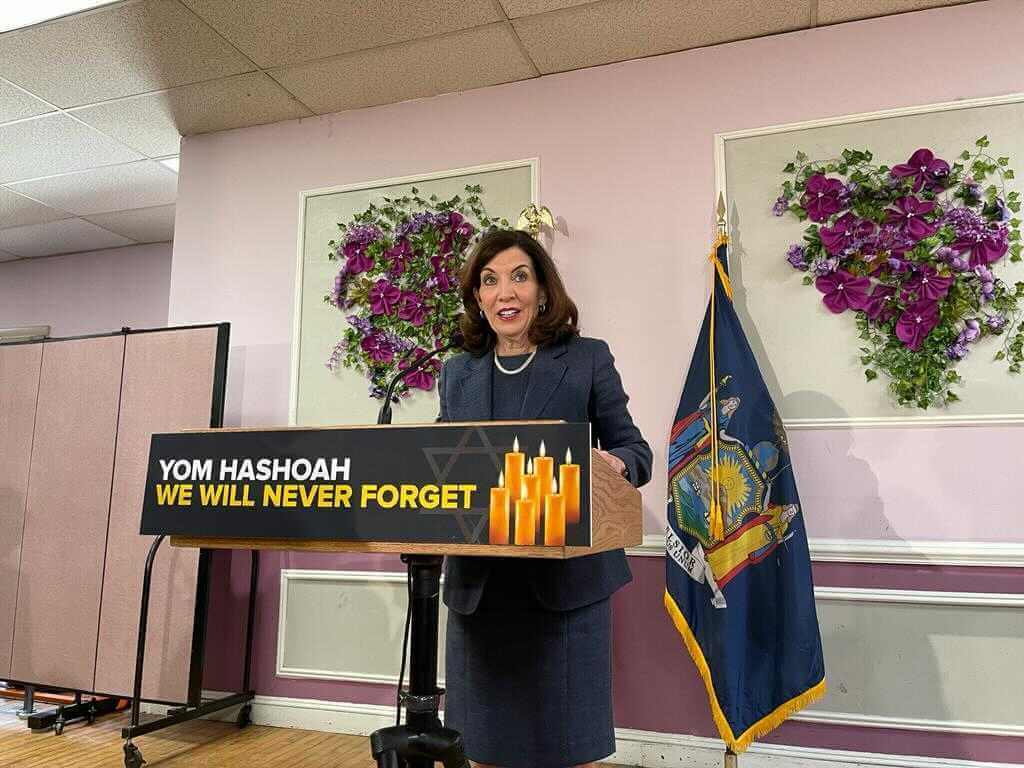 New York State will boost funding for a program to assist Holocaust survivors by $2.6 million,  Gov. Kathy Hochul announced in a speech marking Holocaust Remembrance Day on Wednesday. 
The increased funds for the Holocaust Survivors Initiative — which provides financial assistance for food and medical care, socialization programs to reduce isolation, training and support for caregivers and home health aides, among other services — were included in the state's 2023 budget that passed earlier this month, up from 1.5 million last year. 
"In New York, we will never forget and we will do everything possible to honor the memory of the millions of lives lost, and ensure survivors will always be safe, protected, and supported," Hochul said after visiting several Holocaust survivors at the Boro Park Y Senior Center ahead of Yom HaShoah, the annual Holocaust remembrance day that is observed in Israel starting Wednesday at sundown.  
The Brooklyn neighborhood of Borough Park has the largest concentration of the estimated 38,000 Holocaust survivors living in the New York City metropolitan area, according to Selfhelp Community Services, a non-profit organization. Forty percent of them live below the poverty line, according to the UJA-Federation of New York.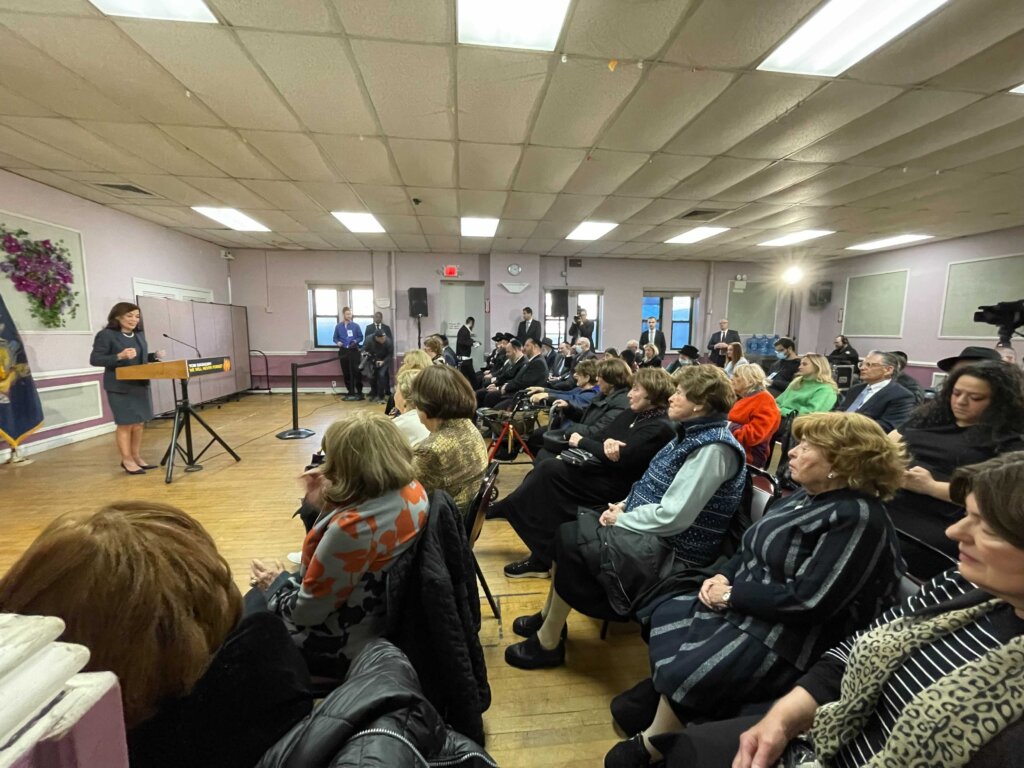 Hochul said the state owes the additional help to the survivors, given the hardships they suffered as children, so that they may live the rest of their lives in dignity and safety. 
Jewish legislators representing the neighborhood and communal leaders thanked Hochul, who also addressed the steady rise in antisemitism afflicting New York's Jewish communities. "What is going on?" she asked rhetorically. "Do people not know the stories of what unchecked evil can result in?"
The number of antisemitic incidents in New York increased by 24 percent last year, according to an annual report released by the Anti-Defamation League. The group tallied 416 incidents across the state, including 51 assaults against Jews, with a majority of the attacks — 34 — taking place in Brooklyn, which includes  a significant Orthodox population. It was the highest number the ADL has recorded since it started tracking these cases in 1979. 
"Fear can be debilitating. I don't want you to be fearful," Hochul said. "We welcomed people, we still welcome them today. But while they're here, we have to take care of them and make them not just feel safe, but be safe." 
Hochul said she remains committed to fighting the rise in attacks against Jews by increasing funds for security measures and surveillance, as well as supporting the city's initiative to increase the presence of police on the streets and transit.