Fast Forward
Harvard's student newspaper endorses BDS
The editorial also defends the newspaper against 'accusations' that its stance is antisemitic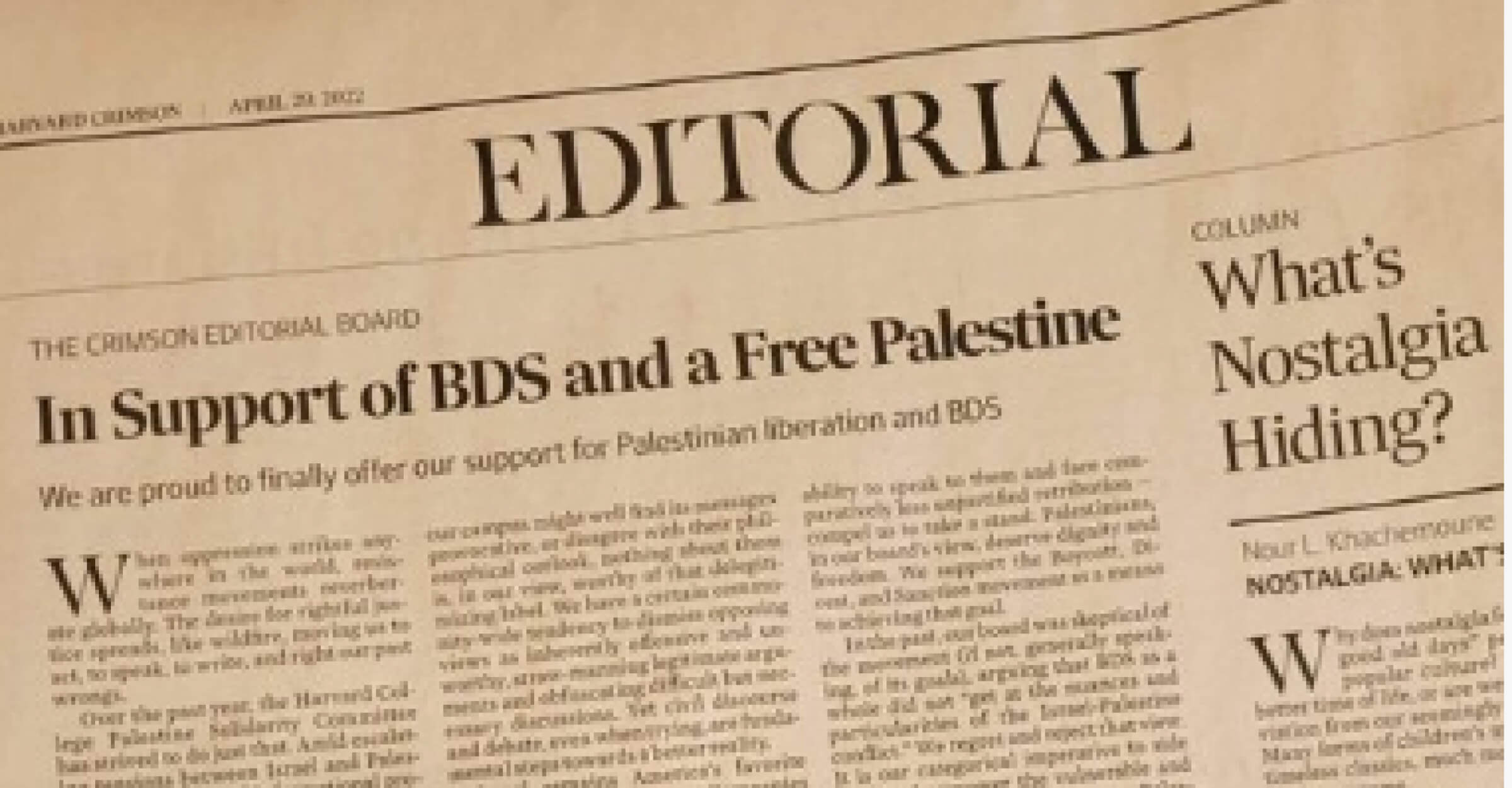 The editorial board of The Harvard Crimson newspaper has endorsed the Boycott, Divestment and Sanctions movement against Israel and "a free Palestine,"  asserting in a staff editorial that its stance is not antisemitic.
In the editorial, published Friday, the publication's board says its support for the BDS movement was prompted by the campus activism of the Palestine Solidarity Committee, which this week included a "Wall of Resistance" installation on Harvard Yard. It also referenced two recent reports from prominent human-rights groups that have accused Israel of practicing apartheid.
"In at least one regard, PSC's spirited activism has proven successful: It has forced our campus — and our editorial board — to once again wrestle with what both Human Rights Watch and Amnesty International have called Israel's "crimes against humanity" in the region," the editorial says.
"Palestinians, in our board's view," it continues, "deserve dignity and freedom. We support the Boycott, Divest, and Sanction movement as a means to achieving that goal."
The editorial also defends the Crimson against "accusations" that its views are anti-Jewish. Many on social media quickly decried the editorial as antisemitic.
.@thecrimson Editorial Board is in fact antisemitic, misinformed, and speaking from a place of both outstanding privilege and naïveté. This announcement is shrouded in anti-Jewish propaganda that should be immediately rebuked in the same paper. https://t.co/mscstytDGl

— Blake Flayton (@blakeflayton) April 29, 2022
The editorial anticipated such a reaction. "We feel the need to assert that support for Palestinian liberation is not antisemitic," the editors wrote. "We unambiguously oppose and condemn antisemitism in every and all forms, including those times when it shows up on the fringes of otherwise worthwhile movements. Jewish people — like every people, including Palestinians — deserve nothing but life, peace, and security."
Coming from the oldest continuously published campus daily in the United States, at one of the country's most selective colleges, the Crimson's support is certain to fuel concerns from pro-Israel advocates that college campuses are inhospitable to students who support Israel. Pro-Palestinian advocacy is common on campuses, and last year 11 student governments passed BDS resolutions, out of 17 that were considered.
Reaction to the editorial was swift and divided. Many heralded it as a significant win for the Palestinian cause and BDS.
This is big. The Harvard University daily, The Harvard Crimson, has come out publicly in support of BDS and Palestinian liberation—this despite enormous pressure from pro-Israel groups. #Palestine pic.twitter.com/tQLfqmPm1c

— Pouya Alimagham | پويا عالي مقام (@iPouya) April 29, 2022
Others criticized it as bigoted and naive.
Attacking Jews on Holocaust memorial day? Sanction the only democracy in the ME & the only Jewish state in the world shows the lesson of the Shoah are lost on you self-important bigots.

In Support of Boycott, Divest, Sanction and a Free Palestine https://t.co/w2M6oeRmrZ

— Ayatollah Ghilmeini- blockade Iran (@AyatGhilmeini) April 29, 2022
The editorial took note of previous Crimson editors who had rejected the boycott movement.
"In the past, our board was skeptical of the movement (if not, generally speaking, of its goals), arguing that BDS as a whole did not 'get at the nuances and particularities of the Israel-Palestine conflict.' We regret and reject that view. It is our categorical imperative to side with and empower the vulnerable and oppressed. We can't nuance away Palestinian's violent reality, nor can we let our desire for a perfect, imaginary tool undermine a living, breathing movement of such great promise."
While past Crimson editors had called comparisons between Israel and Apartheid-era South Africa "offensive" and "repugnant," the editorial published Friday favorably compares BDS tactics to the anti-Apartheid movement, while adding that "Israel remains America's favorite First Amendment blindspot" because individuals and companies that criticize Israel regularly face criticism and consequences, sometimes dictated by state law.
The Crimson's editorial board has nearly 90 members who meet three times a week to debate and decide on positions. Editorials reflect a majority view, according to the newspaper's website.
Past Jewish Crimson staffers and editors have included current U.S. Secretary of State Antony Blinken; Attorney General Merrick Garland; journalists Yair Rosenberg and Irin Carmon; and former CNN president Jeff Zucker.
The Crimson's news editor, Natalie Kahn, is also the president of Harvard Hillel, and in that capacity was quoted in the Crimson criticizing the "Wall of Resistance" protest by the pro-Palestinian group. She called it "disgusting" and helped to organize a "Stand with Israel Rally" on campus to oppose it.
The editorial said the board did not believe the "Wall of Resistance" constituted antisemitism.
Neither the Crimson's editorial chairs nor Kahn returned requests for comment to the Jewish Telegraphic Agency, which contributed to this report.