Fast Forward
In U.S. speech, Viktor Orbán invokes Holocaust, attacks George Soros
The Hungarian prime minister suggested the Jewish billionaire believes Christian values 'led to the horrors of the 20th century'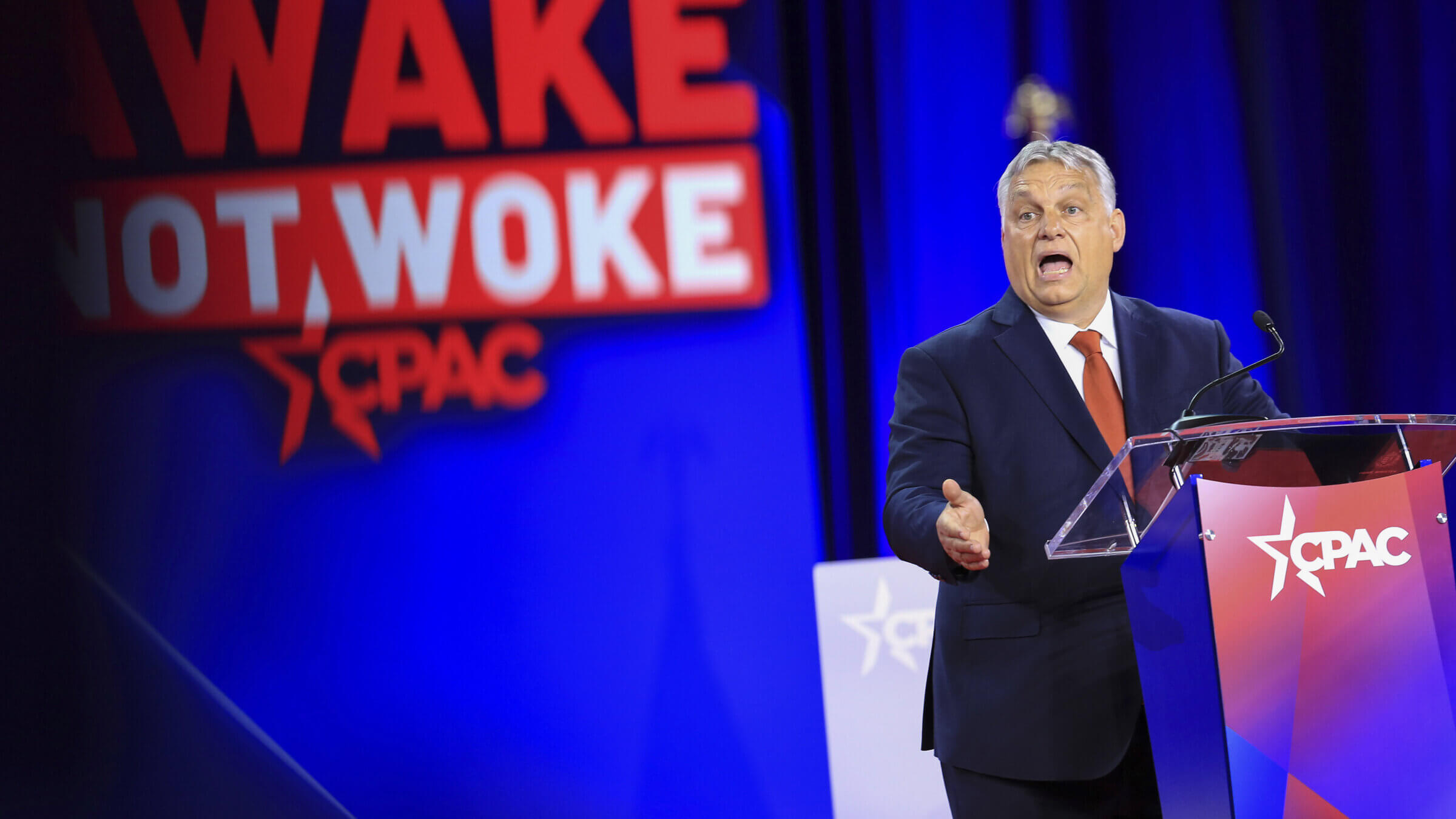 Viktor Orbán, the longtime prime minister of Hungary, invoked the Holocaust and assailed Jewish billionaire George Soros in an unleashed attack on progressive Democrats and the mainstream media at a conservative conference Thursday.
In a speech at the Conservative Political Action Conference's annual gathering in Dallas, Orbán said that the "horrors of Nazism and communism" happened because some European countries abandoned their Christian values. 
Orbán, a populist authoritarian, has aligned himself with former President Donald Trump and far-right politicians. He faced widespread condemnation for recent remarks in which he said Europeans should not "become peoples of mixed race." One of his top advisers resigned a few days later in protest, calling it a "pure Nazi" speech.
The Hungarian leader started his address on the first day of the conference by saying he understands that his appearance has drawn criticism. "You managed to confuse a lot of people by inviting me," he said. "I can already see tomorrow's headlines: 'Far-right, European racist, antisemite, strongman, the Trojan horse of Putin gives speech at conservative conference.' But I don't want to give them any ideas."
He went on the say that his government "introduced a zero-tolerance policy on racism and antisemitism. So accusing us is fake news, and those who make these claims are certainly idiots. They are the industrial fake news corporation."
Orbán told the crowd that he calls Soros, the Hungarian-born American billionaire philanthropist who survived Nazi persecution and with whom he has clashed with for years, by the nickname 'nagybácsi' – Uncle George. He added that he considers Soros the "wealthiest and one of the most talented Hungarians on earth."
"I know George Soros very well," he said. "He is my opponent. He believes in none of the things that we do, and he has an army at his service – money, NGOs, universities, research institutions and half the bureaucracy in Brussels. He uses this army to force his will on his opponents like us Hungarians."
He went on to claim that Soros thinks that the Christian values "dear to all of us led to the horrors of the 20th century."
But Orbán argued the case is the opposite. "Our values save us from repeating history's mistakes," he said. "The horrors of Nazism and communism happened because some Western states in continental Europe abandoned … Christian values. And today's progressives are planning to do the same."
"Who is going to stop them if we don't," Orbán said.
Orbán concluded his speech by saying, "The globalists can all go to hell, I have come to Texas."