Fast Forward
Author who alleged Israel was behind the 9/11 attacks endorses candidate in Brooklyn House race
Yuh-Line Niou posted, and then removed, the endorsement of Sander Hicks on her campaign website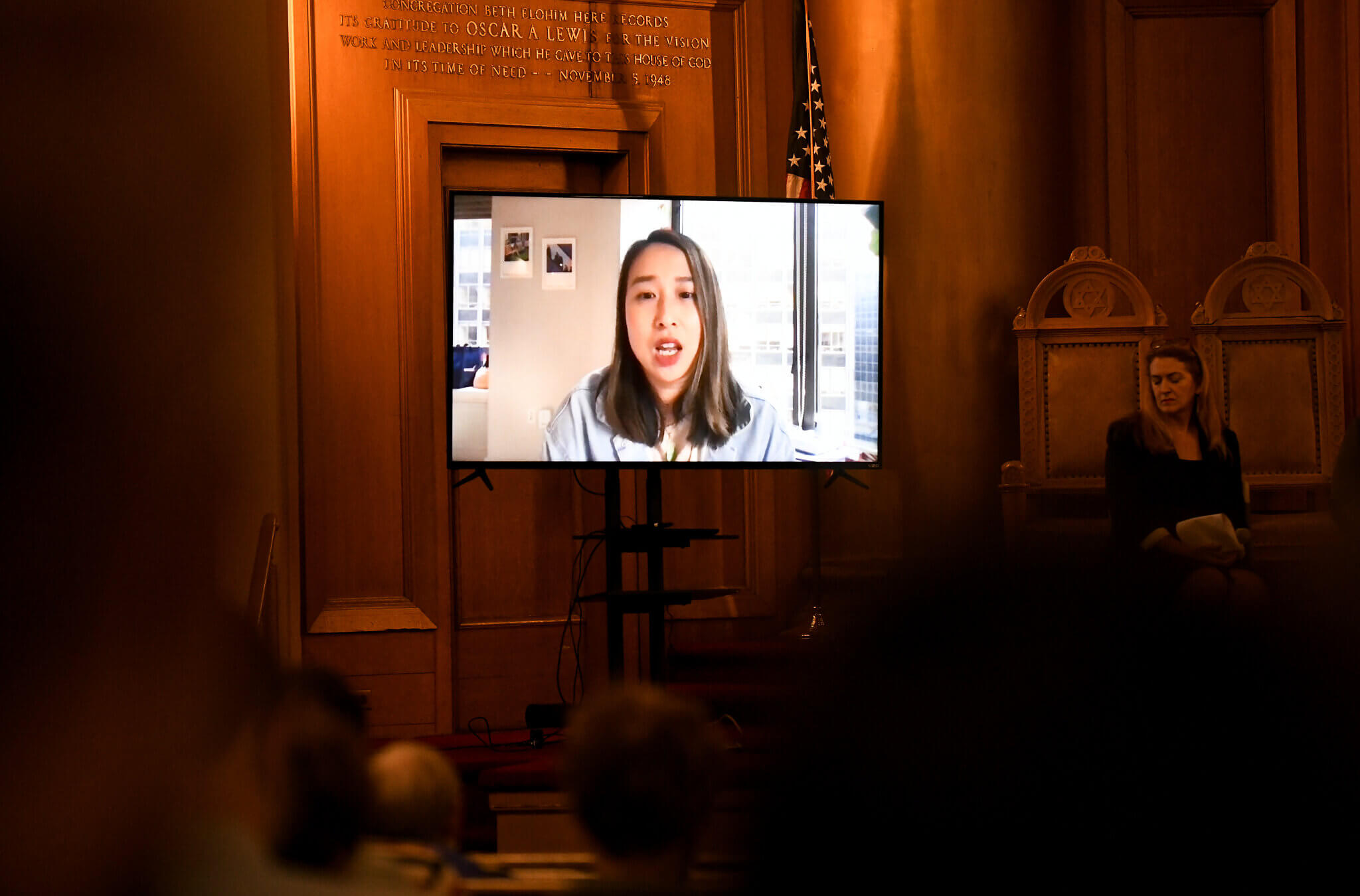 An author and political gadfly who has accused Israel of complicity in the 9/11 terror attacks endorsed New York State Assemblywoman Yuh-Line Niou in the crowded Brooklyn congressional race to represent the heavily Jewish 10th district.
The endorsement by Sander Hicks was initially posted on Niou's campaign website, but then removed. After this article was initially published, Niou sent an email to the Forward renouncing Hicks' support.
"This is deeply disturbing and not reflective of my values or the values of my campaign," she said. "I condemn antisemitism in all its forms. I did not seek out and do not accept Sander's endorsement."
Hicks, an author and Brooklyn resident, wrote Saturday in an email to subscribers of his website, New York Megaphone, that meeting Niou at a recent event "was like getting hit with a bolt of sunshine after months of dark clouds." The email, obtained by the Forward on Sunday, was titled, "Why I am endorsing Yuh-Line Niou for U.S. Congress." He also promoted Niou's campaign on Facebook and her face is splashed on the site's homepage. 
Niou is one of a dozen candidates in the highly competitive race to represent the 10th, a newly redrawn district that includes Lower Manhattan and the Brooklyn neighborhoods of Borough Park and Park Slope. 
She came under fire last month after saying in an interview that she supports the Boycott, Divestment and Sanctions movement, which aims to use economic pressure to force Israel to end the occupation of the West Bank. Some of the movement's leaders have stated they want to abolish Israel as a Jewish state and replace it with a binational one between the Jordan River and the Mediterranean Sea.
Niou defended her stance at a candidate forum co-hosted by the Forward on July 26. Pauline Park, a pro-Palestinian activist in Brooklyn, wrote last week that the candidate's endorsement of the BDS movement at the forum prompted her to back Niou's candidacy.
Hicks said in a 2019 podcast interview that "Israel was up to its neck, deeply deeply connected to the 9/11 event." In 2018, it was reported that Hicks wrote on his website that "there has to be a new path to peace in the Middle East. Remove the massive funding for the war machine and its support for Zionist aggression. Fearlessly expose Israel and the CIA's role in 9/11/01." His 2011 book, titled "Slingshot to the Juggernaut," contains chapters like "Israel and 9/11" and "Special legal nuances for Israeli dual citizens." 
Hicks ran for New York governor in 2006 as the Green Party candidate against then-Democratic nominee Eliot Spitzer. "This guy was born with a ton of money, born in Riverdale to upper-class Austrian Jewish emigres," Hicks said about Spitzer at the time. He also launched a bid for Congress in New York's 12th District in 2018 but failed to get on the ballot. In a candidate forum that year, he questioned reports that Syrian President Bashar Al-Assad was guilty of using chemical weapons on his own people.
In an email to the Forward after this article was originally published, Hicks said that he has "largely moved on from 9/11" though still has "gnawing questions."
"I am a lifelong lover of peace, of research, of careful work in independent publishing," he wrote. "On the topic of antisemitism, I have worked fiercely to confront it, both in the outside world, and inside 9/11 truth circles.
"The growing strength of the BDS movement is not a sign of antisemitism, but a hunger for change in the Israeli policy against Palestinians in Gaza and the West Bank," Hicks said. "It's through dialogue and negotiation with each other that we will eventually find a better way for all people to live in Palestine/Israel."
Editor's note: This article has been updated to change the original description of Sander Hicks, in the headline and lead paragraph, as a "conspiracy theorist." While Hicks has espoused unproven conspiracies about Israel and 9/11, it was unfair to use that as his main identifier.