Fast Forward
Arizona GOP nominee for attorney general invoked antisemitic tropes in past online posts – and continues to do so
Abraham Hamadeh wrote on an online message board that 'Jews are influential and for the most part rich,' and continues to promote conspiracy theories about George Soros, a Holocaust survivor.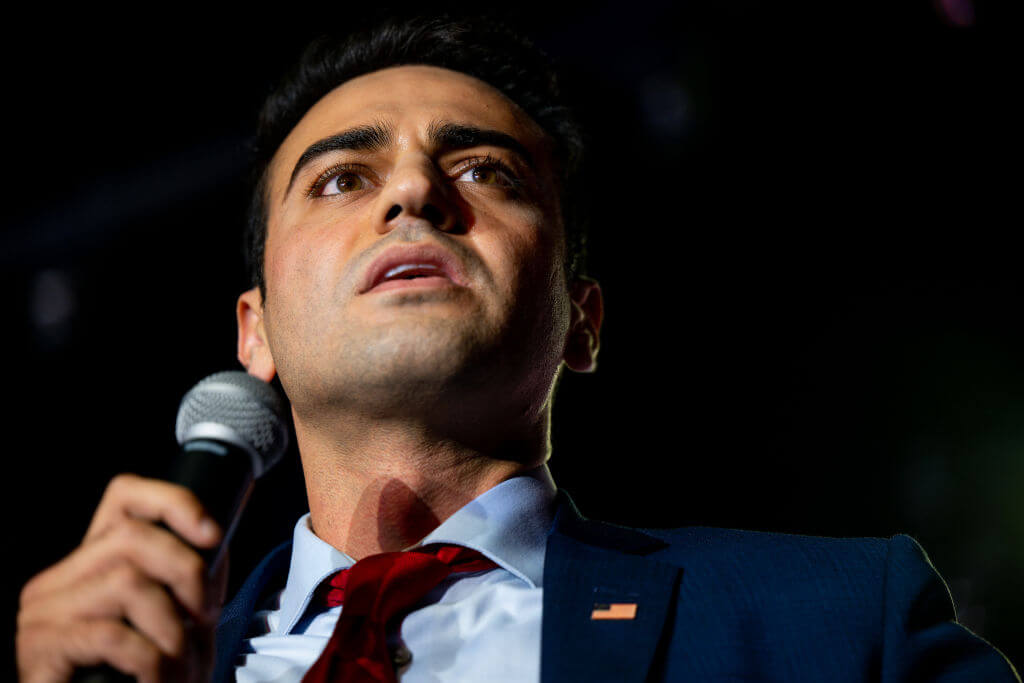 Abraham Hamadeh, the Republican nominee for Arizona attorney general, has in the past invoked antisemitic tropes and advocated cutting U.S. funding to Israel, the Phoenix New Times reported on Tuesday. The comments are part of several controversial posts he published on an online message board dating back to 2007.
Hamadeh, a U.S. Army Reserve intelligence officer, won a crowded Republican primary earlier this month after securing an endorsement from former President Donald Trump. He said during the campaign that he would "prosecute crimes of the rigged 2020 election."
In July 2007, Hamadeh posted on the Ron Paul Forums, a virtual gathering space for supporters of Ron Paul, a former Texas congressman and presidential candidate, that "Jews are influential and for the most part rich." He added: "If you think Jews aren't big in America (2%) how come 56% of them are CEO'S," wrote Hamadeh, then a 16-year-old teenager.
The Hamadeh campaign told the local publication the candidate, now 31, is being judged by comments he made as in his youth "well before their minds were even fully developed." In a subtle reference to the report, Hamadeh tweeted on Wednesday, "The media is a part of the ruling class that want to control and manipulate us. They are hostile actors."
Hamadeh is running against Kris Mayes, the Democratic nominee for attorney general. The position is currently being held by Republican Mark Brnovich, who opted out from running for reelection to compete in a GOP primary U.S. Senate seat, a race he lost.
More recent disparaging remarks
During this year's primary, Hamadeh repeatedly assailed Jewish billionaire George Soros, who has been the target of antisemitic tropes and touted as a boogeyman by the far right. Earlier this month, Hamadeh shared a screenshot of a segment from Tucker Carlston's show on Fox news about Soros. "It's true. George Soros has destroyed our streets and turned our cities into Gotham," Hamadeh wrote in a Aug. 5 tweet. "Here in Arizona, I'll stop him." In a June tweet, Hamadeh warned that "Soros is on the cusp of dominating Arizona." He also claimed that Soros, Michael Bloomberg and Tom Steyer, all three leading Jewish political donors, are funding the campaign of his Democratic opponent.
Last year he said on Twitter that he was raised by a Muslim father and Druze mother and that some of is family members and mentors were Jews.
His father, Jamal Hamadeh, was indicted by a grand jury in 1994 on charges of conspiracy to commit arson after the Mikro Kodesh Anshe Tiktin synagogue, an Orthodox congregation in the northwest-side of Chicago, was firebombed. Jamal, a Syrian native, admitted to being in the U.S. illegally after overstaying a visitor's visa. One of the suspects claimed that Jamal, who was a jeweler, told him he was "tight" with the Khalil brothers, "who are PLOs," and that he "was wanting him to burn the synagogue in retaliation against the Jews." The charges were later dropped after the two men who set the fire refused to cooperate with prosecutors and testify against Hamadeh.
In a 2008 post on the online forum, Hamadeh advocated cutting U.S. funding to Israel and reportedly indicated fervent opposition to Israel as a state.
In tweets about the Syrian civil war that started in 2011, Hamadeh repeatedly expressed hope that Israel would mend ties with Turkey to help the Syrian opposition topple President Bashar al-Assad and aid the country's refugees. "Would be a beautiful site to see Red Star of David humanitarian boxes all over Homs," wrote in 2012, misspelling sight.
Geoff Burgan, a spokesperson for the Democratic Attorneys General Association, said in a statement that, "Antisemitism has no place in the Arizona Attorney General's office," calling Hamadeh "extremist" and dangerous."
The Hamadeh campaign did not immediately respond to a request for comment.