Fast Forward
Jewish Democrats target independent Jews in key Senate races
'The Jewish independent vote may actually determine the outcome of the election,' said Halie Soifer, CEO of Jewish Democratic Council of America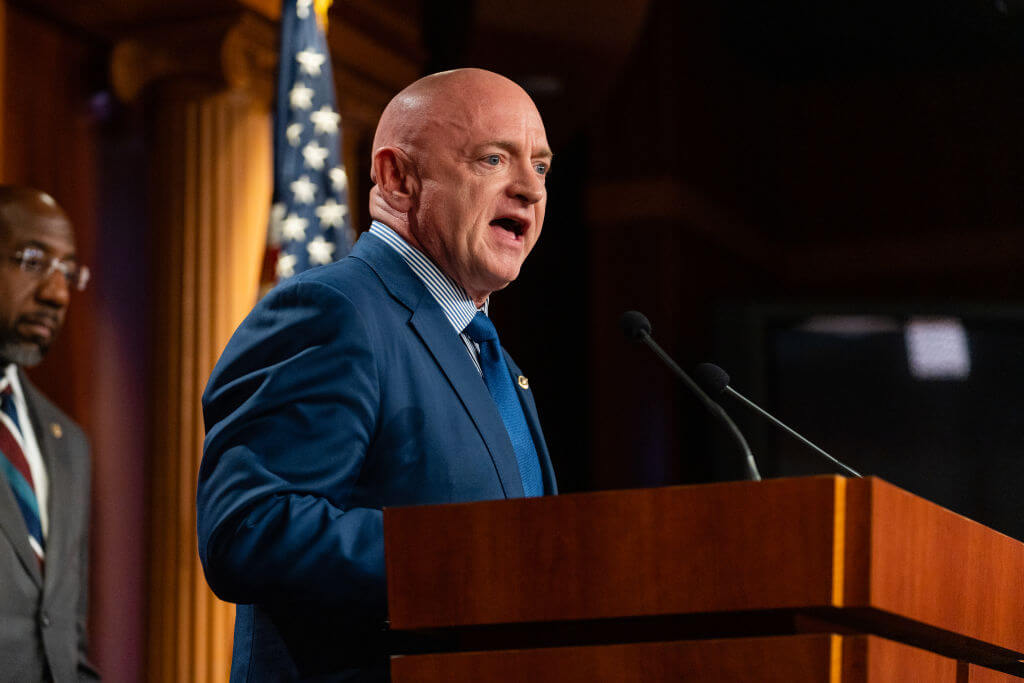 A major Jewish Democratic group is stepping up efforts to mobilize Jewish voters in key swing states that could determine the makeup of the U.S. Senate.
The Jewish Democratic Council of America is rolling out two digital ads Wednesday that target Jewish independent voters in Georgia and Arizona and echo President Joe Biden's midterm warning about the danger of "MAGA Republicans" threatening U.S. democracy.
"American democracy and our rights are on the line," the narrator says in one of the 30-second videos shared with the Forward ahead of its release.
Halie Soifer, the council's chief executive, said the group had identified Jewish independents through a data firm and thought the ads would resonate with them "because there is such a stark contrast between the Trump-endorsed extremist Republican candidates running for Senate and the Democratic incumbents or challengers."
According to a study by the Jewish Electorate Institute last year that analyzed data from 1,541,000 Jewish adults in hundreds of national surveys, a third of American Jews identify as independent rather than with either political party. These voters are almost evenly split when asked if they lean toward the Democratic or Republican parties.
Soifer said the ads in support of Sens. Raphael Warnock of Georgia and Mark Kelly from Arizona – both elected in 2020 – will target 90,000 voters on social media. They are being handled through OpenWeb and pop up when people open their electronic devices and use the internet.
Kelly is the husband of former Congresswoman Gabby Giffords, who recently celebrated her bat mitzvah at the age of 51. Warnock is senior pastor of the Ebenezer Baptist Church in Atlanta, where the Rev. Martin Luther King Jr., previously served as pastor. He was elected in a runoff election in January 2021, unseating Republican Sen. Kelly Loeffler and handing the Democrats control of the Senate.
Jews make up 2% of the electorate in Arizona and 1.3% in Georgia. The Jewish Electoral Institute survey showed that 4% of Jews in Arizona identify as independent and an additional 16% identify as independents who lean toward the Democratic Party. In Georgia, 7% are independents with an additional 14% who lean Democratic.
Biden won both states in 2020; Trump won them in 2016. The Republican nominees in Georgia and Arizona – Herschel Walker and Blake Masters, respectively – have repeated false claims about the illegitimacy of the 2020 presidential election.
Masters once cited a Nazi official and is backed by Andrew Torba, the CEO of the antisemitic Gab social media platform. Last year, Walker canceled a fundraiser with a conservative film producer who used a rendering of a swastika as her Twitter profile picture following broad criticism.
"The Jewish independent vote may actually determine the outcome of the election," Soifer said. She noted that Rep. Shontel Brown won a close special election for an Ohio House seat last year by a narrow margin, helped by her group.
Soifer said the group also planned to announce a list of House and gubernatorial endorsements, which will bring its total number of 2022 endorsements to 115.
The council has appointed a number of prominent Jewish Democrats, including former U.S. Ambassador to Israel Daniel Kurtzer and former Rep. Dan Glickman of Kansas, to its board of directors. Sarah Hurwitz, an author and former White House speechwriter; and Ben Samuels, a former congressional candidate in Missouri, have recently joined its New Leadership Council.