Fast Forward
Rabbi to the rescue: A Chabad team borrows a boat and assists 4 Orlando-area families
First responders told a family in Kissimmee, Florida, that they didn't know how long they'd have to wait to be rescued. But one rabbi was ready to move.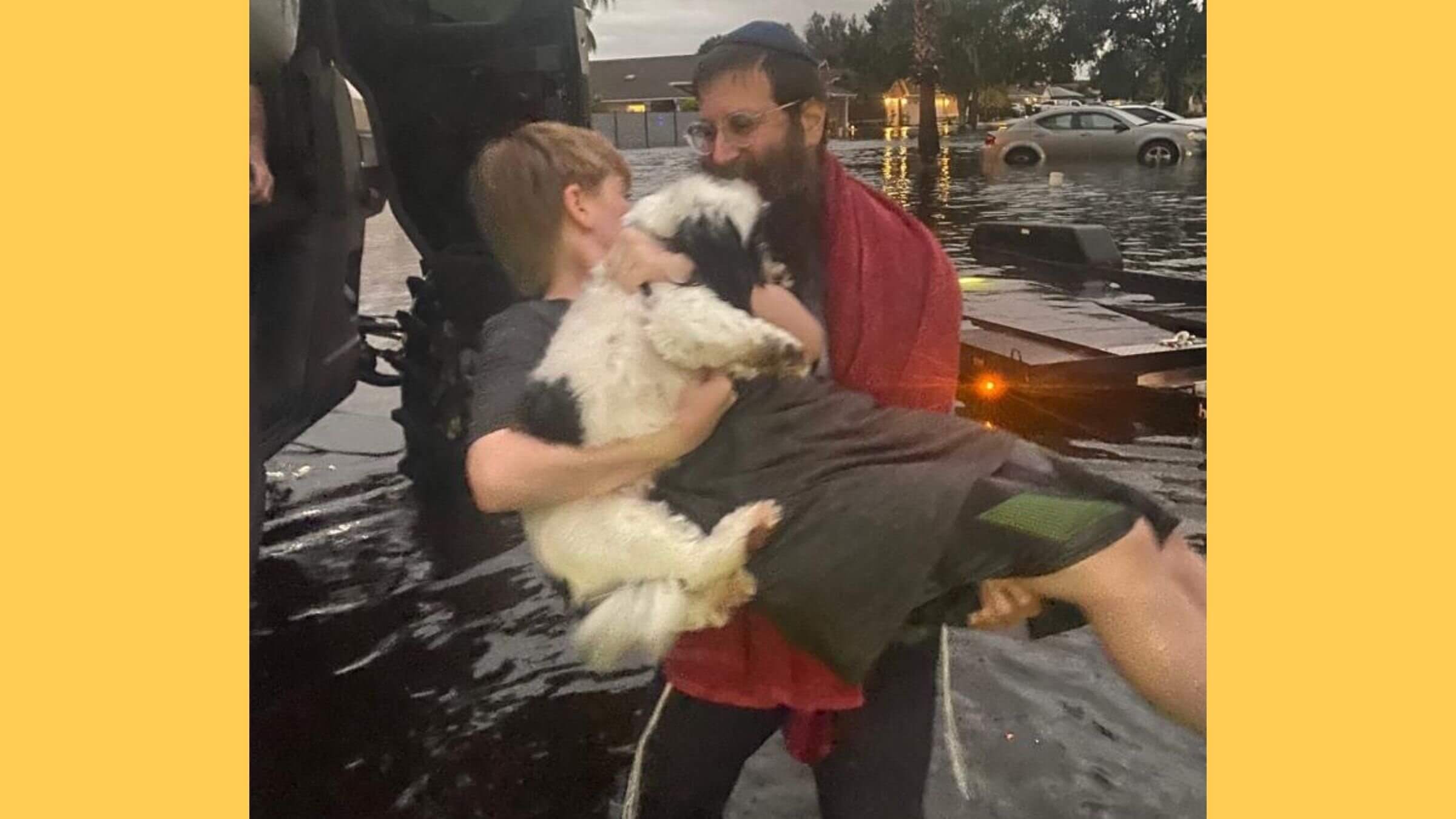 After Hurricane Ian passed over Orlando, Rabbi Yosef Konikov's first impression was that the city had avoided the worst of it.
The rabbi, who leads the Chabad of South Orlando, had been hearing on the news about isolated cases of flooding. 
Then the calls and emails began to flood in. People needed meals. They needed help clearing debris. One call on Thursday seemed particularly urgent: a house was surrounded by rising water. The call didn't come from the unfortunate occupants, but someone who knew of their dire situation. Konikov managed to get ahold of the family, who didn't believe the rabbi would be able to get to the them.
"They're like 'Listen,'" Konikov recalled. "'We've called the first responders. We called 911. And they said that they're not able to come to us right now because they have to first deal with the other people that they think are high risk.'"
As #HurricaneIan flooded parts of Orlando, Florida, Chabad Rabbi Yosef Konikov and his son Levi aided the overwhelmed local emergency services to help families affected by the storm.

🎥 @Chabad pic.twitter.com/8JdnHtEeS3

— The Forward (@jdforward) September 30, 2022
The family told the rabbi that first responders said they didn't know when they could get to their home, the entire first floor of which was filled with water. "And the whole day had passed," Konikov said.
While parts of Orlando were hit by 14 inches of rain, city officials painted a more concerning picture of nearby Kissimmee, where the family lived and which was under a 9 p.m. to 6 a.m. curfew. Lake water had risen dramatically, resulting in "historic flooding." 
Konikov and other members of Chabad began gathering equipment, including a motorboat and a large truck able to navigate the roads. They charted a course through flooded streets and made it to the house, where they were able to get the family — four people and their dog — out. 
In total, Konikov said the group was able to visit four households on Thursday, both Jewish and not, to either help people vacate their properties or deliver supplies. 
He said relief efforts would continue on Friday, with a focus on delivering meals to those who need them.