News
In the path of Hurricane Ian, rabbis open their homes and safeguard Torahs
'It's pretty awful out there,' said Rabbi Bruce Diamond, watching the hurricane rage outside his Fort Myers home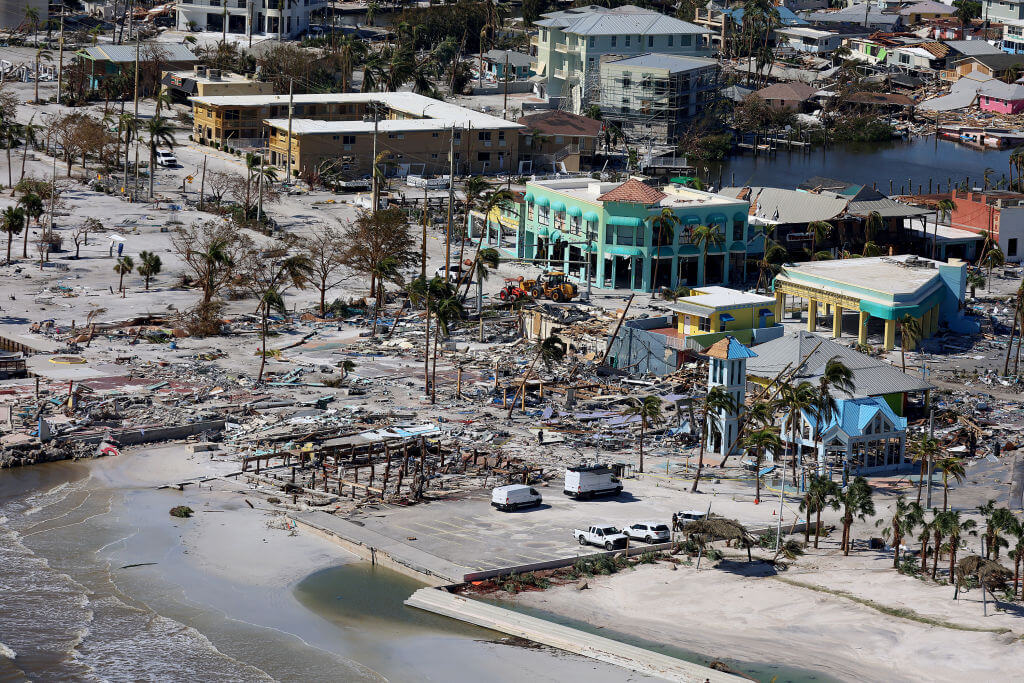 As Hurricane Ian barreled through Florida heading north, Rabbi Robert Haas got busy protecting his synagogue in Savannah, Georgia.
Congregation Mickve Israel, founded in 1733, has much to safeguard. The Reform synagogue is an active congregation, but also a museum filled with priceless Judaica, including two of the oldest Torahs in the United States.
Haas wrapped the scrolls and other artifacts in waterproof material and moved them to the windowless library, just in case. 
On Thursday, the day after Ian hit Florida as a Category 4 hurricane, it had been downgraded to a tropical storm. But it's predicted to be upgraded to a hurricane again before it hits the South Carolina coast on Friday. In Georgia, officials were warning of possible flooding just days before normally crowded Yom Kippur services. If congregants cannot reach the synagogue, they can tune in online — a contingency in place thanks to the pandemic. 
"If anything does happen, we'll go in really quickly and record the whole service and put it online for everybody if we can't be in the building," Haas said.
One of the worst storms to hit the U.S. in decades, with 150 mph winds, Ian left more than 2 million Floridians without power, and emergency responders say that it is likely responsible for two deaths, and possibly many more. It ravaged the state's west coast, including Sarasota, Fort Myers and Naples. Many Jewish institutions in the area were unreachable by phone Wednesday and Thursday. 
Devastation in Florida
Rabbi Yitzchok Minkowicz of the Chabad of Southwest Florida in Fort Myers rode out the storm at home, not by choice but because the evacuation order had come during Rosh Hashanah, when Orthodox Jews refrain from using technology.
"We couldn't leave because we only found out after yontif and it was too late to leave," Minkowicz said, using the Yiddish term for a Jewish holiday.
Despite severe flooding, by Thursday morning, the storm surge had rescinded back into the Gulf of Mexico, and Minkowicz had mobilized, opening a temporary shelter at the Chabad House in Fort Myers, launching a fundraiser and providing video updates on the community's relief efforts. By midnight Wednesday night, three ambulances from Hatzoloh, the Jewish emergency service, had arrived, and volunteers from Miami and Boca Raton began to set up a generator and Wi-Fi at the temporary shelter.
Minkowicz's group planned to host a barbecue dinner Thursday for people who are out of power or low on supplies, and will also deliver 200 Shabbat dinners to members of the community.
"Now it's a matter of helping people get back on their feet, helping them fix up the houses, getting them food, getting them what to drink, getting them supplies," Minkowicz said. "That's our next big job."
Sarasota Rabbi Levi Steinmetz of the Chabad of Downtown Sarasota also remained in the city as the storm passed through.
On Thursday, he said he had been in communication with congregants despite power and internet outages, and was able to assure people of their relatives' safety, including a mother in Israel worried about her son.
"It's a little bit crazy, we're trying to check on everyone," said Steinmetz.
Ian severed the causeway to Sanibel Island, home of Bat Yam Temple of the Islands. Florida Gov. Ron DeSantis called the destruction on the island "biblical." All but two couples in the congregation fled before the hurricane hit, responding to a county-wide evacuation order.
"Nobody has heard from anybody on the island since a little after 3 p.m. Eastern Time yesterday," Janice Block Chaddock, a Bat Yam member, told the Jewish Telegraphic Agency on Thursday. "I'm happy to be alive, happy that my husband and my mom are alive and I'm on pins and needles about other friends on Sanibel."
Rabbi Bruce Diamond of The Community Free Synagogue in Fort Myers answered a call from the Forward just after the storm made landfall on Wednesday. Asked about the weather, he stepped outside his home, and described wind pummeling trees and debris littering the ground. 
But Diamond, who has lived through three or four hurricanes in the area, said he wasn't worried, and that he was ready to shelter people who live in homes more vulnerable than his, as he has done in the past.
"Sometimes it's two or three days and we may have to do that again," he said. "It's pretty awful out there."
On Thursday, a call to Diamond went straight to voicemail.
The storm had subsided by the time it reached Orlando, in central Florida.
Rabbi Yosef Konikov of the Chabad of South Orlando said his synagogue was working on getting meals to those who need them and also on providing help for congregations in other places that were hard hit. 
Relief
The Miami area, Florida's most substantial population center, was relatively unaffected by the hurricane, aside from some rain and wind. The Greater Miami Jewish Federation launched a fund to boost relief efforts.
The Jewish Federations of North America has also launched a relief campaign, including emergency grants to hard-hit communities. "Jewish Federations are especially well-positioned to help in these kinds of situations," Julie Platt, the campaign chair, said in a press release.
The storm struck just after Rosh Hashanah, and days before Yom Kippur, which begins on Tuesday evening. Many in the storm's path fled to family in other cities and states, and will be observing the holiest day on the Jewish calendar with them.
Diamond, watching the hurricane rage outside his home, called it "awe-inspiring."
"The voice of the Lord is above the waters," he said. "It certainly gives you a sense of reverence to see this kind of power displayed. And it reminds us of how everything hangs by a thread."
JTA contributed to this report.