Culture
After Hurricane Katrina, a chaotic hospital evacuation led to 45 deaths. Who's to blame?
'Five Days at Memorial,' a grueling new series from Apple TV+, explores grim choices at a waterlogged hospital.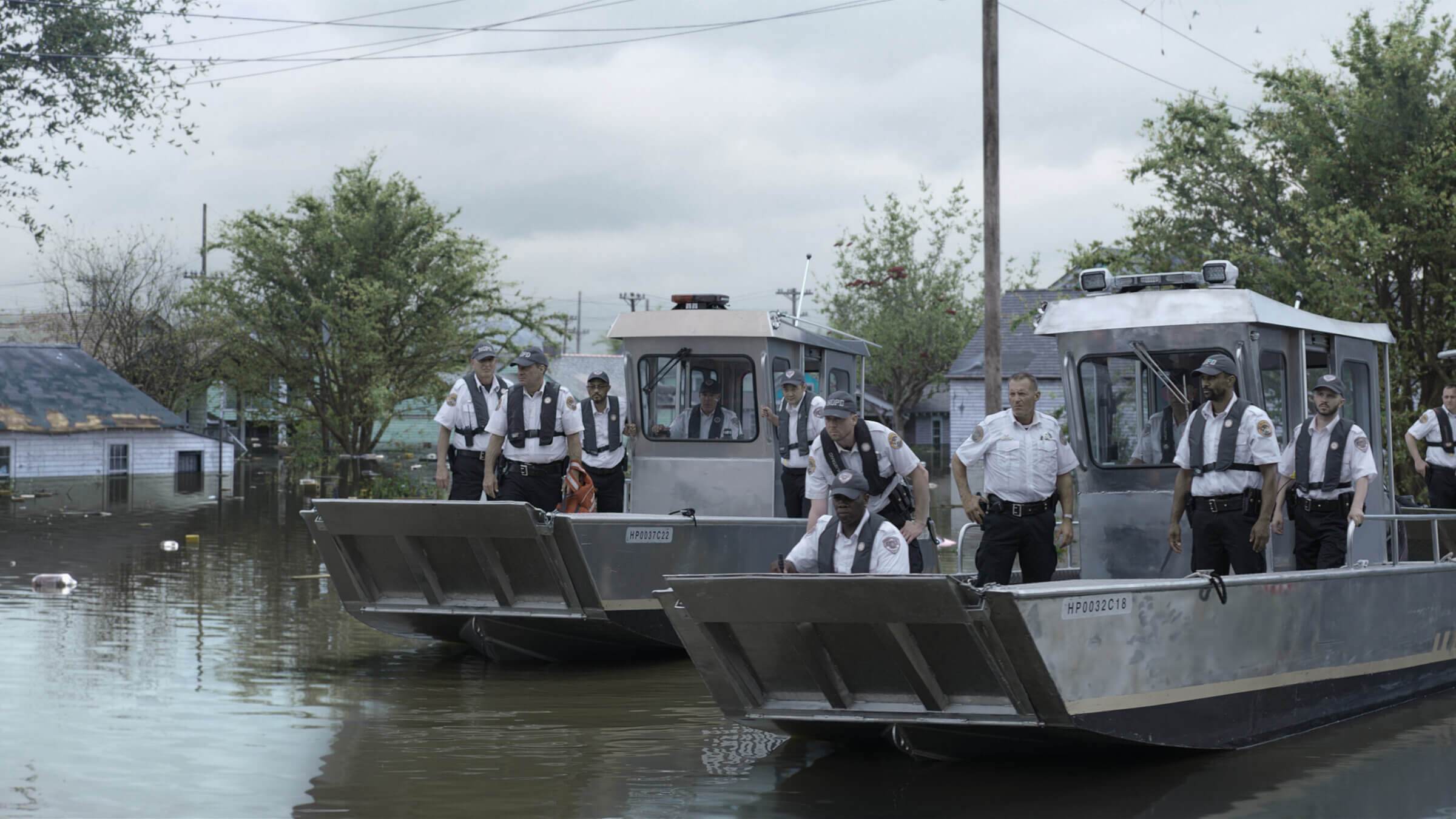 When Hurricane Katrina made landfall in August 2005, people flocked to New Orleans's Memorial Medical Center as if it was a fortress. Neighbors hunkered down in the hospital's emergency room, which was far more stormworthy than the modest homes surrounding it. Staff brought their spouses, parents and pets. During the first night of what would become an era-defining natural disaster, windows shattered and the power went out. But generators kicked in, and the water began receding the next day. 
Hospital administrators thought they'd weathered the worst — until the city's levees failed and floodwater surged through the city. People had sought safety at Memorial; now they were stranded there. 
It took five days to evacuate the hospital, and the chaotic rescue effort led to 45 patient deaths. When autopsies showed high levels of morphine and other sedatives in several of those patients, authorities alleged that doctors had euthanized those they thought they couldn't save. Who was responsible for those injections, and what were they trying to accomplish? 
That's a question that "Five Days at Memorial," an Apple TV+ miniseries based on a book of the same name by journalist Sheri Fink, doesn't try to fully answer. Over eight episodes, the show depicts medical professionals forced into an impossible position by government neglect and corporate malfeasance. What it doesn't do is tell us whether doctors intended to kill their patients, or what the "correct" ethical decision would have been.
Like many prestige TV shows, "Five Days" prides itself on being based on a true story, and its refusal to come down on one side or the other reminds viewers that the series is trying to hew to established facts. That fealty to truth is hardly reassuring — in a show this grim, it would be comforting to believe that it was all made up.
It becomes clear that things are going south as soon as Susan Mulderick (Cherry Jones), the nurse in charge of Memorial's crisis response, realizes that the hospital has no protocol for evacuation in the event of flooding. As the waters rise, she and other leaders, including young internist Bryant King (Cornelius Smith Jr.) and seasoned, compassionate oncologist Anna Pou (Vera Farmiga), realize that the only way to get patients out is to carry them (up the stairs, since the elevators are out of service) to a shaky helipad last visited when the pope visited New Orleans in the 1980s. 
Once on the helipad, staff have to wave down passing military helicopters, since Tenet, the hospital chain that owns Memorial, seems disinclined to formulate or fund its own rescue plan; in fact, Mulderick can barely get anyone "at corporate" to read her emails. Air conditioning soon fails, leaving patients at risk of heat stroke and doctors in a constant state of exertion. Crumpled water bottles and stained hospital gowns are everywhere; by the end of the second episode, there's not a set of dry scrubs in sight.
As supplies dwindle and the hospital remains without aid, questions naturally arise about whom to prioritize for evacuation. Should the hospital give its first helicopter slots to the critically ill, patients who cannot survive without electric equipment like ventilators? Or should it focus on those who are easiest to save and transport? Can doctors assume that patients with previously established do-not-resuscitate orders are willing to go last?
These questions come to a head on the fifth day when police show up and insist that everyone able-bodied leave the hospital. In the evacuation's final hours, when it appears that some patients will be left to die alone, Pou injects several of them with high doses of sedatives and painkillers. In real life, this decision led to her arrest in 2006, along with two nurses on charges of second-degree murder. Prosecutors eventually dropped charges against the nurses, and a grand jury declined to indict Pou; she still practices in Louisiana, and has become an advocate for laws that protect medical professionals from prosecution for good-faith work in disaster situations. 
Though executive producer John Ridley (known for the series "American Crime" as well as "Let It Fall," a documentary about 1980s Los Angeles) told NPR he originally came to the show ready to condemn Memorial's doctors, the show is remarkably deft at depicting their actions without criticizing them. When King hears rumors that other doctors, including Pou, have been having hushed conversations about "ending" patients' pain, he's rightly infuriated. At the same time, efforts to save patients at all costs sometimes seem cruel: One elderly man undergoes a grueling and unsuccessful intubation in the last moments of his life. When Mulderick creates a triage system that puts the sickest last, the decision reads as evidence of her determination to save as many people as possible. 
By contrast, the show is not at all coy about systemic problems that put doctors like Pou in such a desperate position. The doctors' competence contrasts starkly with the negligence of Tenet. A subplot in which one Tenet employee tries to impress upon his colleagues the urgency of the moment, largely without success, is one of the hardest parts of the show to watch, showing how easily the byzantine bureaucracy of American medical care can become life-threatening. The show also calls out law enforcement officials who are more concerned with tamping down civil unrest than actually saving people, and who display far more callousness to sick patients than the doctors administering morphine. 
Depictions of national tragedies often skew saccharinely patriotic — think "Patriot's Day," a chest-thumping thriller about the Boston Marathon bombings. "Five Days at Memorial" does the opposite, laying blame at the government's feet. In one particularly striking scene, a helicopter about to alight at the hospital has to make way for Air Force One doing a flyby of the carnage. When a sweat-soaked, exhausted nurse on the helipad flips her middle finger at President Bush in his air-conditioned, well-provisioned cabin, she's speaking for the entire show.