Fast Forward
Adidas cuts ties with Kanye West over antisemitism
Company calls rapper's remarks 'unacceptable, hateful and dangerous' and says move could cost it $246 million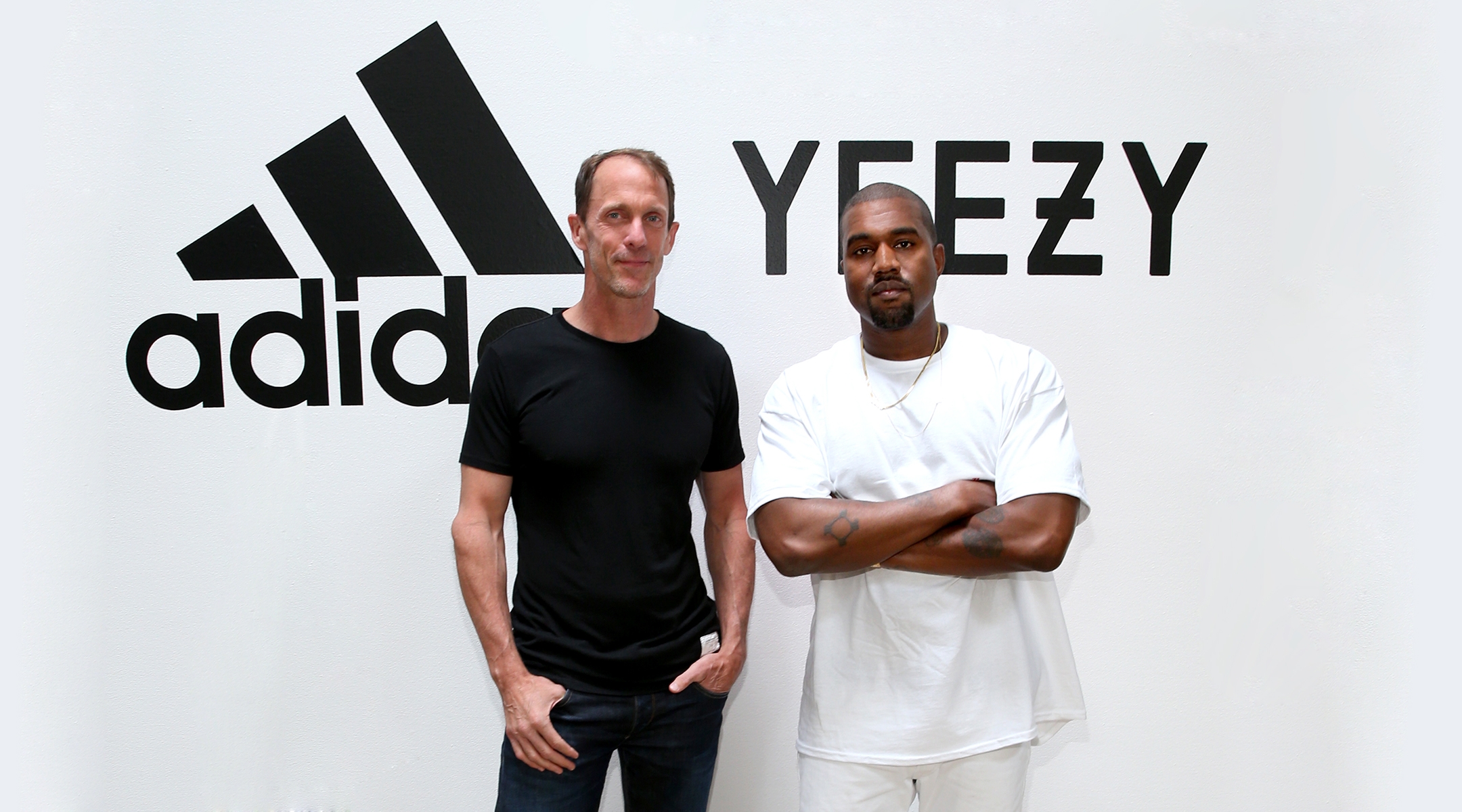 After an online backlash, Adidas announced early Tuesday that it would sever ties with Kanye West following a series of antisemitic public statements that that have led to the controversial rapper being banned from social media and condemned by the Biden administration.
"Adidas does not tolerate antisemitism and any other sort of hate speech," the company said in a statement. His "recent comments and actions have been unacceptable, hateful and dangerous, and they violate the company's values of diversity and inclusion, mutual respect and fairness."
The company, which was founded by Nazis, said the move could cost it up to $246 million in short-term losses. It had been under intense pressure in recent days as other companies dropped West, who has changed his legal name to Ye.
Bloomberg News was the first to report Adidas's plans early Tuesday, citing sources that said the German sportswear firm decided to end its business relationship with the musician after his rhetoric "turned a once-thriving shoe brand into a lightning rod for criticism."
West was diagnosed with bipolar disorder and hospitalized for psychiatric care two years ago.
His series of highly public antisemitic remarks began earlier this month when he accused Jews of shutting down "anyone whoever opposes your agenda" in a pair of posts on Instagram and Twitter. After his initial posts were taken down he tweeted that he would go "death con 3 on Jewish people," adding that he "actually can't be antisemitic because black people are actually Jew [sic] also."
During a subsequent interview with Fox News' Tucker Carlson, West claimed that former U.S. President Donald Trump's son-in-law and adviser Jared Kushner had orchestrated the Abraham Accords between Israel and Gulf states "to make money" and complained about his children attending a school that celebrates Kwanzaa instead of Hanukkah, saying at least Hanukkah comes "with some financial engineering."
.@adidas stock plummets as the brand refuses to cut ties with Kanye West over anti-semitism. pic.twitter.com/qg63tmjJHz

— Kaivan Shroff (@KaivanShroff) October 24, 2022
West rejected an invitation to visit the Holocaust Museum in Los Angeles, and said on a podcast that Planned Parenthood was "our Holocaust museum."
He blamed the decision by Los Angeles Apparel not to release his "White Lives Matter" T-shirt on the fact that its founder, Dov Charney, is Jewish, and basically spent the entirety of a nearly three-hour interview on the podcast "Drink Champs" ranting about Jewish responsibility for his various problems.
"This is my exact point: Jewish people have owned the Black voice, whether it's through us wearing a Ralph Lauren shirt or all of us being signed to a record label or having a Jewish manager or being signed to a Jewish basketball team or doing a movie on a Jewish platform like Disney," West said on the podcast.
The host of the podcast, the rapper N.O.R.E., apologized and the video episode was removed from YouTube and other platforms.
The White House sharply condemned West last week, declaring that "there is no room, absolutely no room, no place in our political discourse, to be having that type of really vile conversation or comments being made."
CAA, the talent agency, dropped West as a client, and the producers of a recently completed documentary about him shelved the film.
West all but dared Adidas to follow behind companies like Balenciaga and JPMorgan Chase in cutting ties with him, stating that he "can say antisemitic things, and Adidas can't drop me." Jonathan Greenblatt, chief executive officer of the Anti-Defamation League, was among those pressuring Adidas, saying on Monday that its silence was "pathetic."
Our partners at Haaretz contributed to this article. Sign up here to get Haaretz's free Daily Brief newsletter delivered to your inbox.