Fast Forward
Report shows more hate crimes against Los Angeles Jews
Among religious groups, Jews were by far the most targeted, followed by Catholics and Muslims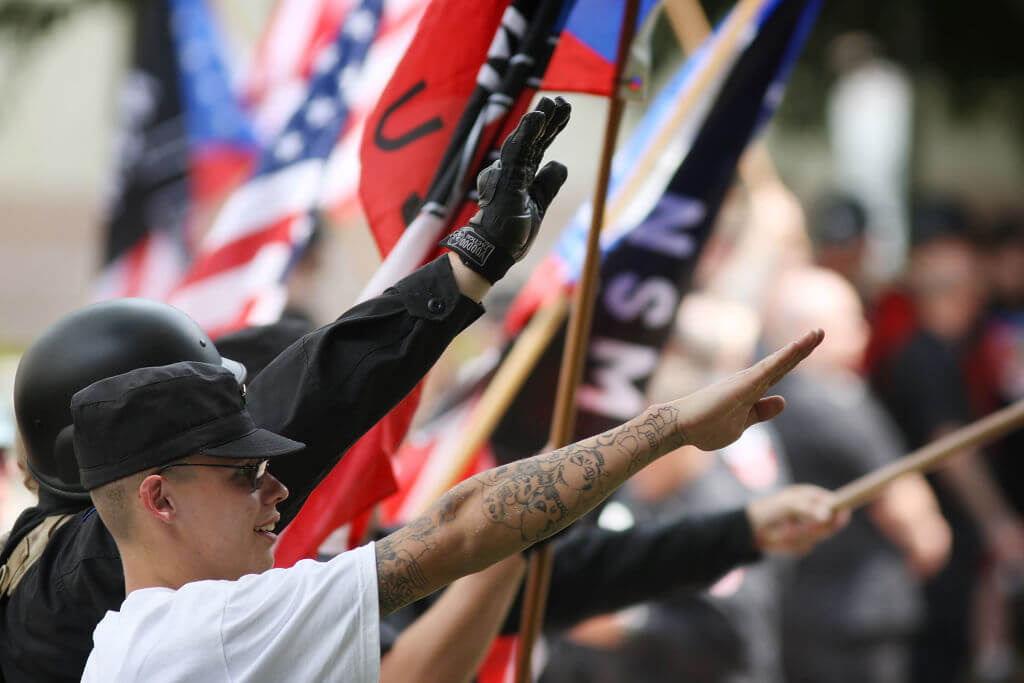 Antisemitic hate crimes rose yet again in the United States' most populous county in 2021, according to a new report published earlier this week.
The annual Los Angeles County Commission on Human Relations Hate Crime report showed that 81 crimes targeted Jews last year, up from 76 in 2020.
Among religious groups, Jews were by far the most targeted. Of the reported 111 hate crimes based on religion in 2021, 74% were committed against Jews.
The next most targeted religious group was Catholics, who were the victims of 20 hate crimes. Another 10 were committed against Muslims.
The report noted that the number of hate crimes is likely underreported, since many people don't come forward for fear of retaliation, linguistic or cultural isolation, unfamiliarity with the justice system or negative experiences with law enforcement.
Jeffrey Abrams, director of the Los Angeles branch of the Anti-Defamation League — one of the groups involved in compiling the report's data — called the increase in antisemitic acts "startling" and said there's reason to believe the uptick continued into 2022.
Given preliminary data, "we're expecting another record-setting year," he said.
While statistics for 2022 are not yet available, the city of Los Angeles was the site of several notable antisemitic events over the past year. In October alone, a group flew banners over a highway stating "Kanye West was right about the Jews," a reference to the torrent of anti-Jewish statements and social media posts in recent weeks from the rapper, who is now known as Ye, and several billboards were vandalized with stickers bearing antisemitic slogans.
Longer trendlines
Total hate crimes rose from 641 reported incidents in 2020 to 786 in 2021, the most since 2002.The report noted that hate crimes hit reported lows in 2013 followed by a gradual increase, but shot up dramatically in the lead-up to the 2020 election. But the 2020 edition of the report, which covered the pandemic shutdown that kept many Americans indoors, showed antisemitic incidents actually declined from the previous year.
Abrams warned against trying to pin the rise's cause on any single person or event but said, broadly speaking, that antisemitism tends to rise in times of social and economic unrest — a trend exacerbated in recent years by social media as well as the emergence of vocally antisemitic celebrities and internet influencers.
Over half the crimes against religious groups involved vandalism or intimidation, while 30% involved simple or aggravated assault. The report noted that because many of the crimes against religious groups were incidents like spray-painted swastikas, arrests were relatively rare because it is difficult to catch perpetrators.
Despite the rise in antisemitic crimes, the report showed the number of incidents involving white supremacist symbols or slogans fell from 119 to 96. Jews were the group most often targeted in those cases.
The report also included two incidents in which groups evoked the name of former President Donald Trump: one in which a Black woman was physically assaulted and called slurs by a group of Trump supporters chanting "White lives matter" and one in which a man attacked a street vendor.
In 2020, Trump's name was invoked in seven reported hate crimes.
Despite the grim picture, Abrams said there was still cause for optimism.
"I think the reason for hope is that there are more people with good grace than there are people spreading hatred," he said. "And what is also happening in this frightening time is that people are using their voice."
The Commission on Human Relations did not reply to a request for comment.