Fast Forward
At White House Hanukkah reception, Biden urges political leaders to speak out against antisemitism
The president unveiled a new menorah — made in the White House and part of its collection — which he said conveys the permanence of the Jewish people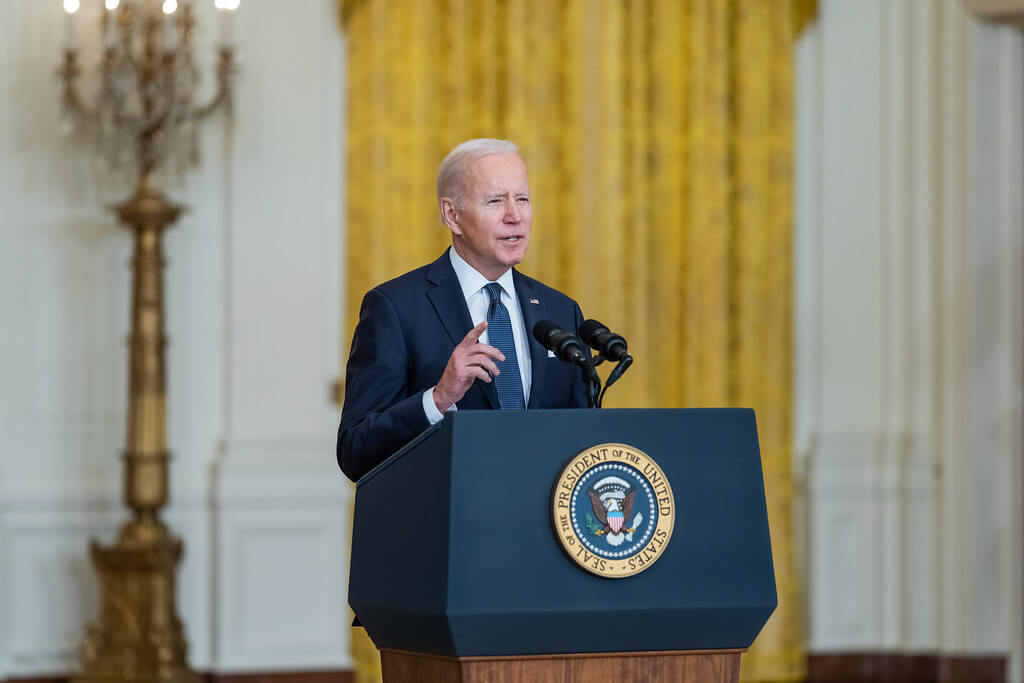 President Joe Biden, hosting Jewish leaders at the White House for Hanukkah Monday evening, urged political and communal leaders to speak out forcefully against antisemitism and said he's committed "to the safety of the Jewish people and the vibrancy of Jewish life." 
The president's remarks follow a series of steps the administration has recently taken in response to a surge in antisemitic hate crimes in major U.S. cities and rising openly anti-Jewish rhetoric on social media. A recent report by the Center for the Study of Hate and Extremism showed New York, Los Angeles and Chicago all saw more anti-Jewish hate crimes this year than in 2021, when incidents reached record levels.
Biden last week launched an interagency task force to develop a national strategy to combat antisemitism. And Doug Emhoff, the Jewish second gentleman, earlier this month hosted a roundtable with Jewish leaders to discuss ways to tackle the issue. 
"Silence is complicity," Biden told the crowd. "We must not remain silent. And I made no bones about it from the very beginning: I will not be silent. America will not be silent."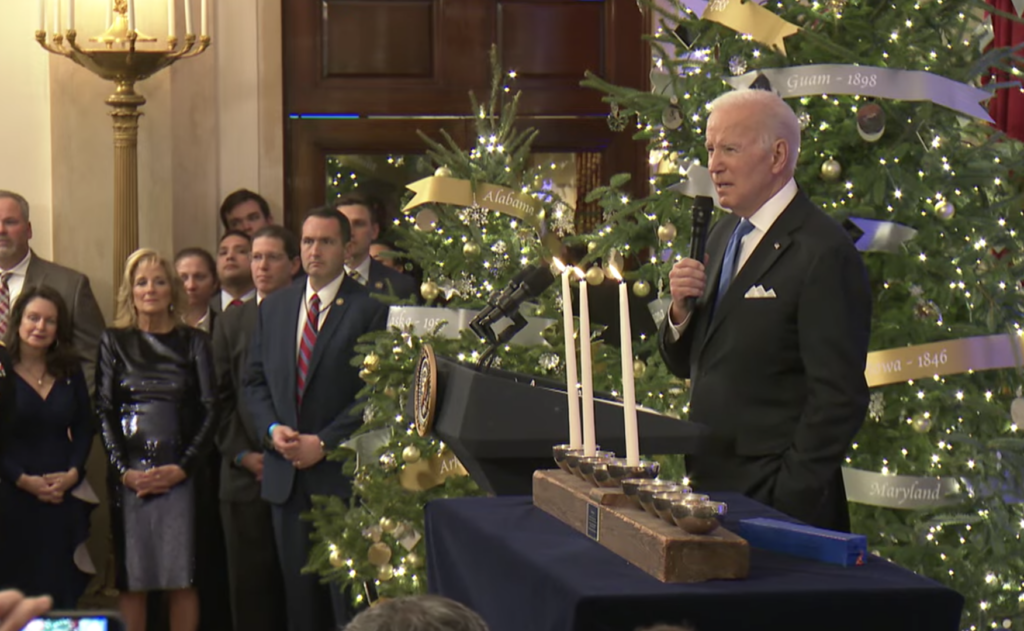 Monday evening's affair in the Gran Foyer of the White House was a return to the exuberant pre-pandemic White House Hanukkah parties that began in the George W. Bush administration, known for their trays of lamb chops and diversity of latkes. Last year's party was smaller and more intimate. 
Special guests Monday included Bronia Brandman, a 90-year-old Holocaust survivor and retired public school teacher; Rabbi Charlie Cytron-Walker, the rabbi whose quick thinking ended an 11-hour hostage-taking at a Texas synagogue in January; Michele Taylor, the U.S. ambassador to the U.N. Human Rights Council and the daughter of Holocaust survivors; and Avi Heschel, granddaughter of Rabbi Abraham Joshua Heschel, a leader in the civil rights movement. 
A new menorah was unveiled for the first time as the first-ever piece of White House Judaica. In past years, presidents used borrowed menorahs for their Hanukkah receptions. This one was created by the White House's carpentry shop with wood recovered from the foundation of the building during a 1950s renovation and features handmade silver cups to hold the candles. "Its beauty reminds us of the Hanukkah miracle," first lady Jill Biden said in a statement, "and the joy it inspired."
Introducing the president, Jill Biden said the menorah "is now a cherished piece of this home, your home." 
In his remarks, Biden said the menorah conveys the permanence and resilience of the Jewish people. 
The celebration took place as Biden contemplates a reelection bid in 2024. He has said he will discuss the prospect of another campaign with his family over Christmas, but his allies have already lined up staff and discussed strategy. 
Vice President Kamala Harris and her husband, who is Jewish, hosted another Hanukkah party, on Sunday, at their residence a few miles from the White House. With a Holocaust survivor and two rabbis, the couple lit the menorah, a loan from the Jewish Museum in New York. Made in Eastern Europe in the late 19th century, it bears a Hebrew inscription that dedicates it to a mutual aid society.
In his remarks, Emhoff said that anyone who fails to speak out and take action against antisemitism "needs to be called out." He further implored some 300 guests to speak out "against those who praise fascist murderers, who would deny the Holocaust and who idolize extremists." And he encouraged his guests "to live proudly, freely and openly as Jews without fear."