Fast Forward
GW clears student activist and club of wrongdoing in 'F— Zionists' postering
Students for Justice in Palestine and its president were accused of property damage in the October incident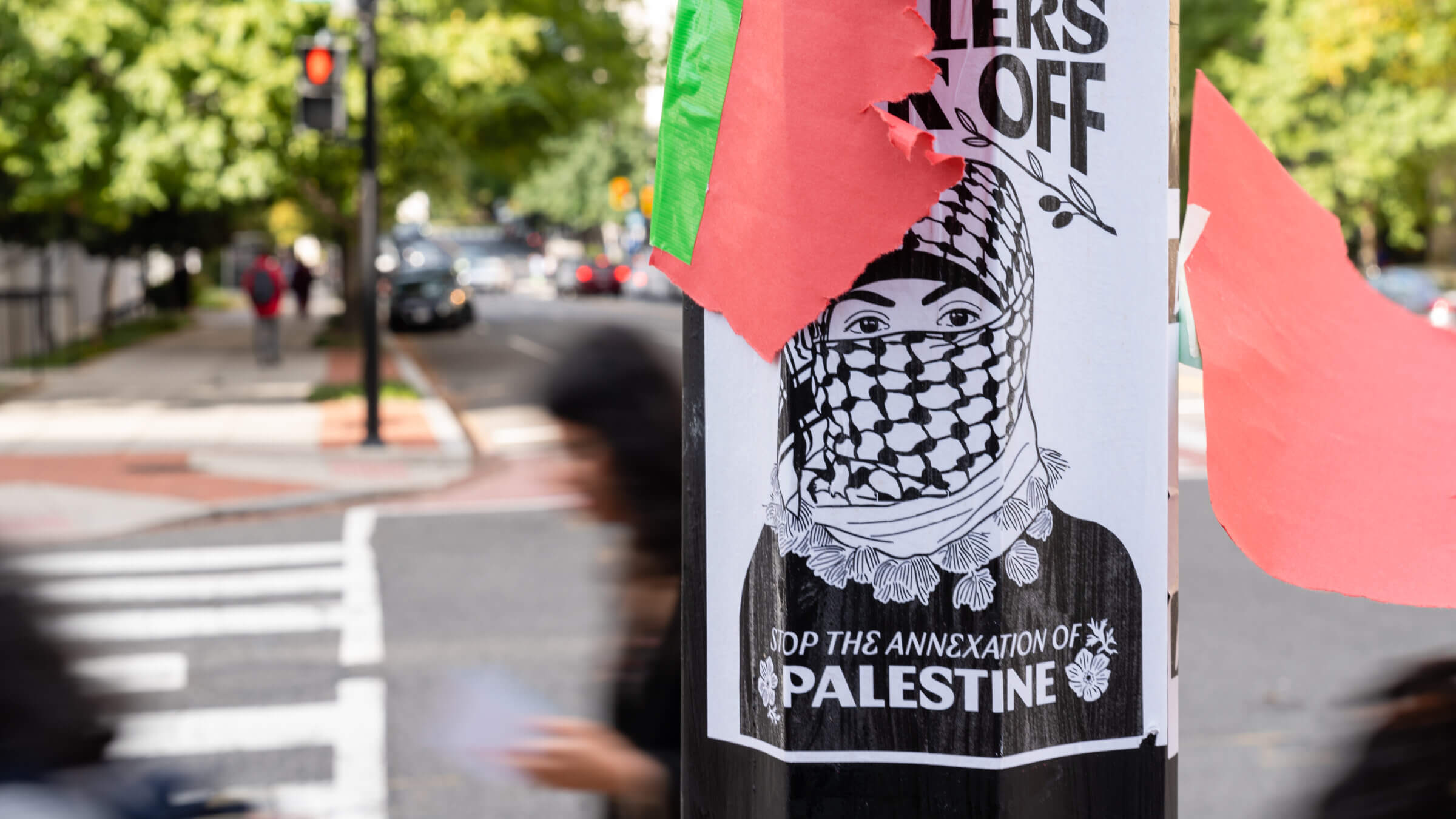 George Washington University found that the school's Students for Justice in Palestine chapter and its leader did not violate any university rules during an October incident in which anti-Zionists posters were placed outside the Hillel building on campus, according to a legal nonprofit that assisted the students.
"I am relieved GW rightly recognized that Students for Justice in Palestine followed all the rules, which is what we've been saying from Day 1," Lance Lokas, the president of SJP, said in a statement released by Palestine Legal Monday. The university has previously said it cannot comment on individual student discipline cases and did not immediately respond to a request for comment.
Palestine Legal said it was  not immediately able to provide copies of the written decisions from the university that it referenced in its statement because it was waiting on approval from the students involved.
Lokas and the club were accused of property damage by university officials after an October event that SJP organized with Jewish Voice for Peace to place posters around campus. Some of the posters included profane messages aimed at "Zionists" and "settlers," but the disciplinary hearings hinged on two posters placed onto concrete benches outside the Hillel building near the center of campus.
GW Hillel said that removing those posters caused damage to the benches.
But Palestine Legal said that the university had unfairly targeted Lokas and other Arab students, despite the fact that others participated in the postering event. The organization's blog post announcing the decision said that university officials were familiar with a Forward article "where JVP took credit for putting the posters outside Hillel."
(When leaders of the campus JVP chapter spoke to the Forward for that article, which detailed activism around the Israeli-Palestinian conflict on campus, they said that they helped organize the postering event but  did not specifically take responsibility for  the posters placed on the Hillel benches. Most of the posters on campus, including those outside Hillel, were placed on public lampposts, which is typically legal in Washington, D.C.)
Lokas said that he instructed those participating in the postering event on how to follow relevant laws and university policies.
"There was zero evidence of us doing anything wrong," Lokas said in the statement. "Yet it was the group made up primarily of Palestinians and Arabs that was falsely accused and charged."
Palestine Legal also said that Adena Kirstein, the director of GW Hillel, had personally accused Lokas of causing thousands of dollars in property damage without evidence. Kirstein did not immediately respond to a request for comment Monday.