Forwarding the News
Special report: We spent a year tracking antisemitism on one college campus. What we found may surprise you.
Jewish educator severs ties with Kanye West, Israeli president visits D.C., yeshiva boys attacked in Brooklyn, Chuck Schumer's Yiddish ad, and the secret Jewish history of the gunfight at the O.K. Corral.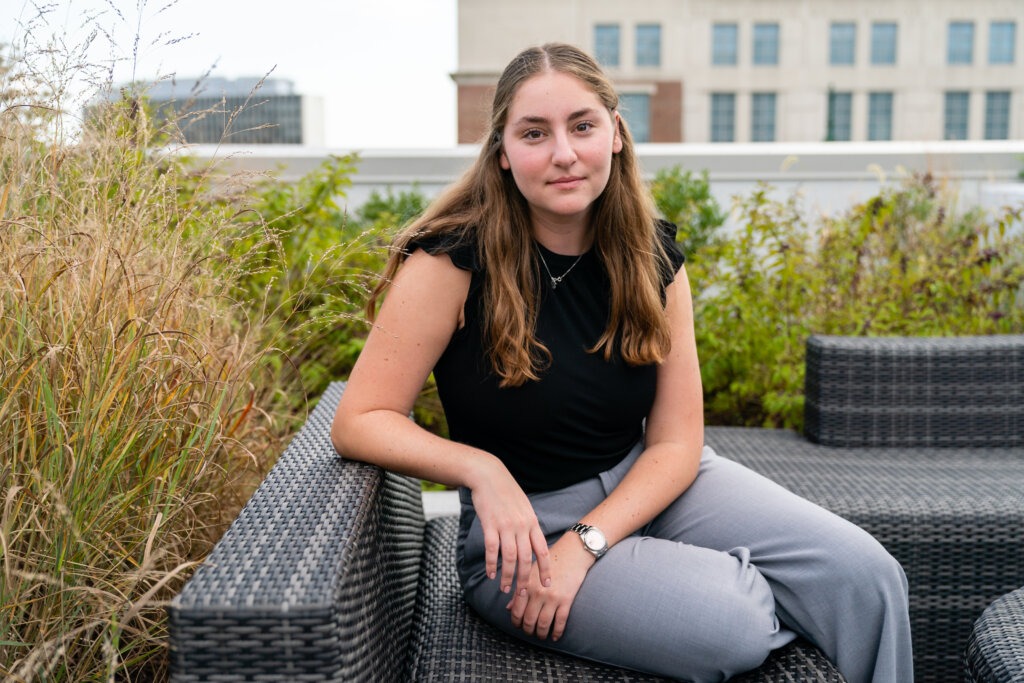 This article is part of our morning briefing. Click here to get it delivered to your inbox each weekday.
What it's really like to be Jewish on a campus called a 'hotspot' of antisemitism
Headlines often make it seem like college campuses are dangerous places for Jews. Take George Washington University, where 25% of the undergraduates are Jewish, and there have been numerous antisemitic flareups over the last few years. One prominent pro-Israel influencer recently compared it to "Nazi Germany in 1938." Every time an incident happens, the campus Hillel director said, "I'm going to get a lot of calls from outsiders saying, 'What's the real story?'"
Arno Rosenfeld, the Forward's investigative reporter, spent a year following Jewish activists on GW's campus to answer that question.

Questioning the spotlight: A host of national organizations have sprung up to defend Jewish students from activism targeting Israel. But students say their outraged statements can miss the mark. "All these organizations have their own agenda," said Jessica Carr, 21, president of GW for Israel, "and it's not necessarily what's best for GW."
Rachel Krumholz said that some Hillel leaders consider the Jewish Voice for Peace chapter she runs antisemitic because of its opposition to Zionism. (Eric Lee)
Bracing for hostility: The narrative that colleges are hostile to Zionism or Jews generally has led pro-Israel students at GW to be on constant alert. But many of those interviewed said they'd geared up for challenges in the classroom or among friends that never materialized, and that even waves of offensive social media posts tended to be short-lived. "I have so many red flags up," one student said, "but so far, so good."
Many ways to be Jewish: In addition to GW for Israel, the campus has active chapters of J Street U and Jewish Voice for Peace, an anti-Zionist organization that was part of a recent protest outside the Hillel building during the visit of a former IDF commander. Such political divides among Jewish students is generally ignored by outside groups that depict Jews as being under siege on campus. But it is acutely felt by the students themselves. "I don't ever have a sense of solidarity," said Sarah Frieman, a Jewish Voice for Peace leader.
Quotable: "I grew up assuming everyone who was Jewish was pro-Israel, and then I came here," said Allison Stone, a junior. "Being Jewish here is a really large spectrum, you never really know what you're getting."
Kanye West performing at the 2019 Coachella music festival. (Getty)
The Gap joined a string of companies breaking up with Kanye West because of his antisemitic tirades, pulling his products from its stores on Tuesday. Here are three more stories in the ongoing saga…
A Jewish educator has severed ties with Donda Academy, a private, Christian school West opened in Los Angeles last year. The teacher, Tamar Andrews, is the longtime director of early childhood education at Temple Isaiah and also works at American Jewish University; she had been a consultant at West's school since July. Read the story ➤
Lex Fridman, a Jewish podcast host known for interviewing controversial figures, on Tuesday released a two-and-a-half hour interview episode in which West continued to spew his antisemitic conspiracies — and Fridman pushed back, in vain. Our Adam Kovac listened to the whole ugly thing so you don't have to. Read the story ➤

Celebrities have been sharing posts on Instagram in support of "my Jewish friends and the Jewish people." But Nora Berman, our deputy opinion editor, writes that "the solidarity that I am hungry for — and that Jews deserve — requires far greater self-reflection, and action, than any social media campaign could ever deliver." Read her essay ➤
Forwarding the News is now also available on our website. Click on the blue button below to share it on social media or send to friends.
WHAT ELSE YOU NEED TO KNOW TODAY
Israeli President Isaac Herzog and Speaker of the House Nancy Pelosi on Tuesday at the U.S. Capitol. (Getty)
🇮🇱  House Speaker Nancy Pelosi and Senate Majority Leader Chuck Schumer have invited Israeli President Isaac Herzog to speak to a joint session of Congress to mark Israel's 75th anniversary next spring. Pelosi met with Herzog in D.C. on Tuesday, his first trip to Washington as head of state. President Joe Biden is scheduled to host Herzog at the White House this afternoon. (Twitter)
🤦  Kari Lake, the Republican nominee for Arizona governor, has been criticized for allowing white nationalists and antisemites into her campaign. Last month she formed a group for Jewish voters, but that backfired when she placed an ad in The Jewish News of Greater Phoenix that falsely implied a prominent local Orthodox had rabbi endorsed her. (Jewish Insider)
👮  A group of teenage boys attacked three yeshiva students on Monday in Brooklyn, throwing eggs, yelling "Free Palestine," and punching one of the students in the face. The NYPD Hate Crimes Task Force is investigating. (COL Live)
🎤  A Trump-supporting heckler threw a beer can at comedian Ariel Elias during her show two weeks ago, but Elias is getting the last laugh. After video of the incident went viral, Elias was invited on Jimmy Kimmel Live, where she performed a five-minute set full of jokes about her Jewish upbringing in Kentucky. (JTA)
⚽  When Maccabi Haifa hosted soccer superstar Lionel Messi and his Paris Saint-Germain Football Club in the European Champions League last month, the Israeli team briefly led before losing 3-1. The rematch, in Paris on Tuesday, was not as close: Messi scored twice and his team won 7-2. (CNN)
Notable ➤  The Yiddish word "forshmak" — a chopped-herring appetizer — appeared for the first time in The New York Times this week in a story about a new food market.
Shiva call ➤ Pablo Eisenberg, who pushed major philanthropies to address societal inequities, died at 90.

From our partners at Haaretz ➤  The maverick behind an Israeli Hasidic high school preparing boys for university … U.S. Secretary of State Blinken discusses need to de-escalate West Bank violence with Israeli president … Gaza children breakdance to kick away fears and release tension. Sign up here to get Haaretz's free Daily Brief newsletter delivered to your inbox.
Was this newsletter forwarded to you or are you reading it on our website?
Receive it in your inbox each morning by clicking the blue button below.
Josephine Marcus Earp, the common-law wife of Wyatt Earp. (Wikimedia)
On this day in history (1881): The Gunfight at the O.K. Corral, one of the most infamous brawls in the history of the Wild West, broke out in Tombstone, Arizona. While the shootout itself lasted only 30 seconds, the conflict between its participants, the famous Earp family and the Cowboy gang, continued to play out for years. That long afterlife was due in part to a love triangle involving a Jewish woman, Josephine Marcus, who was born in Brooklyn, raised in San Francisco and struck out on her own at 14. She ended up in Tombstone, where she started a romantic relationship with the Cowboy-allied Sheriff Johnny Behan — then left him for Wyatt Earp. The couple eventually left Tombstone and stayed together for the rest of Earp's life. 
Last year on this day, we reported on the friendly World Series wager between a rabbi from Atlanta and a rabbi in Houston. Are you planning on attending this year's series? Email Louis Keene, our sports reporter, with Jewish tidbits and insights.
On the Hebrew calendar, it's the first day of Cheshvan, sometimes referred to as Marcheshvan (the bitter Cheshvan) because it is a month with no festivals or fast days. 
In honor of National Pumpkin Day, check out this recipe for pumpkin challah.
Today is the 28th anniversary of the peace treaty between Israel and Jordan, which ended the state of war that existed between them after 1948.
In a new political ad, Senate Majority Leader Chuck Schumer, Democrat of New York, gives constituents a Yiddish lesson, calling some Republican leaders "schmos," the Jan. 6 Capitol riot a "shanda" and "the horrible games those MAGA Republicans play" "mishegas."
–––
Thanks to Louis Keene, Jacob Kornbluh, Arno Rosenfeld and Talya Zax for contributing to today's newsletter. You can reach the "Forwarding" team at [email protected].