That Instagram post supporting Jews is not enough
Sharing a generic social media post does not make you an ally to Jews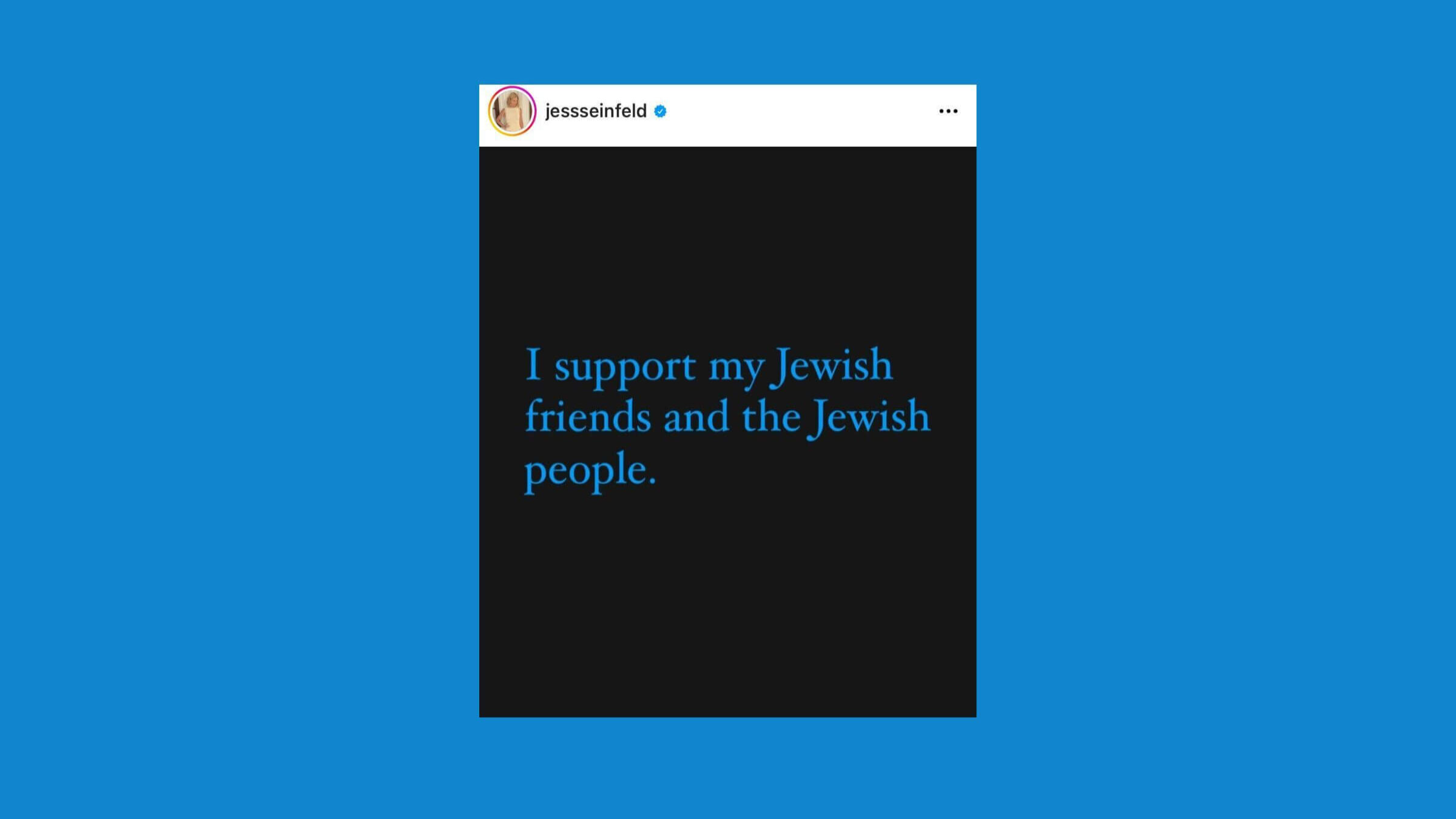 "I support my Jewish friends and the Jewish people," Jessica Seinfeld proclaimed to her 586,000 followers on Instagram this Sunday. The post was rapidly re-shared by celebrities — Amy Schumer, Reese Witherspoon, Gwyneth Paltrow, the entire Kardashian family — and everyday Instagram users alike.
As I watched Seinfeld's image take off, I did not feel the rush of comfort that a sincere gesture of solidarity might provoke. Kanye West had told his 31.5 million Twitter followers (more than double the number of Jews in the entire world) he was going to go "Death con 3 on ALL JEWISH PEOPLE" two weeks ago, and influencers along with major brands were quiet. Now, finally, Jews were receiving the visible response, and the attention to antisemitism, that so many of us had desired. Why did it all make me feel so empty?
Despite the good intentions of those who shared it, posting on Instagram does not require true engagement with antisemitism, the ways it is perpetuated or how to stop it. The solidarity that I am hungry for — and that Jews deserve — requires far greater self-reflection, and action, than any social media campaign could ever deliver.
October 24, 2022
This is not the first time Instagram posts have taken the place of real allyship. Black squares proliferated in my feeds in the summer of 2020 during the protests after George Floyd's murder. The intention of the music marketing executives who created the idea, Brianna Agyemang and Jamila Thomas, was not to conduct "business as usual" while Black Americans reeled from police violence. Yet many Black writers and activists labeled the gesture one of performative allyship, not an attempt to make the structural changes which would ensure that Black lives truly matter.
The Kardashian family, which had been remarkably silent for the past two weeks as Kim Kardashian's ex-husband Kanye West spewed antisemitic bile, likewise were able to avoid having to make any substantive public remarks by using Seinfeld's post as a shield. Kendall, Kris, Khloé and Kylie all shared Seinfeld's image without additional comments (Khloé added two blue heart emojis) in a lazy and too-late effort toward condemning West's remarks. Kim did tweet directly her support of the Jewish community on Monday a couple hours after Ye's agency CAA dropped him, yet did not acknowledge West as the source of the hate. Oddly, she framed "hate speech," and not hatred of Jews itself, as "inexcusable."
Social media posts like Seinfeld's allow public figures to check the box of allyship and to participate in a superficial groundswell of "solidarity" without any meaningful effort.
Hate speech is never OK or excusable. I stand together with the Jewish community and call on the terrible violence and hateful rhetoric towards them to come to an immediate end.

— Kim Kardashian (@KimKardashian) October 24, 2022
In her caption on the original post, Seinfeld wrote: "If you don't know what to say, you can just say this in your feed." A blind statement of support for Jewish people is, I suppose, marginally better than silence. But I can't help but wonder how thousands of shares of bland niceties make visible Jews less prone to antisemitic attacks, or stop Republican politicians like Ron DeSantis from using antisemites in their campaign advertisements.
To actually support Jewish people in America would be to wade bravely into the toxic swamp of antisemitism and risk provoking the trolls that honk in glee at the signs saying "Kanye was right about the Jews" hanging over the 405. It's far easier to call out the open antisemitism of Kanye West than it is to condemn the pundits like Tucker Carlson who greenlit his comments, or parse the Mapping Project, or the nine law student groups at UC Berkeley that voted to ban all Zionist speakers.
Instead of sharing Seinfeld's post, I would beg my well-meaning non-Jewish friends to watch "The U.S. and the Holocaust" to understand how deeply antisemitism is baked into our country's foundations and anti-immigrant rhetoric, and reach out to Jewish friends when a rabbi is held hostage in his synagogue. Please speak up when you hear a phrase along the lines of "I like Jews except for —" or when podcasters repeat lies about how Jews invented the slave trade. Don't vote for politicians who say that they "support Israel" but spew antisemitic tropes on national television.
Allyship is forged in the accumulation of moments like these. Slapping an "I support my Jewish friends and the Jewish people" onto your social media feed only makes me wonder: Do you actually have Jewish friends to support?