Fast Forward
Orthodox high school powerhouse faces team stocked with NBA stars' kids
Sierra Canyon, starring Bronny James, took on yarmulke-wearing Valley Torah Thursday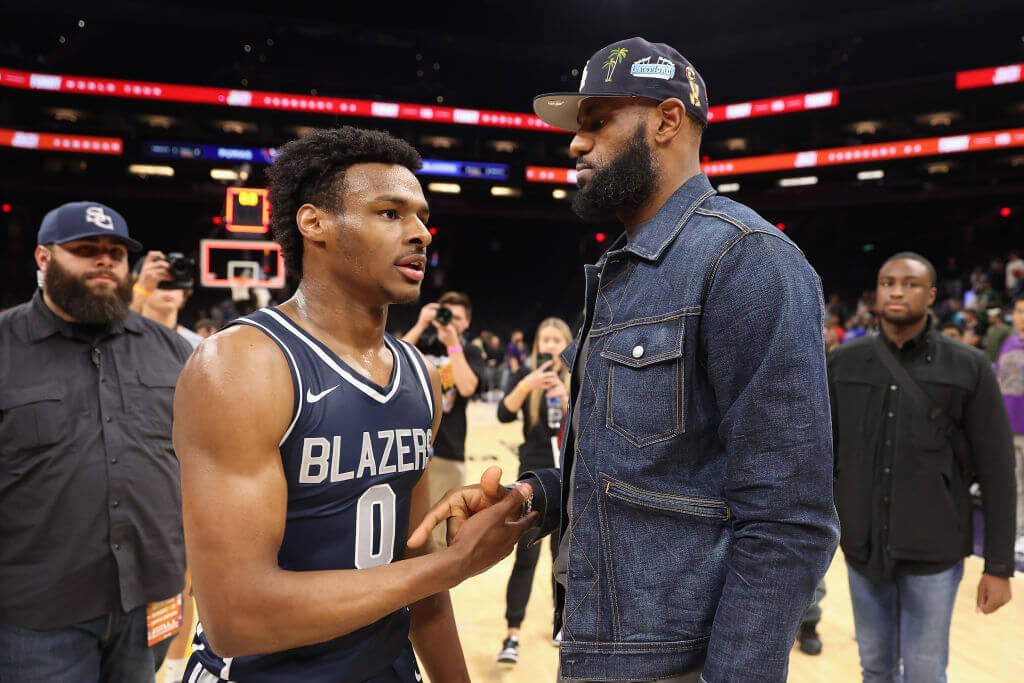 What do NBA legends LeBron James, Scottie Pippen and Penny Hardaway have in common? They all have sons playing basketball for Sierra Canyon, a top-ranked Los Angeles area high school that faced an Orthodox Jewish powerhouse Thursday night.
The matchup with Valley Torah High School, a gender-separated school also located in the San Fernando Valley with a reputation for toppling basketball giants, was decided early, with Sierra Canyon racing to a 14-2 lead and coasting the rest of the way to a 91-53 victory at its gym in Chatsworth.
But Valley Torah still managed to impress, with standout senior Johny Dan leading all scorers with 28 points.
"We didn't back down," Valley Torah head coach Lior Schwartzberg said afterward. "We tried our hardest, we made mistakes, but we didn't back down. We played basketball with heart."
Bronny James, the only Sierra Canyon player who was cheered by the 200 or so Jewish fans in attendance during pregame intros, contributed 11 points and 9 assists for the victors.
Currently ranked 20th in the country by ESPN, but Sierra Canyon's tabloid appeal is unrivaled at the high school level. LeBron James Jr., known as Bronny, and Bryce James are both expected to play Division I college hoops. The brothers anchor a Trailblazers squad (now 9-2 on the season) rounded out by Justin Pippen and Ashton Hardaway, whose dads combined for 11 all-star appearances. Of the NBA dads, only Hall of Fame forward Scottie Pippen was in attendance Thursday.
Scottie Pippen wins award for best NBA dad. He's here early. pic.twitter.com/qwiTFOb3vT

— Louis Keene (@thislouis) December 23, 2022
Sierra Canyon's games are regularly attended by back-page regulars including Drake, Kim Kardashian and Jamie Foxx. The elite school also calls Kylie and Kendall Jenner and Willow Smith alumni. But other than Pippen, the biggest celebrity was the legendary radio DJ, Big Boy.
Valley Torah's Wolfpack (14-2), which won the national Yeshiva University Sarachek Basketball tournament this year and is ranked 2nd in Jewish Hoops America's national rankings, only looked intimidated by its high-profile opponents in the game's opening minutes, when it committed turnovers on its first two possessions. Though it trailed after three quarters, 76-38, Valley Torah outscored the Trailblazers in the fourth, 15-14.
The game came together at the last minute, a result of a cancellation on Valley Torah's schedule that Sierra Canyon agreed to fill. But the connection between staff at the two schools goes back decades. Valley Torah assistant Eli Essa coached Sierra Canyon head coach Andre Chevalier when he was a teenager, and the two have remained in touch since then. Chevalier also coached Valley Torah for one season.