Fast Forward
Protest in NYC to support Israeli democracy criticized for being held on Shabbat
The demonstration against the Netanyahu administration is timed to coincide with protests in Israel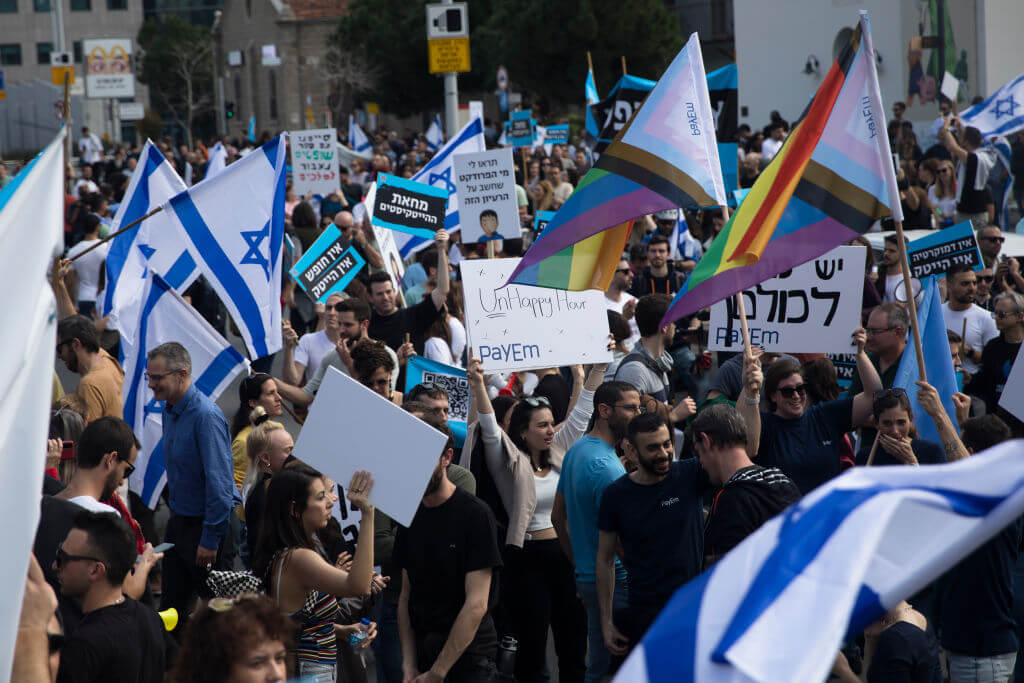 A demonstration protesting the new government of Israel is scheduled to take place in New York City on Saturday afternoon, when many Orthodox Jews and others who observe Shabbat will be unable to attend.
The demonstration, planned by UnXeptable, is aimed at supporting the "establishment of a real democracy in Israel," according to the event's Facebook page. The group is also organizing protests in Boston and Seattle, both scheduled for Sunday. 
The New York event, planned for 2 p.m. Saturday, is timed to coincide with a mass protest taking place Saturday night in Israel after Shabbat there ends. (Israel time is seven hours ahead of New York time.) The New York protest will take place in Washington Square Park in Manhattan's Greenwich Village. Some on social media are criticizing its timing because of the Shabbat conflict.
This is literally during shabbat

— Lady Supernova (@Ladysupernova2) January 26, 2023
UnXeptable co-founder Offir Gutelzon told the Forward he understands where people are coming with their complaints over the timing but that organizers in New York made the decision on their own to synchronize with the Israeli protest. Another protest is planned for Sunday of the following week, which he said would provide an opportunity for those who keep Shabbat to have their voices heard as well.
"We are all calling on all American Jewish communities … to join us," he said. "There is no intention to exclude anyone from the even this weekend as well, it just happened to be in sync with Israeli time."
Organizers are urging participants to "support the demonstrating masses in Israel, who call for human, civil and political rights for all, and maintaining the democratic institutions because democracy does not stop only at elections."
Benjamin Netanyahu, who is facing numerous charges stemming from alleged corruption, returned to power in Israel's most recent election. Since then, Israeli students, tech workers and other groups have held several mass protests. Among their charges is that Netanyahu's planned judicial system overhaul would remove a much-needed check on Knesset power.
Gutelzon said his group is concerned that should the reforms go through, Israel could follow other countries such as Hungary into authoritarian rule. He noted that even Alan Dershowitz, who has been an ardent supporter of Netanyahu, has voiced support for Israeli protesters.
The judicial reforms "will basically eliminate the separation of power and we give all the power to the executive branch," he said. "And that has huge consequences."