Fast Forward
Fringe extremists attacked Rep. Torres for supporting Israel. Rep. Santos mocked him for it.
The New York Republican's Twitter post was surprising given that Santos expressed the same views as Torres during the campaign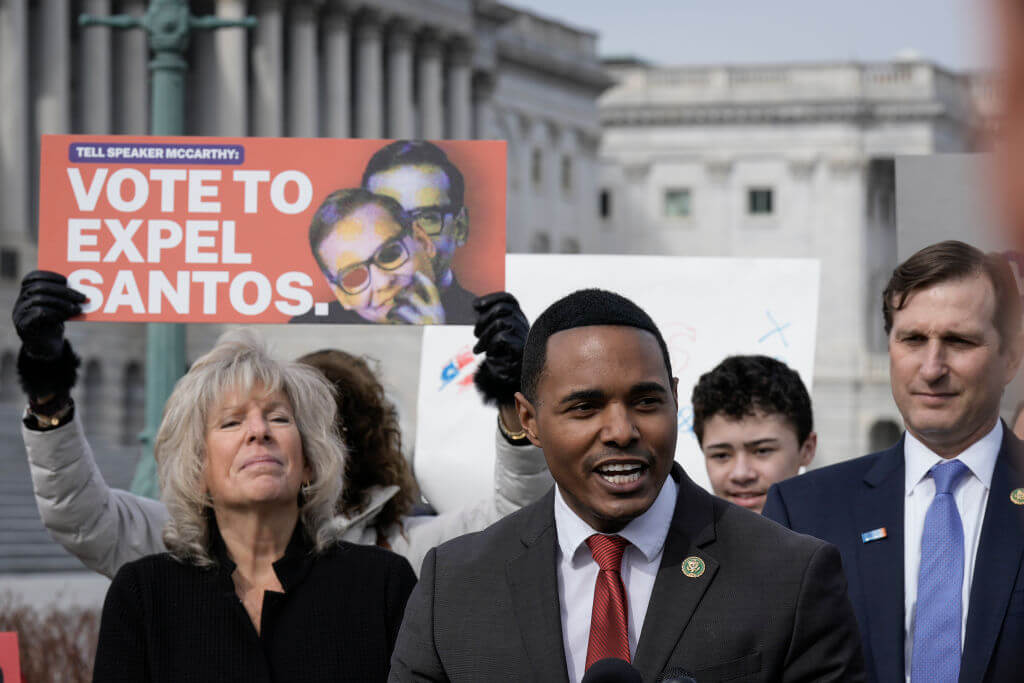 Rep. George Santos, the freshman Republican from New York who is under investigation over a web of lies about his background, promoted a protester tied to a political movement started by an antisemitic conspiracy theorist to get back at one of his chief rivals in Congress. 
"Rough reception at home buddy!" Santos tweeted Thursday at Rep. Ritchie Torres, a Democrat from New York, highlighting a video of activists attacking Torres for supporting military aid to Israel. 
"I understand that you're also an Israeli lobby plant," Jose Vega, affiliated with the LaRouche movement, founded by Lyndon LaRouche,  a prominent conspiracy theorist who ran for U.S. president eight times, said in a confrontation with Torres during a town hall meeting in the Bronx on Tuesday evening. "How can you deny what's happening to the Palestinians, but you can defend what's going on in Ukraine?" 
Torres, a two-term progressive congressman, has been taken to task by the left and faced social media harassment for his strong defense of Israel in recent years. He touted his pro-Israel credentials as a theme of his congressional run in 2020.
Santos has admitted he forged his professional biography and lied about his education and work experience, but he has not come clean on his false claim about having Jewish grandparents. He is also under investigation over misconduct and alleged campaign finance violations.  
Torres recently co-sponsored a House resolution to expel Santos from Congress and has been one of the most vocal critics of Santos. Earlier this month, Torres accused Santos of invoking a trope about Jews and money in a Twitter exchange.
That Santos would deride Torres for speaking out in defense of Israel is surprising given that Santos expressed the same views during the campaign. 
In a two-page document that the Santos campaign shared last year with the American Israel Public Affairs Committee and other Jewish groups, Santos wrote that the U.S. "should continue investing in security assistance programs that maintain Israel's qualitative military edge" and "continue funding annual security assistance to our ally Israel." He also echoed Torres' line of defense at the town hall that the Iron Dome "has saved countless civilian lives from relentless rocket attacks by Hamas and Islamic Jihad." 
Santos and Torres did not immediately respond to requests for comment.