Fast Forward
'I never claimed to be Jewish': Santos suggests his false Jewish claims were a 'party favor joke' in new interview
Despite evidence to the contrary, Rep. George Santos now claims his grandparents survived the Holocaust by falsifying documents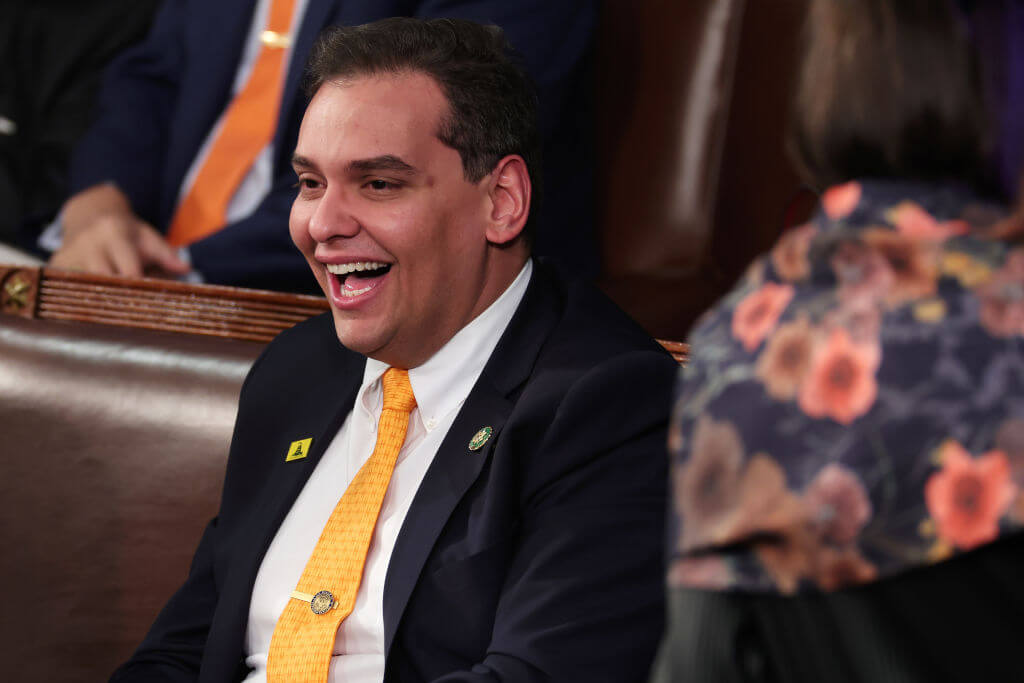 Rep. George Santos, the freshman Republican from New York who is under investigation over a web of lies about his background, appeared to double down in a new TV interview on Monday about his false claim that he had Jewish grandparents, and openly denied calling himself a member of the Jewish faith. 
"I never claimed to be Jewish," Santos said in a tense exchange with British television host Piers Morgan for the Piers Morgan Uncensored program, which airs in the United Kingdom and on the Fox Nation streaming service. Santos said it was a "party favor joke" he used in public appearances to claim he was 'Jew-ish' since "my grandparents are Jewish on my mother's side." 
Santos publicly raised his Jewish ancestry and called himself a "Latino Jew" and "halachically Jewish" during last year's campaign. He claimed his grandparents fled anti-Jewish persecution in Ukraine and then Belgium during World War II. In a two-page document that the Santos campaign shared last year with the American Israel Public Affairs Committee and other Jewish groups, Santos described himself as a "proud American Jew." In a speech at the Republican Jewish Coalition conference after his election in November, Santos said he was proud to be one of three Jewish members of the Republican caucus. 
In a January 2020 conversation on a cable TV show he hosted at the time, titled Talking GOP, Santos told its co-host Gabriel Montalvo that his maternal grandfather, Paulo Horta Devolder, grew up Jewish but converted to Catholicism before the Holocaust and raised his children Catholic. He then added: "I believe we are all Jewish, at the end — because Jesus Christ is Jewish. And if you believe in Jesus, and we're all brothers in Christ, I mean."
However, a Forward review of genealogy websites showed that both of his maternal grandparents were born in Brazil before the Nazis rose to power. Santos' claims have sparked controversy, with some of his Republican colleagues in Nassau County accusing him of appropriating Jewish identity for political gain.
Confronted about this discrepancy by Morgan, Santos said he was never "falsely claiming" he was a member of the Jewish faith. "I would always say I was raised Catholic, but I come from a Jewish family. So that makes me 'Jew-ish,'" he said. 
Santos refused to apologize for claiming his grandparents survived the Holocaust. "This is the one that I will battle to my grave to the point that I've already ordered those DNA test kits," he said. "I have done four of them so far, and I'm just waiting for their returns. And I'm very curious to share those with everybody."
His new claim: His grandfather Paulo Horta Devolder, and his grandmother, Rosalina Caruso Horta Devolder, fled Belgium in 1940 or 1941 "to Brazil where they falsified a lot of their documents to claim they were born there."
"We are talking about a time in history where this was a very common occurrence in the name of survival," he added.
Santos suggested that "everybody's pounding out for a pound of flesh" because of his remarks. 
"Because you are not Jewish," Morgan responded.

And despite saying at the end of the interview that he has stopped lying a while ago, Santos claimed the Jewish crowd at the RJC gathering in November were "hysterically laughing" at his "joke" that he was "Jew-ish." "It was funny to them. They loved it," he said. Santos never made that joke and there is no audible laughter from the crowd.
Santos also called himself "one of the most staunch pro-Israel, most staunch pro-Judaism people in Congress today."
Last week, Santos promoted a protester tied to a political movement started by an antisemitic conspiracy theorist to get back at Rep. Ritchie Torres, a pro-Israel progressive and one of his chief rivals in Congress. 
Amid a congressional inquiry, Santos has stepped aside from committee assignments. His Jewish Republican colleagues both in Congress and back in New York have called for his resignation, and a number of Democratic members introduced a resolution calling for his expulsion. 
Editor's note: This post was updated to include Santos' claim that his grandparents were Jewish but falsified their documents to say they were born in Brazil.