Fast Forward
Jewish communities brace as white supremacists plan Feb. 25 'Day of Hate'
Moderators of antisemitic Telegram channels warn members to follow the law but police are on high alert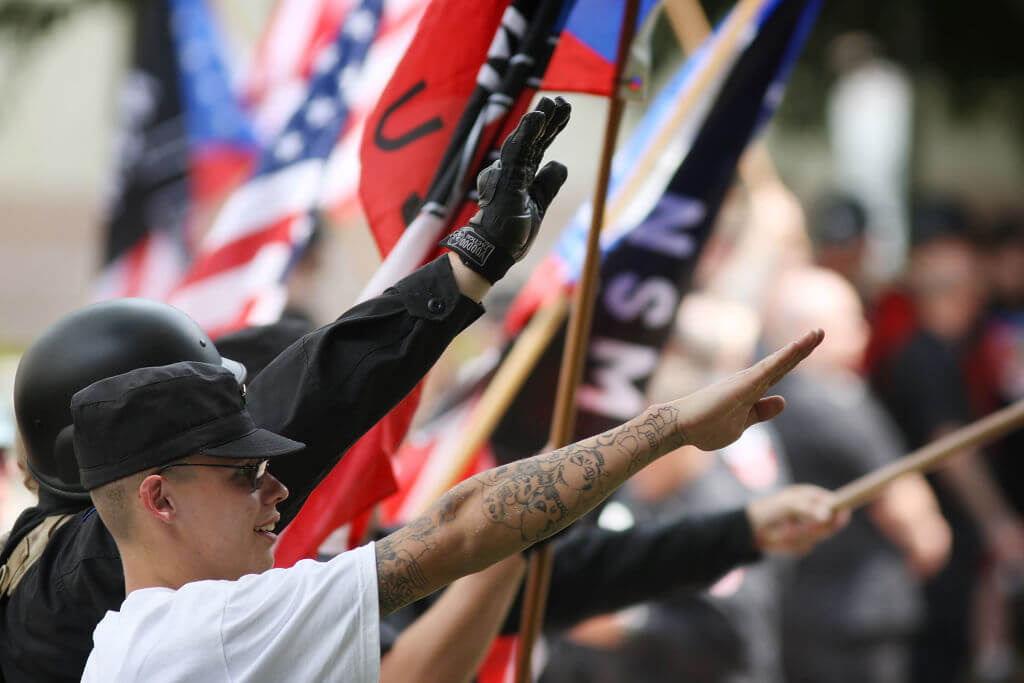 Several police departments around the United States are warning Jews of extremist groups planning a "Day of Hate" for Saturday.
The NYPD Intelligence and Counterterrorism bureau said the cautionary message is being circulated due to social media posts and video "instructing likeminded individuals to drop banners, place stickers and flyers, or scrawl graffiti" targeting Jews. They added that at least one person has disseminated a message encouraging these acts of hate to be recorded.
In the warning, the NYPD advised officers to maintain "elevated situational awareness" on Saturday, particularly at locations that "might garner higher interest from these types of actors."
We're truly living in the worst timeline right now….NYPD had to issue a "Situational Awareness Alert" because Nazis are planning a "National Day of Hate" this Saturday pic.twitter.com/r7MWoJyTqV

— Wu-Tang is for the Children (@WUTangKids) February 23, 2023
Oren Segal, vice president of the Anti-Defamation League's Center on Extremism, said his group learned of the Day of Hate several weeks ago while monitoring of several extremist groups' social media and communications channels. He said a variety of groups have signed on, including the Goyim Defense League, which has taken part in some highly visible acts of antisemitic propaganda and was cited by the suspect in last week's shootings of two Los Angeles Jews. But other groups large and small have also posted about the Day of Hate, he said.
"It's essentially a hodgepodge of white supremacist organizations, many of which engage in on-the-ground activity like flyer distribution, banners, protests, that sort of thing."
The Day of Hate appears to have been in the works for a while. On a channel of encrypted messaging app Telegram, members of Crew 319, a neo-Nazi group whose most visible action so far has been a flyer campaign in Iowa, a notice from Jan. 4 called on members to "make your voices heard loud and clear, that the one true enemy of the American people is the Jew."
But the moderator warned members of the group "to follow their local laws. Crew 319 does not support or encourage any illegal activity. The Jews are watching."
An NYPD spokesperson said that no threats within New York City have been identified but "out of an abundance of caution, the Department will deploy additional resources to sensitive locations, including houses of worship. We urge all New Yorkers to remain vigilant, and if you see anything suspicious, please call 1-888–NYC-SAFE."
While the NYPD warning did not say that there was evidence of any acts of physical violence planned, some community groups are still on high alert. 
In Westchester, New York, the Jewish Council sent out an advisory informing residents that, while the area had not been subject to a specific threat, "we must continue to be vigilant and to be aware of the threats that such groups pose."
The coordinator of the Shmira, a form of community security service, serving Queens in New York City, told the Forward he has been in touch with police. He said the best course of action if someone is witness to or victim of an antisemitic attack is to "right away to notify 911, and not to engage," even as the Day of Hate is set to take place on Shabbat. 
There's a day of hate planned against Jews this coming Shabbat. So being an American Jew in 2023 is choosing between 1) taking my kids to pray, anxiously looking at the exits worried about their safety or 2) staying home and letting the anti-Semites define my Jewishness. pic.twitter.com/PoNnm1a6Jv

— Daniella Greenbaum Davis (@DGreenbaum) February 23, 2023
Chicago police have also issued a warning for Saturday. A synagogue in Colorado noted that, while there is no known credible threat to the state's Jewish community, law enforcement will be on high alert. 
We stand with our Jewish neighbors—our sisters and brothers. We condemn anti-Semitism and hate in all its forms. please be vigilant on this so-called #DayofHate planned by extremists @presbychicago @presbyterian pic.twitter.com/VPti50Cdo6

— Edgewater Presbyterian Church (@EdgewaterPCUSA) February 23, 2023
Have you received any messages from your synagogue, JCC or other community contacts warning you about the Feb. 25 "Day of Hate"? We want to hear from you. Email us at editorial@forward.com.