News
In emails, man arrested in LA shootings accused Jewish classmates of creating COVID-19 pandemic
Suspect spun conspiracy about Persian Jews inventing COVID to foment prejudice against Asians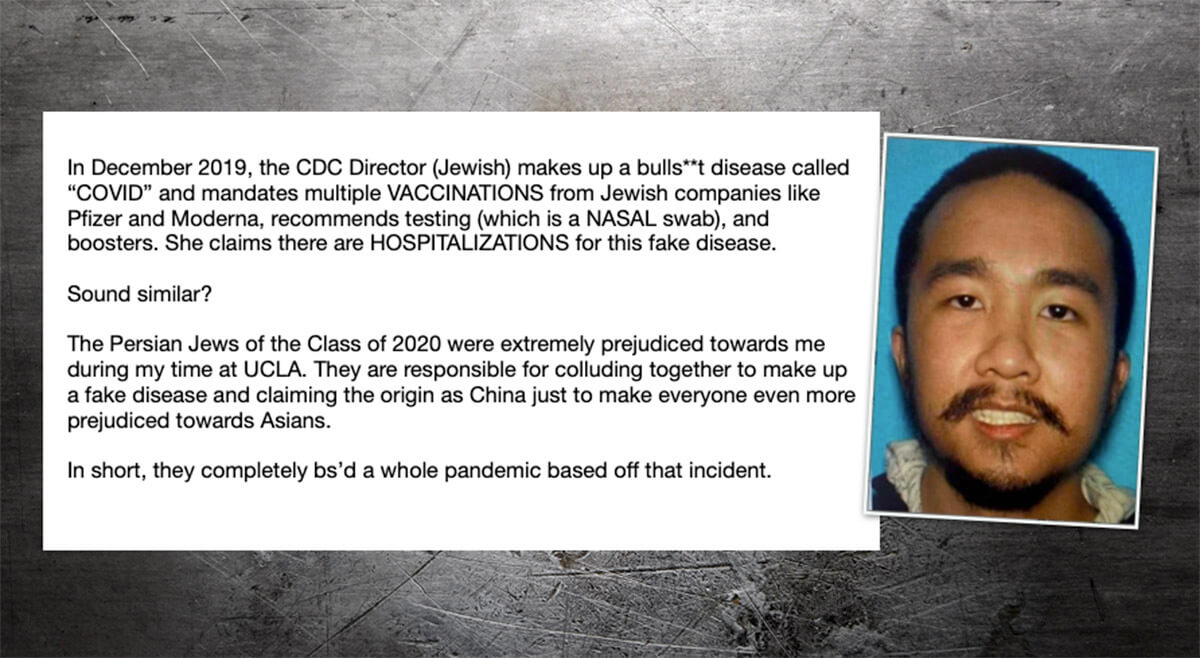 The man who police have charged with shooting two Jewish men on their way home from morning prayers in Los Angeles last week recently sent emails to his former dental school classmates saying that the COVID-19 pandemic was a Jewish conspiracy developed by their class president.
In a series of several emails sent in November and December of 2022, the suspect, Jaime Tran, told dozens of former classmates at the UCLA School of Dentistry that Persian Jews invented the conspiracy to increase prejudice against Asians like him. He attached a picture of a propaganda flyer blaming Jews for the pandemic that has been disseminated across the U.S.
"If you were ever inconvenienced and/or denied entry because of the masking policy or the proof of vaccination policy, you should be upset at the Iranian Jew," Tran, 28, wrote in a Dec. 31, 2022, email sent to a listserv of 66 members of the dental school's Class of 2021, a copy of which one of the recipients shared with the Forward. "If you, or a loved one's business lost revenue by the lockdowns, you should be upset at the Iranian Jew."
Classmates said that Tran was expelled from the school in 2018. Officials there did not respond to a reporter's inquiry on Tuesday. 
Tran was arrested Thursday, hours after the second shooting on consecutive days in the heavily Orthodox Pico-Robertson section of Los Angeles, and charged with two counts of committing hate crimes. Both victims sustained minor injuries.
Court documents say Tran, who was caught about 130 miles east of where the shootings took place, had a handgun and an "AK-style" rifle, and that he told the authorities he had been living out of his car for the last year. Filed by the U.S. Attorney's office, the criminial complaint says that Tran told investigators he had chosen his targets — both Sephardic Jewish men who had just left morning prayer services — by their "head gear."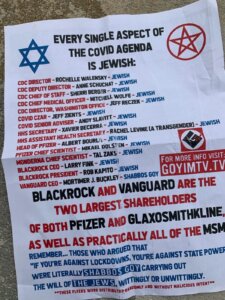 The emails provide a window into his possible motives, suggesting he has held a grudge against Jews stemming from a 2017 classroom-training incident in which Tran erred while practicing an anesthesia-injection procedure.
During the procedure, Tran wrote in an email sent on Nov. 25, 2022, "I got my elbow bumped into. This made the needle dislodged and made Joseph bleed." He said he was in the hospital "for personal reasons" a few months later, adding: "You don't need to know why. I left the school shortly after."
"The Persian Jews of the Class of 2020 were extremely prejudiced towards me during my time at UCLA," Tran wrote in the email. "They are responsible for colluding together to make up a fake disease and claiming the origin as China just to make everyone even more prejudiced towards Asians.
"In short, they completely bs'd a whole pandemic based off that incident."
According to the criminal complaint, Tran's emails followed months of targeted antisemitic abuse of the former class president, who is a Persian Jew.
In a stream of profanity-filled voicemails and text messages sent between August and November of last year, Tran called the former classmate a "worthless senseless Jew," and told him, "Someone is going to kill you, Jew." He included a photograph of a gas chamber.
That student declined to be interviewed.
Another member of the class, Kian Yaghoubnejad, said in an interview that the consensus among dental students at the time was that Tran was experiencing acute mental health issues, including depression made worse by his failure to complete dental school.
Yaghoubnejad, a Persian Jew who grew up in Pico-Robertson, said he had never imagined that Tran could turn violent, and now wonders if he should have called the police.
"I just thought he's angry and typing away," Yaghoubnejad said. "I didn't think he's gonna come get a gun and shoot five minutes down the street from where I live."