Sports
Jacob Steinmetz, Orthodox pitcher, strikes out trio of Dominican stars in WBC debut
Steinmetz faced six all-stars in Israel's World Baseball Classic game. He struck out three of them.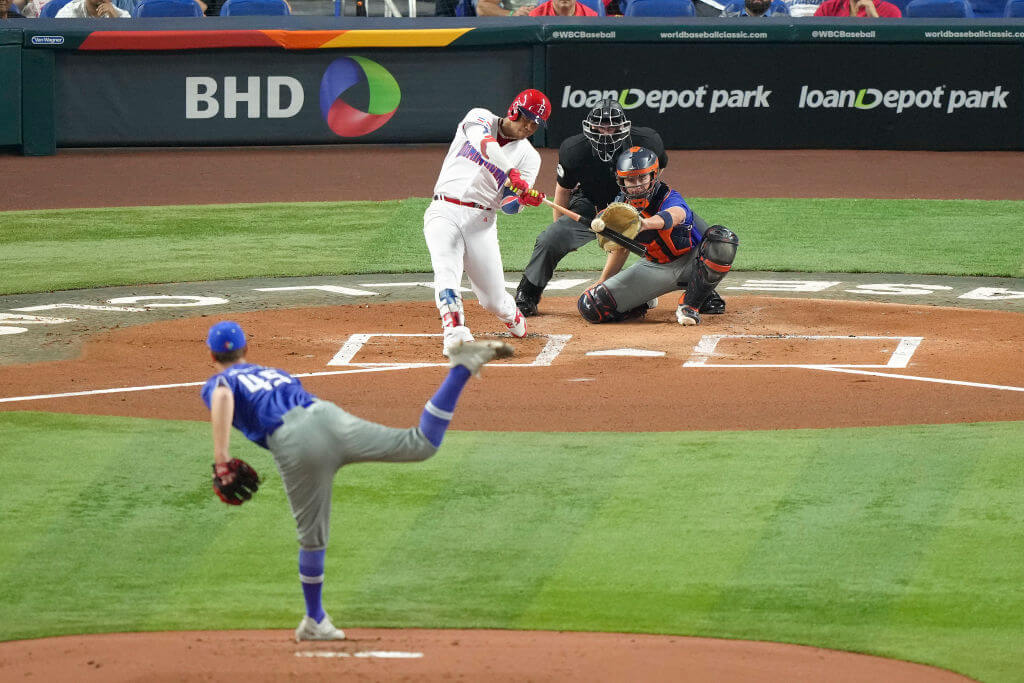 MIAMI — Nineteen-year-old Jacob Steinmetz took the hill for Israel on Tuesday with few expectations.
He left with a few highlights.
Staring down a Dominican Republic lineup with six all-stars in the World Baseball Classic, Steinmetz, who in 2021 became the first Orthodox Jew to be drafted by an MLB team, struck out three of them.
His final line hardly did justice to the outing: In an inning and two thirds — one trip through the Dominican batting order — Steinmetz gave up two hits, two walks and a run on 38 pitches.
"You saw the talent that he has tonight," Israel manager Ian Kinsler said after the game, which Israel eventually lost 10-0. "Stuff-wise, he really showed up."
Israel manager Ian Kinsler on Jacob Steinmetz's performance. pic.twitter.com/rHB3sm50oF

— Louis Keene (@thislouis) March 15, 2023
But those strikeouts!
The first to fan was six-time all-star Manny Machado, whom Steinmetz got to swing out of his heels on an 85-mph slider.
19-year-old Jacob Steinmetz strikes out Manny Machado 🇮🇱🔥

📺: WBC on FS1 pic.twitter.com/uQLK2TwvpF

— FOX Sports: MLB (@MLBONFOX) March 14, 2023
The same breaking ball induced a whiff from reigning World Series MVP Jeremy Peña four batters later.
And before his night was over, the Diamondbacks prospect nicked the bottom of the strike zone with a 94-mph fastball to ring up Gary Sanchez — a player the Woodmere, New York, native once rooted for.
"Growing up a Yankee fan, the Gary Sanchez one was pretty cool," Steinmetz said after the game.
here's a full string of the Jacob Steinmetz highlights for your viewing pleasure pic.twitter.com/qSVNfUWs4h

— Israel Baseball (@ILBaseball) March 15, 2023
The normally stoic right-hander could not suppress a smile as Kinsler left the dugout to pull him. And he continued to beam in the dugout.
Respect to Jacob Steinmetz for being the 4th youngest pitcher to start a WBC game & he did it against a stacked Dominican Republic lineup 👏🇮🇱 pic.twitter.com/f69odvpfCb

— FOX Sports: MLB (@MLBONFOX) March 14, 2023
Israel had needed an emotional lift after getting no-hit by Puerto Rico on Monday. Having defeated Nicaragua 3-1 the day before, Israel is assured of qualifying for next year's World Baseball Classic even if it does not advance out of the group stage. Beating the Dominican Republic would allow them to advance. But Israel only recorded one more hit Tuesday.
The loss mathematically eliminated Israel from the tournament with one game to play — group leader Venezuela on Wednesday.
Nevertheless, for Steinmetz, who played single-A ball in the Diamondbacks' minor league system last season, the experience proved he has the raw talent to make the big leagues. And it certainly flattered the team that drafted him in the third round.
"It definitely helps a lot, knowing that my stuff could play at the highest level," Steinmetz said. "I mean, you're not gonna face much tougher than that."
Jacob Steinmetz on representing Orthodox Judaism on @ILBaseball and whether he's checked his phone yet. pic.twitter.com/wXR8ijnkJ7

— Louis Keene (@thislouis) March 15, 2023
Frum Twitter kvelled about Steinmetz's outing, which made him the fourth-youngest pitcher to start in the World Baseball Classic.
JACOB STEINMETZ JUST STRUCK OUT MANNY MACHADO IN THE WORLD BASEBALL CLASSIC ON NATIONAL TELEVISION

— Max Mannis (@MaxMannis) March 14, 2023
I keep watching this on a loop btw. These soto and machado stare backs are everything. Watch their eyes. Like "hold up what was that…this kid can actually pitch??" https://t.co/BdSE8ip6w8

— jewboy media (@simmy_cohen) March 15, 2023
And, of course, one referenced that Steinmetz's dad coaches the men's basketball team at Yeshiva University.
"Steinmetz? Yeah, yeah, first orthodox jewish kid drafted, but his dad is actually the head basketball coach at Yeshiva University, no that's not a joke, yes they were ranked No. 1 in the country last year. Oh… his fastball? Good zip on it, but the command is a bit spotty." pic.twitter.com/ThxqWbyxBi

— Céspedes Family BBQ (@CespedesBBQ) March 14, 2023
Jacob Steinmetz strikes out Gary Sanchez with a fastball on the black to end his night.

Final line: 1.2 innings, two hits, two walks, and three strikeouts.

He faced a lineup with 13 combined All-Star game appearances.

One hell of a night for the Orthodox kid from Woodmere. pic.twitter.com/PAXTu3f90u

— Louis Keene (@thislouis) March 15, 2023