Fast Forward
Criticizing George Soros is not always antisemitic, says Alan Dershowitz
The controversial attorney urges Republicans to ignore charges of antisemitism when directing their fire at the Jewish billionaire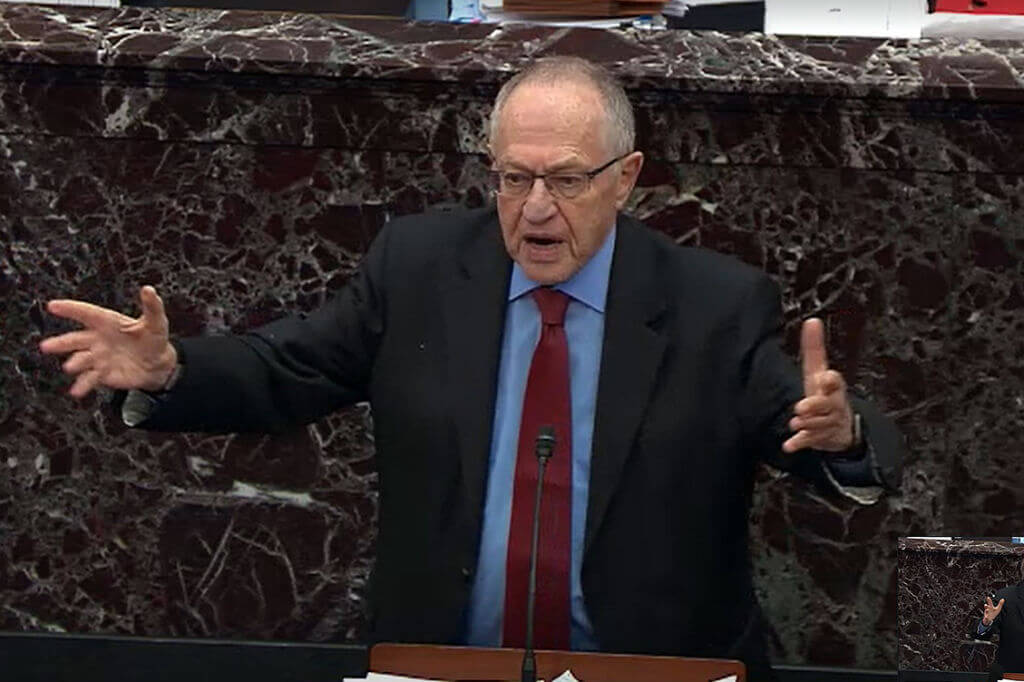 Harvard law professor Alan Dershowitz in a recent interview said Republicans shouldn't worry that attacking Jewish billionaire George Soros, in relation to the Manhattan district attorney's investigation into former President Donald Trump, is antisemitic.  
In a series of social media posts over the weekend, Trump said he expects to be arrested and charged for violating a campaign finance law in relation to a payment to Stormy Daniels, a former adult film actress. Trump has been accused of having an affair with her in 2006 and then buying her silence before his first presidential campaign. He denies the allegation and has accused the chief prosecutor, Alvin Bragg, of carrying out a coordinated effort backed by Soros to undermine him. Soros had supported Bragg in his 2021 race for district attorney.
"Please, everybody, feel free to tell the truth about George Soros," Dershowitz said Sunday on Newsmax TV, a pro-Trump conservative cable network.  "Don't worry about false charges that it is antisemitic." 
Soros, a Hungarian-born Democratic megadonor and Holocaust survivor, has long been the subject of antisemitic attacks from the far right. Casting a Jew as a puppet master who manipulates politics for evil purposes is a common antisemitic trope. Soros was the top political donor in the midterm elections last year, investing more than $170 million to help Democratic candidates, including $40 million in district attorney races nationwide. 
In recent months, Trump, the frontrunner in the 2024 Republican presidential primary, has assailed Soros in fundraising emails, accusing him of aiming to "single-handedly buy" President Joe Biden's reelection.
An anti-Soros campaign
Ahead of a potential indictment, Republicans, including Florida Gov. Ron DeSantis, have all united behind a plan to attack Bragg as a "Soros-funded" DA. Rep. Marjorie Taylor Greene, a Republican from Georgia, tweeted on Sunday: "No other person has undermined our democracy more than George Soros. Why is [he] still allowed to maintain his citizenship?"
Dershowitz said Americans shouldn't "be fearful on the charge of antisemitism" when going after Soros "on the merits."
"I'm a proud, deeply committed Jewish Zionist and I think that what Soros is doing — distorting civil liberties, distorting human rights — is outrageous, and I want to be the first to attack George Soros," he said. "I'm not attacking him because he's Jewish. I'm attacking him because what he's doing is wrong."
The outspoken Jewish attorney served as legal counsel for Trump during the former president's 2020 trial following his first impeachment. He claimed, without evidence, in an interview with Breitbart that former President Barack Obama "personally asked the FBI to investigate somebody on behalf of George Soros." 
Dershowitz also repeated a debunked far-right conspiracy theory that Soros was a Nazi collaborator. "He's not much of a Jew, first of all," Dershowitz told the Newsmax hosts. "I mean, as you know, he worked and collaborated with Nazis in his native country when he was a young kid."
Abe Foxman, former national director of the Anti-Defamation League, called Dershowitz's comments legitimizing attacks on Soros outrageous. "I too disagree with much of what Soros supports," he said. "But I know that he is being used as a symbol of the antisemitic trope of the international money Jew – from Hungary to Trump and many antisemites in between."