Fast Forward
New York pulls polio vaccine slogan over antisemitism allegations
State politician says the slogan 'Polio is spreading in Israel. Get immunized now' harkens back to anti-Jewish tropes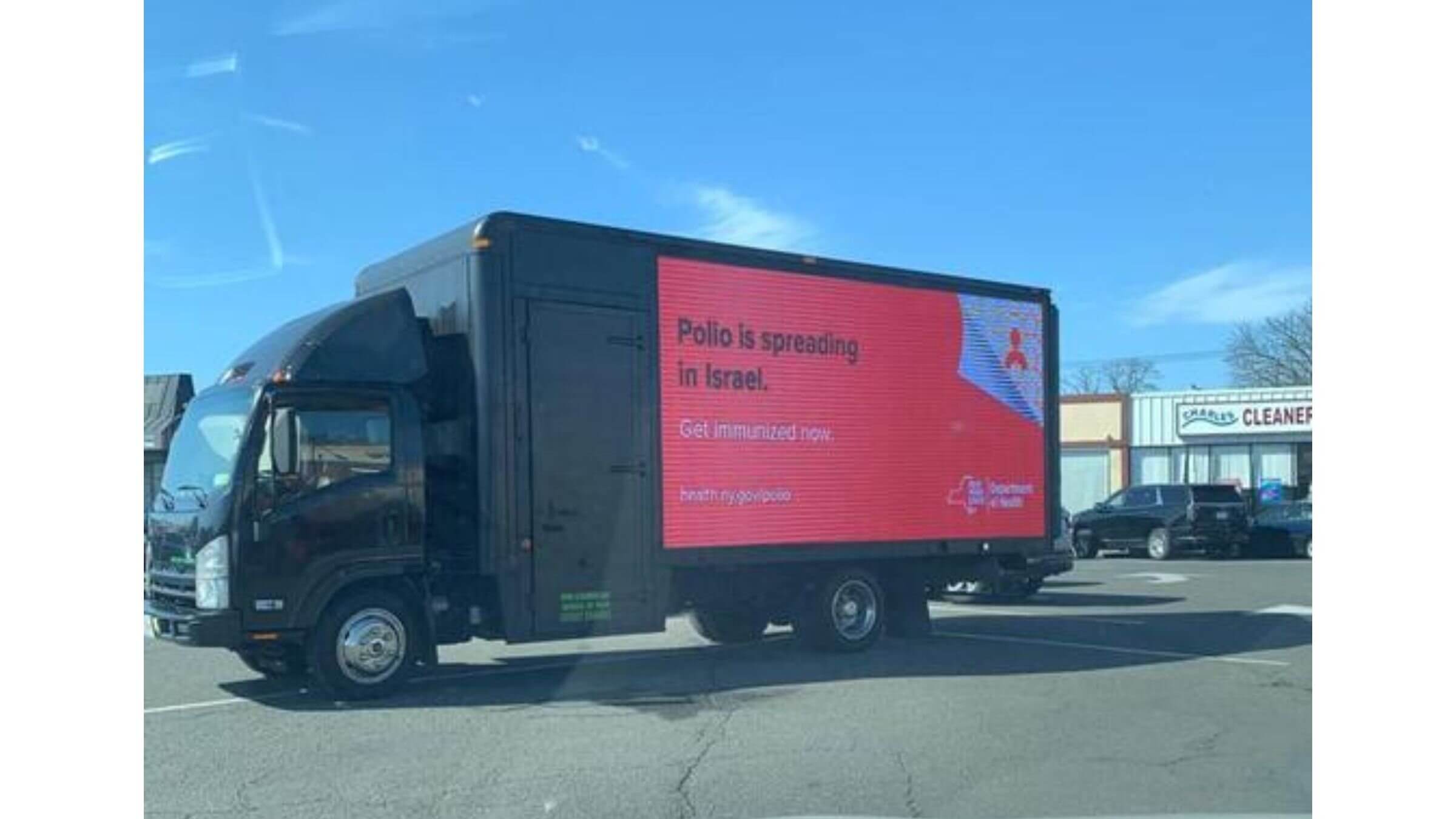 New York's Department of Health has pulled a campaign that advertised polio vaccines due to complaints that a slogan contained antisemitic stereotypes. 
A truck bearing the words, "Polio is spreading in Israel. Get immunized now," was seen in front of a kosher supermarket in the Long Island town of Cedarhurst earlier this week. In a letter sent to Health Department Commissioner Sam Miller, Republican New York State Assemblyman Ari Brown said he was "appalled" by the slogan, saying it was reminiscent of the centuries-old libelous claim that Jews are a vector of disease.
"My mother went through the Holocaust. I've heard this 'Jews spread disease thing' right away," Brown told the Forward, noting that the inventor of the polio vaccine, Jonas Salk, was Jewish.
In a statement sent to the Forward, Miller said the campaign was in response to four polio cases in Israeli children, the first cases in the country in 33 years. The campaign was aimed at urging people who travel to Israel and other countries with recent polio outbreaks to get vaccinated. 
According to the Department of Health, vans with the slogan were scheduled to drive through communities in Queens, Brooklyn, Staten Island, Nassau and Rockland counties between March 24 and 28 in anticipation of increased travel between Israel and New York around the Passover holiday. Other pro-immunization advertisements will continue as planned, including spots in Jewish newspapers and synagogue newsletters.
"After hearing feedback that mobile van ads intended to reach New Yorkers in their communities could be interpreted as blaming the communities themselves for the spread of polio, the Department immediately pulled those ads," Miller said. "The Department of Health remains committed to serving New York's State's diverse communities, and we strongly condemn antisemitism."
Brown was not alone in finding the ad offensive. Nassau County Executive Bruce Blakeman called the messaging "disturbing."
Both Brown and Blakeman credited Miller with acting quickly to remove the offending slogan, but some Jews expressed skepticism at the notion that the van's message was antisemitic. Several took to social media to express their sense that the campaign was merely focused on promoting public health.
…Despite the pressing public health need to encourage vaccination, Hochul pulled the ad truck in response to Brown's complaint, public health be damned.

3/3

— Shmarya Rosenberg (@Shmarya) March 29, 2023
In June 2022, an Orthodox Jewish man was paralyzed by polio in Rockland County, the first such case in New York since 1990. Wastewater monitoring in Rockland detected 44 positive samples of the virus between March 1 and Dec. 31, 2022. According to data released on March 22 of this year, only one wastewater sample out of several dozen has shown a trace of the virus in 2023. After the case was identified last year, New York public health officials and nonprofit organizations conducted outreach programs aimed at promoting immunization, particularly among unvaccinated children. One such campaign was based around a video featuring Chava Willig Levy, a prominent Orthodox author who suffered paralysis stemming from a childhood bout of polio.
Immunization data on the Health Department's website has not been updated since Aug. 1.