Fast Forward
Texas neo-Nazi group ramps up talk of guns, violence on social media
The Aryan Freedom Network is best known for protesting drag queens, but more and more of their online posts mention firearms and 'racial holy war'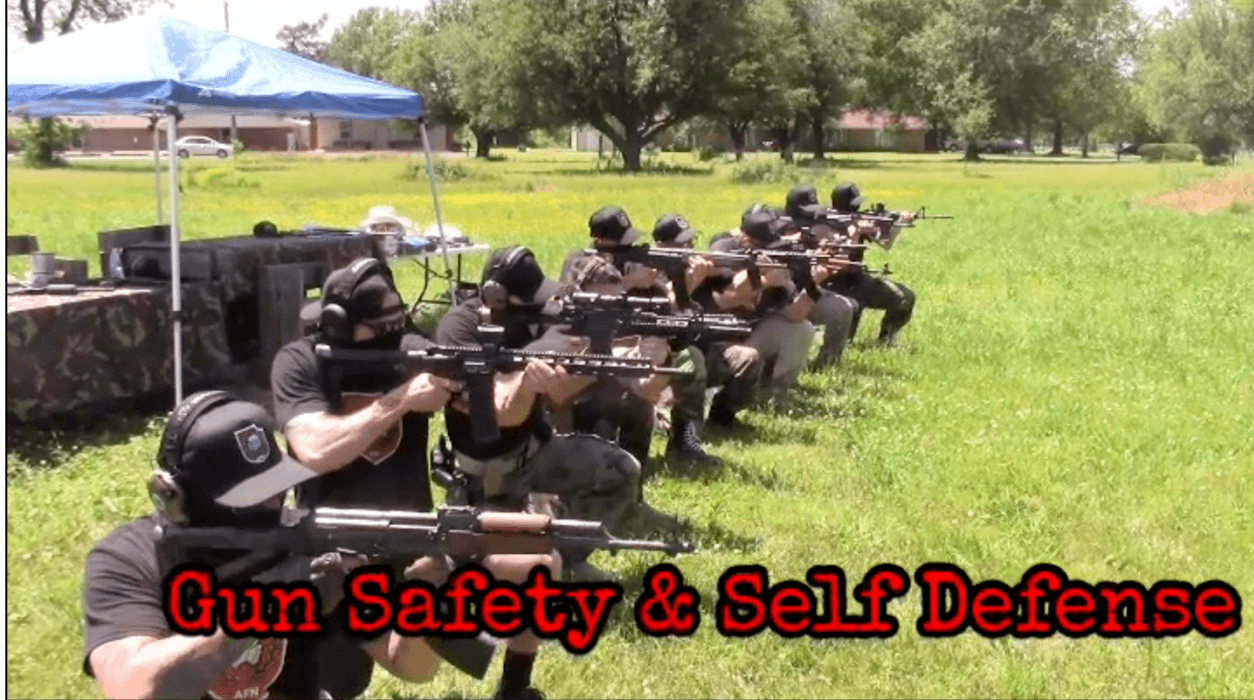 A Texas-based white supremacist group has ramped up its online and real-world activity in recent months, protesting drag show venues and increasingly using violent imagery and promoting its members' access to weaponry.
The Aryan Freedom Network was founded in 2018 by Ku Klux Klan member Dalton Henry Stout. Since then, chapters have popped up in 25 states. 
On its Telegram channel, AFN leaders laid out their criteria for membership, which include rejecting "Judeo-Christianity" as well as Islam, Satanism and any other religion aside from traditional Christianity. Group members must support "the creation of an autonomous White Aryan European homeland in North America" and oppose nonwhite immigration to Europe, North America, South Africa, Australia and New Zealand and are also required to reach out and network with "new people and like-minded organizations."
Listen to That Jewish News Show, a smart and thoughtful look at the week in Jewish news from the journalists at the Forward, now available on Apple and Spotify:
The group's strict membership requirements have made it difficult to ascertain specifics of their activities and structure, said Calum Farley, an investigative researcher with the Anti-Defamation League's Center on Extremism.
A website created by the group dedicated to a predicted race war includes survival tips, including links to purchase firearms and ammunition. 
Posts to fringe social media sites such as Gab regularly include photos of members of the group holding firearms, while Stout has described the group as engaging in "training" that includes self-defense, mixed martial arts and firearm practice. 
While the AFN had previously been known for distributing racist flyers, the group has ramped up its rhetoric since April, when the content began to increasingly use "language and imagery explicitly invoking violence and referencing their access to tactical gear, training, and weapons on social media."
Among the posts in question were an image posted to Telegram on April 21, a day after Hitler's birthday, which included an AK-47 and sword on a table next to a copy of the Nazi leader's book Mein Kampf. The caption described the group as engaging in a "racial holy war" that is "based on the ideas of White Racial Supremacy and establishing an Aryan Homeland for our People."
Other posts have said the group is "on the hunt" for communists in Texas or has featured photos of members holding rifles and handguns. 
In posts to social media and the group's Telegram channel, the Aryan Freedom Network regularly describes itself as nonviolent and not condoning illegal activities. That messaging is consistent with other neo-Nazi and white supremacist groups, said Farley, who will say they are merely participating in "white advocacy." 
"And so with that, they'll try to spin it and say that we're nonviolent, but we're willing to defend ourselves, if need be," he said, adding that publicly espousing nonviolence is a strategy to avoid law enforcement attention. But even with their claims of adhering to the law, Farley said the group poses a threat. As an example, he pointed to their regular protesting of drag queen venues and story hours, which are often the scene of counter-protests, leading to potentially violent situations. But Farley said there's also the threat of an individual being radicalized by their association with the AFN or similar groups, "who doesn't believe that the current type of advocacy is enough."
"So while the Aryan Freedom Network might not be explicitly promoting violence" he added, "it's opening the door to certain opportunities for violence, either in real life at these sorts of events or by individuals going off on their own."