Food
'Blewish' cuisine comes to George Floyd Square
Chopped & Served sets up catering shop at corner known throughout the world
Imani Jackson latched on the idea of creating a catering company featuring Black and Jewish — or "Blewish" — cuisine in 2017. An article in the Forward, for which she's also written food columns, detailed the enterprise, which she ran out of Minnesota Hillel at the University of Minnesota.
Now, she's bringing the business to its own brick-and-mortar location — and not just any spot. It's a location known throughout the world: George Floyd Square.
The memorial to George Floyd at the intersection of Chicago Avenue and 38th Street in Minneapolis sprung up in late May 2020 shortly after Floyd was murdered there by police. What started as a collection of flowers and posters outside of the Cup Foods convenience store has expanded into a memorial along the surrounding streets, with chalk art and sculptures, creating George Floyd Square in remembrance of his life.
That food is "Blewish" — Black and Jewish — cuisine, which Jackson describes as a healthy, fresh fusion of soul food with Jewish-inspired ingredients and cooking techniques and an emphasis on freshness.
The memorials around the square all carry the same theme: creating community in the face of hardships. Jackson says she wants Chopped & Served to do the same.
"Where else is there for me to be?" said Jackson, a recent human rights and justice and communications graduate from the University of Minnesota. "This is exactly where I'm supposed to be."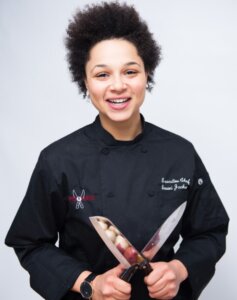 She continued, "This spot encapsulates a lot of what it means to be a community member, to help bring positive energy and a sovereign mindset."
A "sovereign mindset," Jackson explained, is one that invites people to feel comfortable in a space where they are able to contribute and feel heard.
Jackson's new store will offer that space, she said, while bringing a new type of food to the George Floyd Square community.
That food is "Blewish" — Black and Jewish — cuisine, which Jackson describes as a healthy, fresh fusion of soul food with Jewish-inspired ingredients and cooking techniques and an emphasis on freshness.
"I've been to Israel several times and the food is so stupidly fresh," Jackson said, using "stupidly" as a compliment. "Everything is so homemade, nothing is processed."
Chopped & Served's menu includes appetizers, breakfast dishes, dips and soups, as well as close to two dozen vegan options. Some fan favorites include shakshuka, steak and caramelized onion crostini, and sweet chili shrimp.
If that last one doesn't sound kosher, it isn't. But Jackson uses many kosher ingredients and can make kosher dishes at customers' requests.
Part of Jackson's vision is for the store to serve as a community kitchen where she and other Chopped & Served staff can teach folks how to cook Blewish food. Community members would also be able to use the kitchen to do meal preparation while offering an open space to teach other cooking techniques.
The owner of the building where Chopped & Served will be located, Stillwater Cos.,  first reached out to Jackson with the opportunity to host her business in February 2020 while she was still in school. Dragon Wok, the restaurant previously in the building, closed in November 2021. When Jackson graduated from the U of M, she snapped up the space. 
The site of one of the most infamous killings in recent history, George Floyd Square may seem a challenging place to start a business. But some entrepreneurs have. In a row of remodeled storefronts on Chicago Avenue is the Forreal Coffeehouse, owned and operated by Billy Jones on the corner opposite Chopped & Served.
Jones said there's a clear future for Black business growth in the area.
"Having unity between the few businesses that are around here will make us more resilient," Jones said. "There's always power in numbers."
And even in the number of Black and Jewish enterprises. Jackson isn't the first or only Black Jewish person operating a catering business in the Twin Cities. Another, Brandie Itman, runs Bella Nava Creations, makers of custom kosher cakes and other desserts. She's run the business since 2016.
Unlike its coffeehouse neighbor, Chopped & Served won't be a traditional sit-down restaurant. Jackson said she wants to avoid the transactional business model most restaurants use, where owners are occupied trying to meet daily quotas and turn customers over as quickly as possible.    
"Here at the catering company we're not flipping tables or flipping names," Jackson said. "We're really getting to know the people and humanizing the dehumanized and learning about everybody that we get in contact with."
Jackson has a five-year lease for the space. She landed a partnership with the athletic apparel company Lululemon last October to create pop-up smoothie stands in different parts of the Twin Cities and new sweatshirt designs. Chopped & Served also caters for local Lululemon events.
For the time being, however, building community around the new George Floyd Square location is Jackson's primary goal.
"Being able to create unity in a community is what this is all about," Jackson said. "This spot is so in alignment with what we do. It was our calling to be here."