California Briefing
A Jewish newspaper reported antisemitism at a high school basketball game. The whole story may be harder to hear.
Plus: Spielberg x Colbert, Hollywood's cutest Jewish couple makes a movie, and can a robot dog stop antisemitism?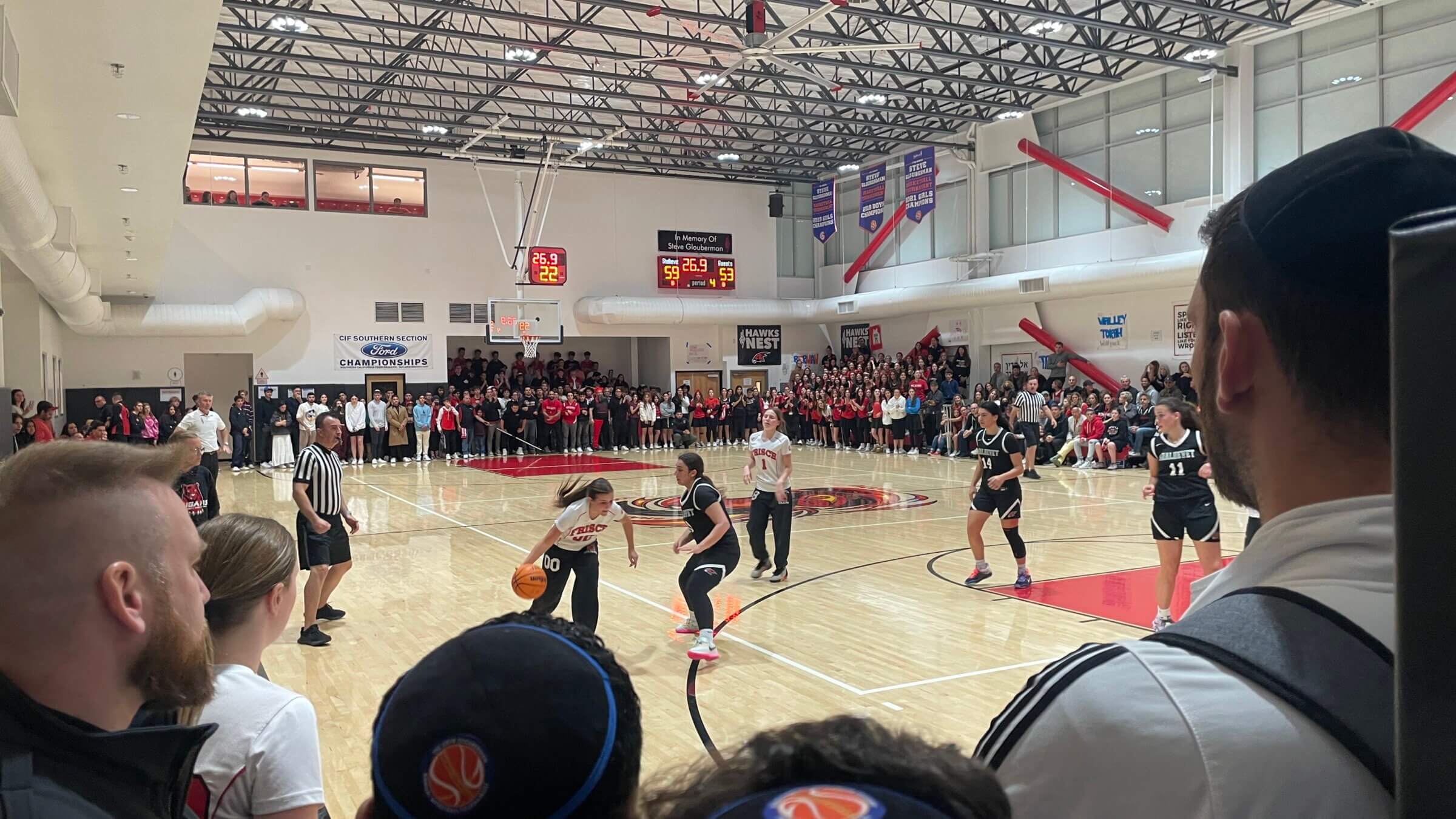 Welcome to the California Briefing, the weekly dispatch of California Jewish news and links by Louis Keene. In this edition: The ugly truth of an antisemitic incident, Spielberg does Colbert, and the cutest Jewish couple in Hollywood.

To get the latest on pop culture, politics and Jewish life in the Golden State in your inbox every Thursday, subscribe here: forward.com/california.
Orthodox students lobbed racist taunts at Black players. How did their head of school respond?
A few weeks ago, the Jewish Journal reported that an antisemitic incident occurred at a girls playoff basketball game at Shalhevet, an Orthodox high school in Los Angeles. Two anonymously quoted Shalhevet students said in a Feb. 19 article that fans of Buena Park High School had shown them a swastika and the Palestinian flag on their phone screens and taunted them by referencing Kanye West.
The article was shared widely in the LA Jewish community, and Buena Park, an Orange County public school with 95% minority enrollment, was inundated with vitriolic messages on social media, according to Karl Zener, the school district's public information officer. (The principal of Dr. Sonje Berg, who attended the game, declined to comment.)
A survey of 51 students who were at the game, published March 1 by the school's student newspaper, the Shalhevet Boiling Point, revealed another sad dimension to the game. (Disclosure: My mother, Joelle Keene, is the BP's faculty advisor.) In the article, 11 students said they witnessed antisemitism from Buena Park fans.
But nine — including one student who went on the record — said they witnessed racism at the game coming from Shalhevet students, including calling out "fried chicken" at Black players and calling one player "gorilla."
In an interview with the Forward March 8, Rabbi David Block said he believed the student newspaper's reporting, but that he had not yet identified the Shalhevet students involved in the offensive taunts.
"There's absolutely no room for that in school," Block said. "It's just hard because I'm only hearing it through a report. So I'm figuring it out."
Block added that as he's trying to come up with a plan to deal with the report of racism, he's taken action on the antisemitic incident, and filed a report about it with the LAPD.
What we're watching and not watching
😕  You could see the utter discouragement on Steven Spielberg's face after Stephen Colbert prompted him to reflect on the rise of antisemitism. Their full interview is worth watching (Spielberg also thinks the government is hiding information on UFOs), but clicking the thumbnail above will take you to his response.
🧛  "Hey dad, remember that time Buffy the Vampire Slayer saved all of our lives?" Sarah Michelle Gellar (Buffy, for those who didn't watch the show) shared this incredible story from a fan for whom that statement is actually true.
🏝   Reverse psychology must have worked on the studio execs, because Eugene Levy — who declares himself "more of a great indoors kind of guy" — is hosting The Reluctant Traveler, a (you guessed it) travel show whose first episode is free on Apple TV+. Hey, remind me to use that line next time I have a reporting trip idea. (Trailer/Streaming Link)
😍  Dave Franco (James' less problematic brother) directed and his wife Alison Brie (of Community) starred in Somebody I Used To Know, now streaming on Amazon Prime. You don't have to watch the movie or the cute couples quiz Franco and Brie did for GQ, but the cute couples quiz is substantially shorter (and duh cuter).
🔫  I'm loathe to include the same name two weeks in a row, but I feel like readers of this newsletter will appreciate Jon Stewart's withering takedown of a 2nd Amendment crusader.
💝  And for readers who happen to be in NYC, the off-Broadway run of Little Shop of Horrors, a comedy horror rock musical starring Maude Apatow (of Euphoria, also Judd's kid) has been extended to April 30. (Tickets)
What we're reading (besides the Forward)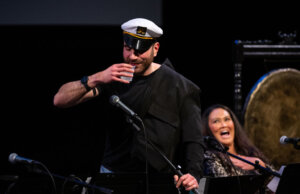 ♠️  I absolutely tore through this Vanity Fair story about the secret celebrity-artist poker games organized by celebrity painter Jonas Wood and habituated by Jack Black, Ellen DeGeneres, and Leo Dicaprio.
🤔  Some might find it a strange time to be complimenting Benjamin Netanyahu, but U.S. Rep. (and aspiring senator) Katie Porter says she came away from a recent meeting between House Democrats and the Israeli prime minister "extremely impressed."
🍪  This is certainly the weirdest Google Alert for Adam Sandler I've ever gotten.
🙅‍♂️  How investigators nailed a suspect — a former Chula Vista resident with a neo-Nazi background — in the antisemitic projection last month on the Anne Frank House.
⚽️  Brett Goldstein — he of the "cartoonishly chiseled jawline and a haircut that could well be made of Lego" — goes long with British GQ on his decade-long grind in standup comedy before his Ted Lasso breakout.
🙏  Remember that odd video of the man who shot blanks inside a San Francisco synagogue? The story took another strange turn this week, when a judge threw out hate crime charges after the suspect's mother asserted that they were Jewish.
Housekeeping
⚾️  No newsletter next week — I'll be out in Florida covering Team Israel at the World Baseball Classic for the Forward! Follow along on Twitter and on our Sports page. Can't wait to share stories with you when I get back.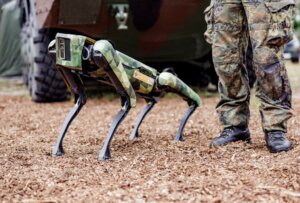 Finally, in the we-are-so-lucky-to-live-in-California-department…
There was no puppy love in Los Angeles City Hall this week, where councilmembers considering whether to accept a police robot dog as a gift to LAPD encountered vehement opposition from the public. Councilwoman Monica Rodriguez, defending the proposal, suggested the robot dog could be used to fight antisemitism. Opponents barked — er, balked at the idea, and the council postponed a vote for 60 days.