Forwarding the News
How a lobbyist for Nazis got honored at a Jewish museum + Nadler-Maloney face-off tonight at Forward forum
Jewish judge in Mar-a-Lago case being attacked online, why 'Yiddish' and 'rabbis' are trending on Twitter, the religious overtones in Netflix's 'Sandman,' and the secret Jewish history of Jethro Tull.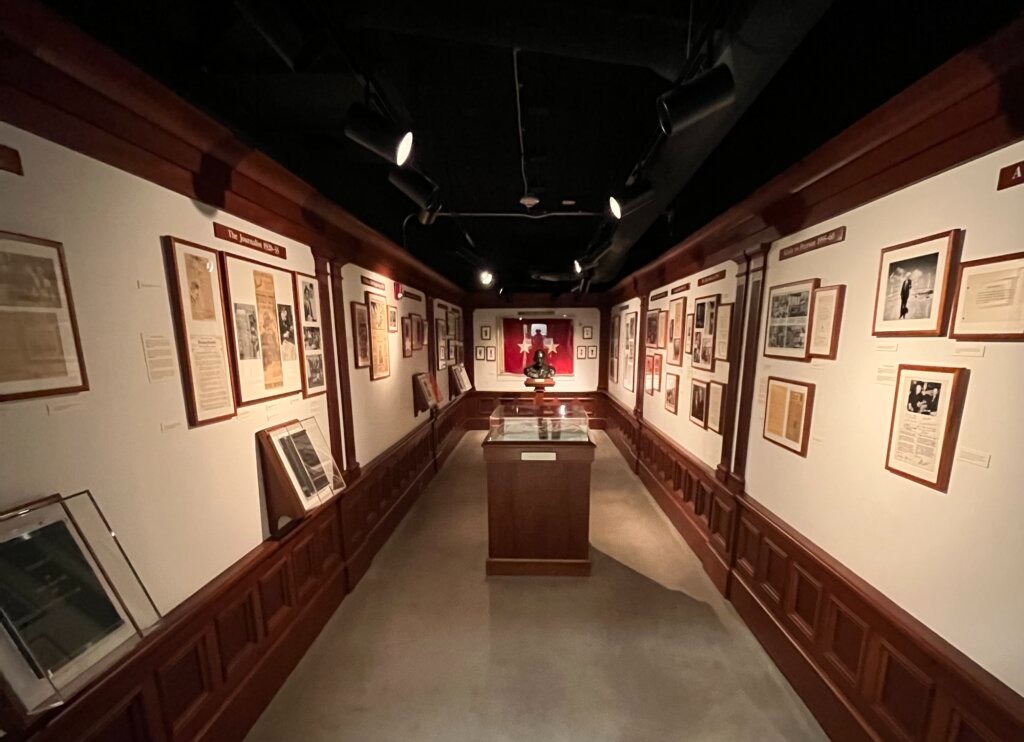 This article is part of our morning briefing. Click here to get it delivered to your inbox each weekday.
He lobbied for Nazis — why does a Jewish museum honor him?
Walk into the National Museum of American Jewish Military History in Washington, D.C., and you'll learn about General Julius Klein. An entire room is dedicated to him; it feels like a shrine. Which is strange, given Klein's postwar work as a PR guru rehabilitating the reputation of Nazis. Our investigative reporter, Arno Rosenfeld, took a closer look.
The historical record: After distinguishing himself as an officer during World War II, Klein spent the 1950s and 1960s as one of the top American lobbyists for the West German government. This work included defending a former top Nazi official, and severely damaged Klein's reputation at the time, forcing his resignation from the Jewish War Veterans of the United States — the very organization that operates the museum.
Lucrative line of work: Some of Klein's clients had been Nazis themselves, and his contracts with them proved lucrative. Just one example: He was making $150,000 a year – $1.6 million in today's dollars – to promote the interests of companies like IG Farben, which produced the cyanide gas used to murder Jews during the Holocaust. 
His own best PR client: The exhibit, up since in 1991, glosses over this history in a few lines that don't mention Nazism and attribute the controversy to a simple case of bad publicity. Perhaps that's because the exhibit was essentially a gift of Klein's estate: the general left his personal archives and military memorabilia to the museum along with funding to display it following his death in 1984.
For the last 30 years, Congressman Jerry Nadler has represented Manhattan's Upper West Side, and Congresswoman Carolyn Maloney its Upper East Side. Redistricting has forced them to face off for a single seat, along with newcomer Suraj Patel. Nadler and Maloney are nearly tied in the latest polling.
Where better to gauge how Jews are feeling about this awkward political situation than Zabar's, the Upper West Side landmark grocer founded by Jewish immigrants in 1934, and its cross-town alter-ego, Eli's Market? 
That's where our Nora Berman and Matt Litman took their cameras to talk to voters about the districts being combined, the possibility of losing New York City's lone Jewish House member, and the issues on their minds ahead of the Aug. 23 primary. Watch the video here ➤ 
Join the conversation: We'll be asking Nadler, Maloney and Patel about these issues and many others at a candidate forum we're co-hosting tonight at the (East Side's) Temple Emanu-El Streicker Center and streaming online. Sign up here to attend or watch ➤
Follow our political reporter, Jacob Kornbluh, and opinion editor, Laura E. Adkins — who lives in the district — for live analysis of the forum on Twitter.
During an hourlong TV debate last night, Nadler and Maloney did not distinguish themselves from one another much on any issue, but both argued that their experience and the clout it brings on Capitol Hill was good enough reason to send them back. "Losing one committee chairman would be unfortunate for New York," Nadler said. "Losing two committee chairmen would be catastrophic."
He and Maloney both offered full-throated support for President Joe Biden's reelection after wavering on the question at a similar debate last week — something Patel seized on as a "rookie mistake" by his septuagenarian opponents that had put Democrats across the country in awkward positions.

In calling for "a new generation of leaders," Patel cited the biblical story of Moses equipping Joshua to lead the people of Israel into the Promised Land.
Has Twitter become really Jewish recently? (Graphic by Mira Fox)
Seeing 'Hashem' or 'Yiddish' trending on Twitter? It's because the platform knows you're Jewish: Journalists and others use social media as a way to keep up with what people are talking about. You'll usually find political gaffes or a celebrity death trending. But a lot of heimishe terms have recently shown up, too, for many on our staff and others who follow Jewish news and culture across the internet. Which can present a problem. "If something Jewish actually trends," writes our digital culture reporter Mira Fox, "it's going to be like the Boy Who Cried Wolf and I'm going to ignore it." Read the story ➤
How Judaism, Scientology, Christianity, mythology and God knows what else haunt the dreams of Netflix's 'Sandman': The sprawling comic book series follows the king of dreams as he battles nightmares, creates fantasies and comes face-to-face with other gods like Death and Destiny; it's a story about the power of stories. No one has dared touch "The Sandman" until now; it's too complex, full of myths and religious references. But, as Mira notes in this review, dreams don't always make sense — and neither does the show. Read the story ➤
But wait, there's more…
The GOP nominee for Illinois governor, who said the Holocaust "doesn't even compare" to abortion on the scale of human atrocities, doubled down on the analogy this week, claiming local Chabad rabbis agree with him. But: "We don't know who he met with," said Rabbi Avraham Kagan, the director of government affairs for Lubavitch Chabad of Illinois, "and his comments do not reflect our position." 


The judge who approved the search warrant on former President Donald Trump's Mar-a-Lago estate is being attacked online for his involvement in a South Florida synagogue. The insult was hurled by a World Series champion baseball player.
Forwarding the News is now also available on our website. Share it on social media or with a friend simply by clicking on the blue button below.
WHAT ELSE YOU NEED TO KNOW TODAY
Rep. Ilhan Omar, a Democrat from Minnesota, won her primary on Tuesday. (Getty)
🗳️  Primary results: Two-term Rep. Ilhan Omar of Minnesota survived a surprisingly close primary battle, eking out a two-point win over a former Minneapolis city councilman backed by the city's Jewish mayor. Meanwhile, Minnesota's Jewish secretary of state, Steve Simon, easily beat his challenger for a third term. And in Vermont, Becca Balint, the granddaughter of a Holocaust victim, became the Democratic nominee for the state's sole House seat. 
⚖️  A Missouri man admitted threatening to blow up a St. Louis synagogue. Cody Steven Rush, 30, confessed in federal court Monday to calling the FBI on Nov. 5, 2021, and saying he wanted to blow up the city's Central Reform Congregation. Referring to Jews, Rush said, "I hate them with rage." (St. Louis Jewish Light)
🍦  A group of Israeli students have sent a cheeky letter to Ben & Jerry's, accusing it of hypocrisy for pulling out of the West Bank while "occupying" land in Vermont that once belonged to Native Americans. "Justice, morality and boycotts are not just slogans and antisemitic weapons for your food company to point at the Jewish community in Israel," the students wrote in a letter organized by the hard-right legal organization Shurat Hadin. "Justice and morality must begin at home." (New York Post)
📺  Remember those 1980s ads featuring "Crazy Eddie" that became part of the zeitgeist? Daryl Hannah's character in "Splash" famously learned English by watching them. A new book tells the story of the real-life Eddie, a Syrian Jew from Brooklyn. Turns out he was a crook who fled to Israel and spent time in the same jail where Adolf Eichmann was executed. (New York Times) 
🎸  An Israeli teenage girl was invited on stage by Coldplay frontman Chris Martin and played guitar in front of 50,000 fans at a concert in Belgium. She performed the band's 2002 hit "Green Eyes." (Times of Israel)
Mazel tov ➤ Amy Spitalnick, who took on neo-Nazis in Charlottesville, will become the new CEO of Bend the Arc, a Jewish nonprofit advocating for equity and justice.
Shiva call ➤ Elana Dykewomon, an acclaimed lesbian author and activist, died at 72.

What else we're reading ➤  Chabad is opening its first outpost in Bermuda, with the island's first resident rabbi …  Food website rounds up the 20 best Jewish delis in the U.S. … Pop star Noa Kirel confirmed she will represent Israel at the 2023 Eurovision Song Contest.
On this day in history (70): The Roman emperor and former military commander Titus besieged and invaded Jerusalem, destroying the city and the Second Temple. His victory was later commemorated by the construction of the Arch of Titus in Rome, which depicts the conquest, and is now a popular tourist site.
In honor of the birthday of Ian Anderson, the founder and frontman of Jethro Tull, check out our secret Jewish history of the British rock band.
Last year on this day, we reported that the grave of Rabbi Nachman's daughter in Ukraine was destroyed and desecrated with pig parts.
On the Hebrew calendar, it's the 13th of Av, the yahrtzeit of Moses Montefiore, a former sheriff of London and prominent British Jewish philanthropist, who built the first modern-day Jewish residential neighborhood outside the walled city of Jerusalem. He died, at 100, in 1885.

In honor of National S'mores Day, check out this recipe for gourmet s'mores.
(Courtesy Archdiocese of Kraków)
A Vatican cardinal visited Auschwitz Tuesday to mark the 80th anniversary of the killing of Edith Stein, the German Jewish philosopher who converted to Catholicism, became a nun and was put to death in a gas chamber in Auschwitz on Aug. 9, 1942. Pope John Paul II declared her a martyr in 1987 and canonized her in 1998. The cardinal, Michael Czerny, also spoke Tuesday about his own relatives of Jewish origins and their fate under the Nazis.
–––
Play today's Vertl puzzle, the Yiddish Wordle
Thanks to Nora Berman, Mira Fox, Jacob Kornbluh, Jodi Rudoren, Rina Shamilov and Talya Zax for contributing to today's newsletter. You can reach the "Forwarding" team at [email protected].