Culture
Seeing 'Hashem' or 'Yiddish' trending on Twitter? It's because the platform knows you're Jewish.
The trending bar on the social media platform has been serving up a lot of haimish terms. But no one is actually talking about them.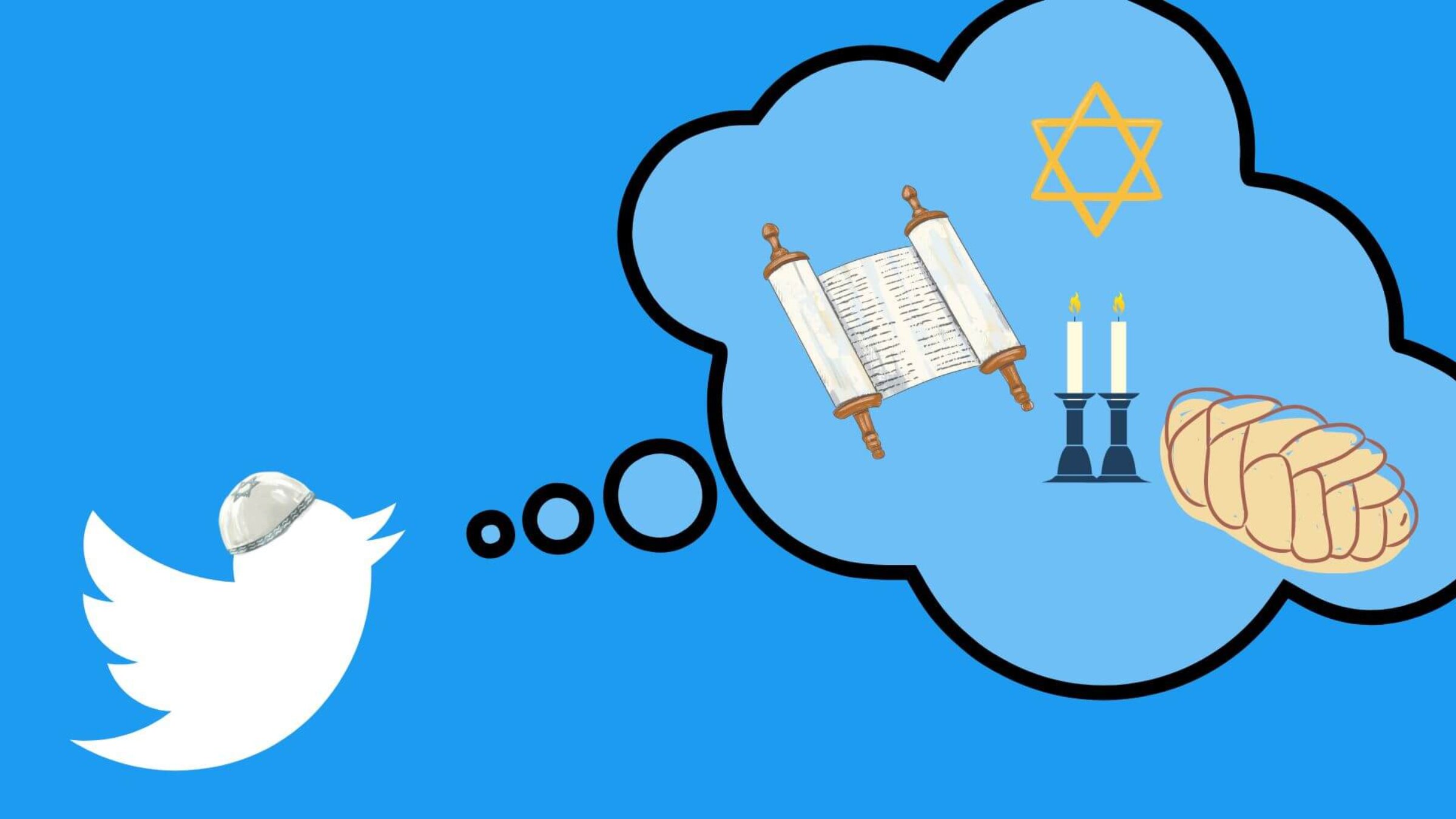 Like many journalists, I use Twitter's trending bar to keep my thumb on the pulse of the day's discourse. Often, it's just celebrity gossip or major events, but sometimes, I unearth an interesting niche story, like that time a guy said he found shrimp in his cereal. Or "Hitler" will trend because a politician referenced him in a speech.
Recently, though, I've noticed something odd: Nearly every single time I check the trending bar, there's something Jewish. "Yiddish" has popped up, along with "Zionism," "American Jews," "Rabbi" and even "Hashem." I've scrambled to trace the trend to its source and find the story — only to realize there isn't one.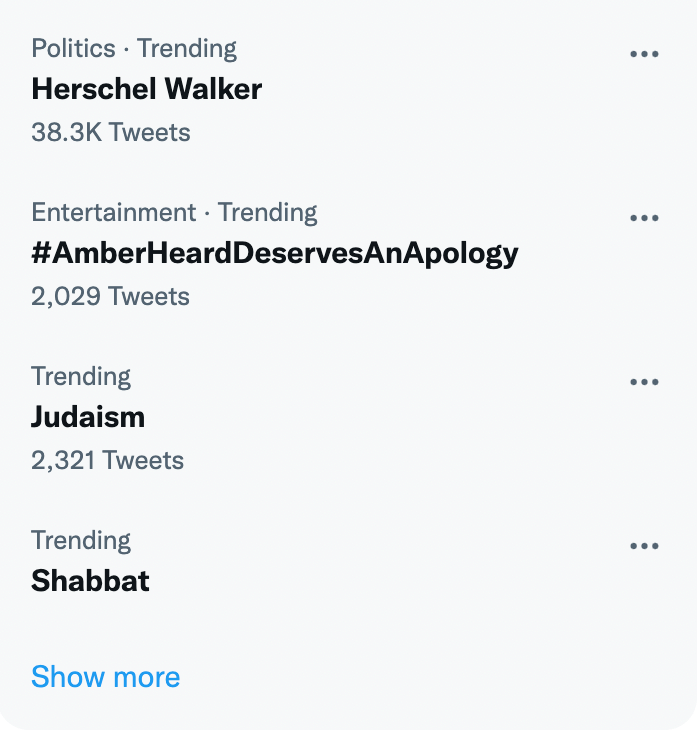 Each time, only a few thousand tweets mentioned "Zionism" or "Yiddish" that day. Usually, trends number in the tens or even hundreds of thousands of tweets on a topic. 
There was no big conversation about Yiddishkeit or Judaism or even Israel dominating the internet, just a handful of people chatting about their religious practice or academic interests or heritage, with perhaps half a dozen likes each. This is the sort of thing that you can find for nearly any search term on Twitter on any given day. (For context, I tried searching "cheese" — I had just eaten a piece of cheese — and was instantly shown a tweet about a sandwich with several thousand likes from two hours earlier, more engagement than any tweet on Hashem.)
It's no secret that Twitter's trends are algorithmically catered to the user; like nearly every company on the internet, they want to show you what you want to see. The site's Help Center section says that trends are "tailored for you based on who you follow, your interests, and your location," something they promote as an improvement to your timeline.
But it seems as though Twitter has recently narrowed its algorithms further — so far as to be useless. 
I tried to contact Twitter to ask what had changed, to no avail. But the whole point of Twitter's trending section is to alert you to an event or discourse that is, well, trending — that is, to be clear, when lots of people are all talking about the same thing. Not a few dozen talking about their love for Hashem.
A word appearing frequently doesn't, by itself, constitute a trend; if it did, vague-but-common topics like "politics" and "music" would constantly be trending. Or Beyoncé — people are always talking about Beyoncé. But she doesn't trend every week, and she does when she puts out an album, as she did last week.
I am not an engineer, so I have no idea how the algorithm distinguishes between the low murmur of every topic on earth being constantly discussed online and a notable event. But until recently, the code seemed quite good at telling what was actually an emerging discourse and what was just ambient chitchat.
To be fair, it's still possible to see broader trends if you navigate to the Explore section of the site. Even there, a selection of the topics are actually paid promotions — hashtags about movies or TV shows or new products that no one is actually talking about.
Twitter has, for years, marketed itself as a public square; it's why the platform didn't bar Trump despite calls to do so. Its slogan is "what's happening and what people are talking about right now." Yet suddenly it's quite difficult to tell what people are talking about unless I scroll for hours  — not a habit I want to encourage in myself. (Though Twitter might; I'm sure it pays higher ad dividends.) 
Even if I scroll forever, that just tells me what the cadre of Jews and journalists I follow are talking about — a rather small slice of society. Meanwhile, the trends are actively misleading me; at this rate, if something Jewish actually trends, it's going to be like the Boy Who Cried Wolf and I'm going to ignore it.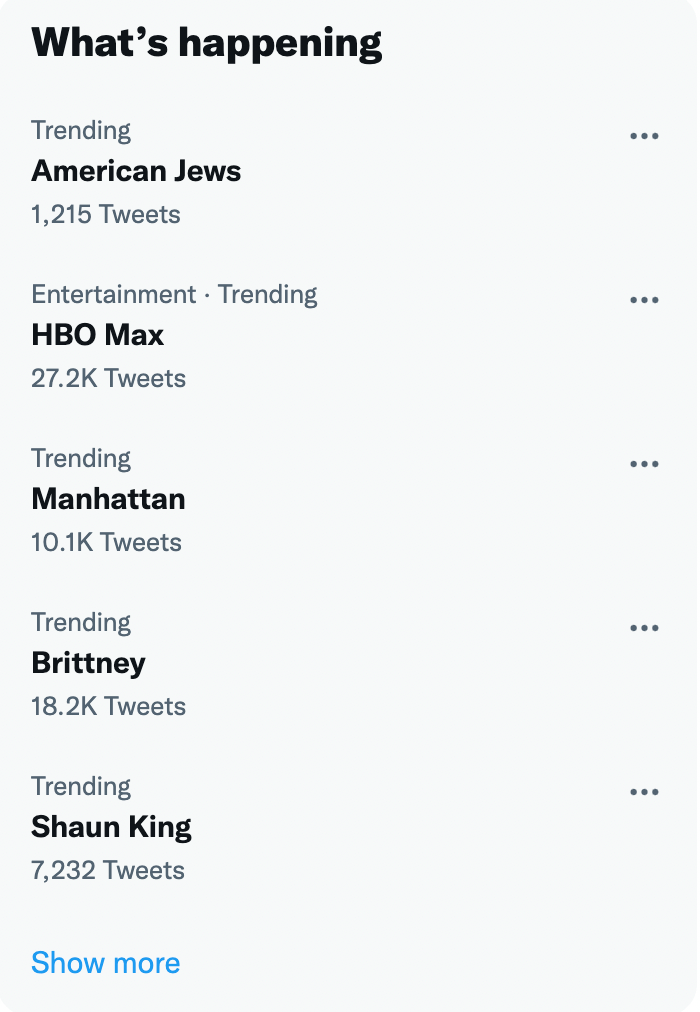 There are reasons to try to limit Twitter trends. Hashtags such as #gamergate and #SavetheChildren (a QAnon reference) have propelled harassment campaigns and conspiracy theories into the mainstream. Various political groups have managed to manipulate topics to push them into the trending bar, gleaning greater media coverage and a wider reach.
But narrowing the trending bar is also dangerous. We're siloed enough already, getting our news largely off of social media sites, only seeing posts from people we follow. Even Google feeds us only the results it thinks we already want; if I search for Alex Jones' defamation trial, for example, which made headlines all week, I don't see anyone defending him, though I'm certain his fans are rabidly doing so. Twitter's trending section was one of the ways to get at least a little bit of perspective outside my immediate bubble.
There are ways to try to curtail this. While poking around the platform, I realized it was gathering a horrifying amount of data on me — including when I was using third-party platforms — and I revoked all of those permissions. This hasn't changed anything yet, since Twitter had already figured out I'm Jewish, but theoretically, I could also go through the thousands of topics it has already pegged as my interests — they're listed deep in your profile settings — and uncheck each one manually.
But that would take hours and, if I'm being honest, sometimes I like my silo. My interests don't align with a lot of the U.S. — I don't watch sports, for example. If Twitter is going to promote topics in my timeline anyway, I'd rather see tweets about Timothée Chalamet than football.