Forwarding the News
On a muted Independence Day, defiant Ukrainians around the world mark six months of war
NYC didn't lose its lone Jewish member of the House of Representatives – it gained a second one. Plus: Drought reveals sunken Nazi ships, and mother-son duo compete in badminton championship.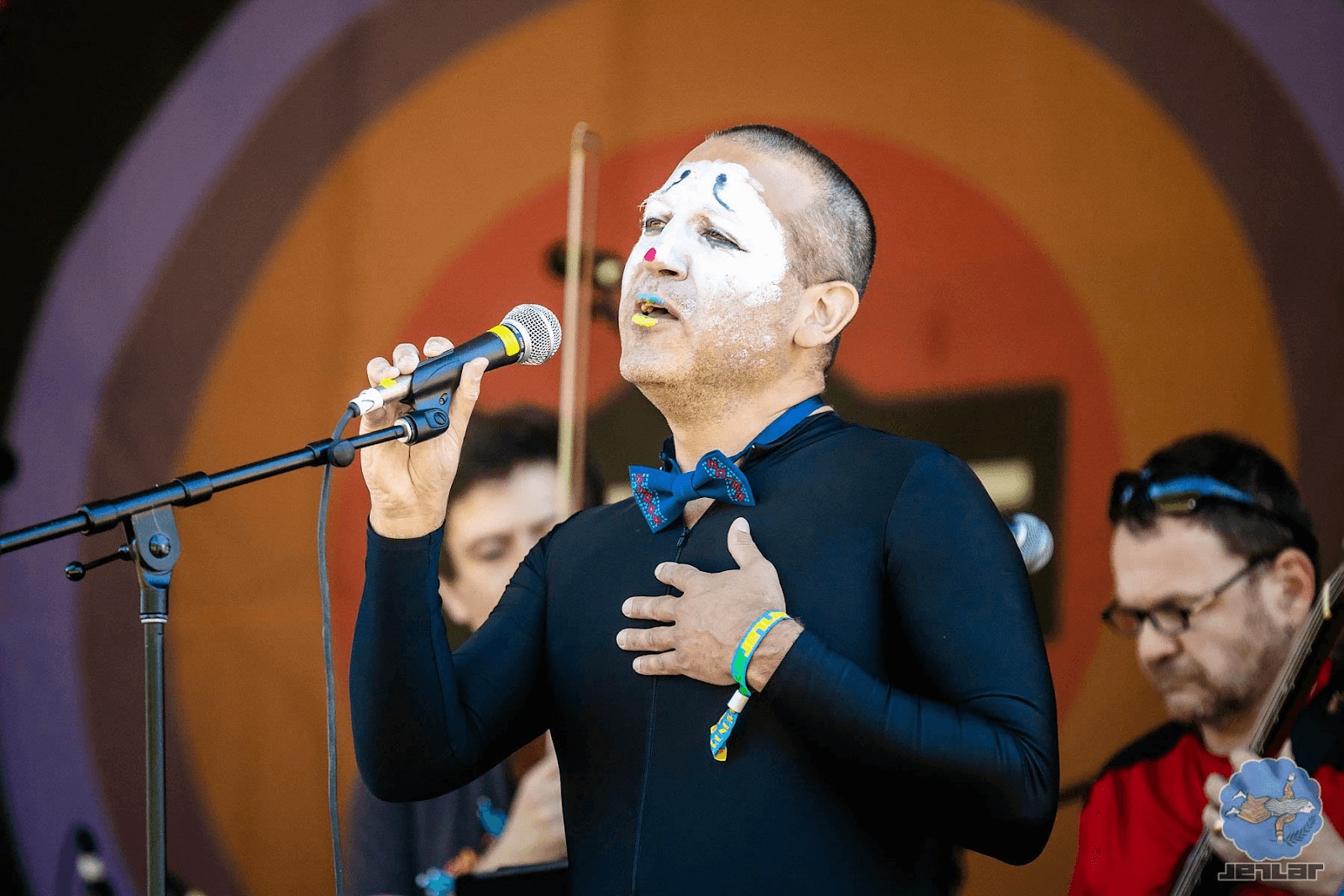 This article is part of our morning briefing. Click here to get it delivered to your inbox each weekday.
Hanna Pysana in a video talking about her volunteer work helping other Ukrainian refugees like her.
Today is Ukraine's Independence Day — and, in a calendrical coincidence, exactly six months since Russia invaded. It has been six months of a brutal war in which Ukrainians are fighting to maintain that independence.

Within weeks of that first incursion, more than 10 million Ukrainians fled, instantly creating Europe's largest refugee crisis since World War II.

Amidst the chaos was one story among many: Hanna Pysana, 37, who had been the director of youth programs at the Beit Dan Jewish Community Center in Kharkiv. She jumped on a Joint Distribution Committee bus headed to Moldova.

"I felt a tragedy inside," Pysana told me in May over Zoom, grasping the pendant hanging on her neck. It contained the Hebrew letters chet and yud, forming the word for "life."

Pysana is a photographer and filmmaker, and part of her wanted to stay behind to document the travesties of the war. But she thought she could be more useful elsewhere. For a month, she volunteered at the Joint's refugee center to help other Ukrainians as they arrived in Moldova. "I could offer support to these people," she said, "to give hope to them."

Today, Pysana is back in Ukraine and said she feels "between worlds," unsure where life will take her. One of the first things she purchased after crossing the border was a book. It's called "What To Do After the Apocalypse."
Meet the Jewish songbird who dropped everything to save Ukrainian lives: Daniil Cherkasskiy grew up in Ukraine, but has lived in Chicago for more than two decades, and felt little connection to his homeland. But when the war broke out, he put his career as a performance artist and drag singer on the back burner to launch a humanitarian aid group. Though a concert in his native Kyiv might seem like a pipe dream, he's not willing to count it out yet. "Maybe someday," Cherkasskiy said. Maybe when the war is over, writes Samantha Shokin, or as they say in Ukraine, after the peremoga – the victory. Read the story ➤
Opinion | My son-in-law, then and now: Until six months ago, Gene Pelikhov and the rest of his family that emigrated from Dnipro called themselves Russian. After the invasion, they became Ukrainian in an instant  — as did Jews from around the world with similar ancestry. "The horrors of the Russian offensive against the resolve of the Ukrainian people, to say nothing of the Churchillian leadership of Ukraine's Jewish president, Volodymyr Zelenskyy, has put practically the whole world in the besieged nation's corner," writes Pelikhov's father-in-law, Robin Washington, our editor-at-large. For expatriate Jews, though, the journey is more complicated. Read his essay ➤
And more…
PRIMARIES: THE MORNING AFTER
Dan Goldman, the heir to the Levi Strauss fortune, on the campaign trail.
New York City is not losing its lone Jewish member of the House of Representatives — it's gaining a second one. 
Three months after court-ordered redistricting threw New York politics into chaos, Rep. Jerry Nadler cruised to victory in the primaries on Tuesday, winning more than twice the votes of fellow veteran Democratic Rep. Carolyn Maloney to represent a new district that combines Manhattan's Upper West and Upper East Sides. 
Meanwhile, in Nadler's old district, Dan Goldman, who prosecuted President Donald Trump's first impeachment and is heir to the Levi Strauss fortune, eked out a victory over a state lawmaker who supports the boycott movement against Israel.
Rep. Jerry Nadler arriving at his final campaign stop on Tuesday. (Jacob Kornbluh)
Nadler greeted our political correspondent, Jacob Kornbluh, in Yiddish as he arrived Tuesday at one of his final campaign stops in the East Village, saying "Yankel, vus machste?" 
Jacob had spent time Monday with Nadler in his Upper West Side neighborhood and returned there for his victory party at the Arte Cafe before heading to Goldman's later in the night. Read his dispatch and check out his Twitter feed for more detail, pictures and video from election night. 

Meanwhile, our opinion editor, Laura E. Adkins, who lives in Nadler's district, offered her take on the race, looking at how identity politics and the 2015 nuclear deal with Iran affected the outcome. Read her essay ➤
Jared Kushner's new memoir has a lot to say about father figures. (Getty)
Jared Kushner's memoir is all about forgiveness — but he's not asking for ours: "Breaking History," the memoir by former Trump adviser and all-around wunderkind Jared Kushner, reads like a bloated cover letter, writes our PJ Grisar. But it's hard to miss that Kushner is trying to do a bit more with his White House tell-some book, directly linking his ethic to lessons about forgiveness gleaned after the imprisonment of his father, Charles. But, as Grisar writes: "One thing Kushner doesn't ask for in this unapologetic slog is forgiveness for himself." Read the story ➤
Nathan Fielder didn't learn any moral lessons from 'The Rehearsal': The HBO show followed Fielder as he helped his guests set up true-to-life rehearsals for major life moments. Everyone signed consent forms. But, writes our Mira Fox, "the ethics still feel muddy." And though Fielder spends the last episode of the season making a big show out of grappling with the affect he had on participants, the series is slated to be back for a second season. "No matter how bad he feels," Fox writes, "Fielder is clearly ready to do it all again." Read the story ➤

And one more: Neta Meltzer, a Jewish activist, says CNN's antisemitism documentary glossed over an important angle. "Left-wing antisemitism may look very different from what we face from the other end of the political spectrum," she writes, "but it is no less urgent that we name it and work together to stop it." Read her opinion essay ➤
Forwarding the News is now also available on our website. Share it on social media or with a friend simply by clicking on the blue button below.
WHAT ELSE YOU NEED TO KNOW TODAY
Misha Zilberman and his mother, Svetlana, at the world championships in Tokyo this week. (Getty)
🏸  An Olympic badminton player from Israel brought a new doubles partner to the world championships in Tokyo this week: his 64-year-old mother, herself a former badminton champ. They won their first round, but lost in the second. (Times of Israel) 
🚓  The Jewish Community of Louisville, an umbrella group that includes the local JCC and federation, is facing criticism for hiring a security adviser who was involved in the 2020 police killings of Breonna Taylor and David McAtee. The adviser, Josh Judah, is a retired Louisville police lieutenant colonel who was on the scene of the deadly raid on Taylor's apartment but is not one of the four officers faces charges in the case. His role as security adviser includes responding to antisemitic threats and incidents and supervising community safety trainings. (JTA)
😮  A months-old video surfaced of the GOP candidate for Minnesota governor comparing his state's mask mandates to Kristallnacht. On Tuesday, he doubled down on the Holocaust analogies. (TC Jewfolk)
💻  Users of the far-right social media site Gab have posted antisemitic threats targeting a Jewish lawmaker in Pennsylvania. Doug Mastriano, a Christian nationalist and the GOP nominee for governor of the state, has been closely associated with the site. (Pittsburgh Jewish Chronicle)
🤩  Lizzy Savetsky, a Jewish social media influencer, is joining the cast of the "Real Housewives of New York." No word yet on whether her popular "Yiddish Word of the Week" and "Bashert with Lizzy" videos — in which she sets up Jewish singles — will be part of the show. (NY Jewish Week)
🚢  A drought and low water levels has exposed more than 20 Nazi ships that sunk in the Danube River. Many of them still contain ammunition and explosives. (Reuters)
⚽  For the first time since 2009, the Maccabi Haifa soccer club qualified Tuesday as one of 32 teams in the group stages of the UEFA Champions League, European soccer's biggest annual competition. (Haaretz)
👋  "Curb Your Enthusiasm" has been renewed for Season 12. "In researching this multi-faceted, multi-talented man, I discovered that there's more to him than I ever could have imagined," Larry David said about his role playing Larry David, adding: "I only pray that I can do him justice." (Variety)

Quotable ➤  "You should just know I'm huge on Twitter. I'm like a Kardashian … I compete with Rahm Emanuel in Japan to see who has a better Twitter following. I'm much more successful. And I remind him that Japan has 130 million people. We have 9 million and I have 140,000 followers and he's got like 70." — Tom Nides, U.S. Ambassador to Israel.
Marlee Matlin at the Hollywood premiere of 'Coda,' which won this year's Oscar for Best Picture. (Getty)
On this day in history (1965): Marlee Matlin, the first deaf actress to win an Academy Award, was born. Matlin credited Skokie's B'nai Shalom, the first synagogue to interpret all of its services in American Sign Language, with helping to inspire her acting career. Matlin signed the English portion of her bat mitzvah service, but learned to read the Hebrew Torah portion aloud phonetically. "It gave me the drive, it gave me the foundation to believe in myself, despite what other people say," Matlin said in a 2015 interview. 
Last year on this day, Charlie Watts, the drummer for the Rolling Stones, died at 80. Read our secret Jewish history of the legendary musician.
In honor of National Waffle Day, check out this recipe from Molly Yeh for waffles à la challah.
A view from the underground vaults. (Oren Shmueli, Israel Antiquities Authority )
Archaeologists announced Tuesday the discovery of a 1,200-year-old sprawling mansion in the Israeli desert, including an underground bunker likely used to escape the summer heat. The site will be open for free tours on Thursday. Our colleagues at the Times of Israel have more on the story.
–––
Play today's Vertl puzzle, the Yiddish Wordle
Thanks to Laura E. Adkins, Mira Fox, PJ Grisar, Jacob Kornbluh, Sarah Nachimson, Jodi Rudoren and Talya Zax for contributing to today's newsletter.
You can reach the "Forwarding" team at [email protected].