Forwarding the News
On the campaign trail in Pennsylvania, where antisemitism is on ballot
Jackson's Jews prep for bat mitzvah amid water crisis, families of Munich massacre reach deal with Germany, longtime Moscow rabbi fondly recalls Gorbachev, and the Jewish history of Cel-Ray soda.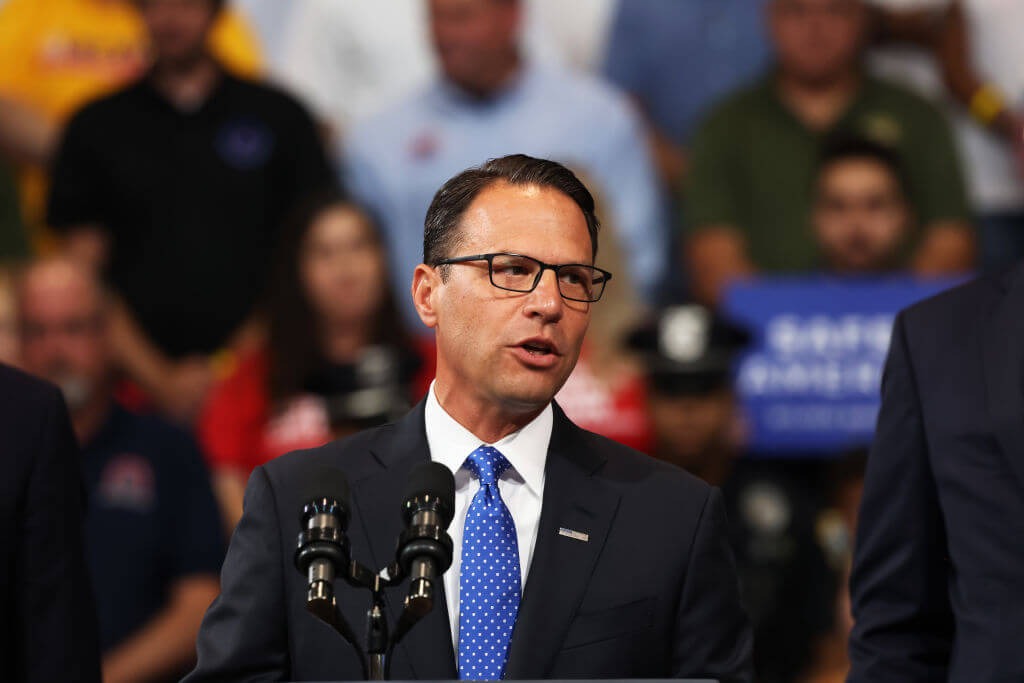 This article is part of our morning briefing. Click here to get it delivered to your inbox each weekday.
Josh Shapiro is in the race of his life.
President Joe Biden will give a primetime address to the nation tonight from Independence National Historic Park in Pennsylvania, where he earlier this week campaigned for Josh Shapiro, the state's attorney general and its Democratic nominee for governor. Former President Donald Trump has endorsed Shapiro's Christian nationalist opponent, State Sen. Doug Mastriano, and is slated to appear with Pennsylvania Republicans on Saturday at a rally he has described as "epic."
Our senior political reporter, Jacob Kornbluh, recently spent a day on the trail with Shapiro and talked to him about the future of democracy, his family's Shabbat rituals, and how he traces his political career to his childhood involvement in the 1980s movement to free Soviet Jews.
Thin margins: The race is one of the most closely watched in the nation because Pennsylvania is a presidential swing state and Mastriano is a leader of the "Stop the Steal" movement contesting the results of the 2020 election. Recent polls show Shapiro with a lead of between 3 and 11 points. 

Antisemitism on the ballot: Shapiro's Jewishness has already become a talking point in the race, largely because of Mastriano's open association with far-right and antisemitic groups. Several prominent Jewish Republicans have broken ranks to back Shapiro, and his campaign aired television ads across the state last week highlighting Mastriano's relationship with Gab, a social media platform that was used by the man who killed 11 Jews at Pittsburgh's Tree of Life synagogue in 2018.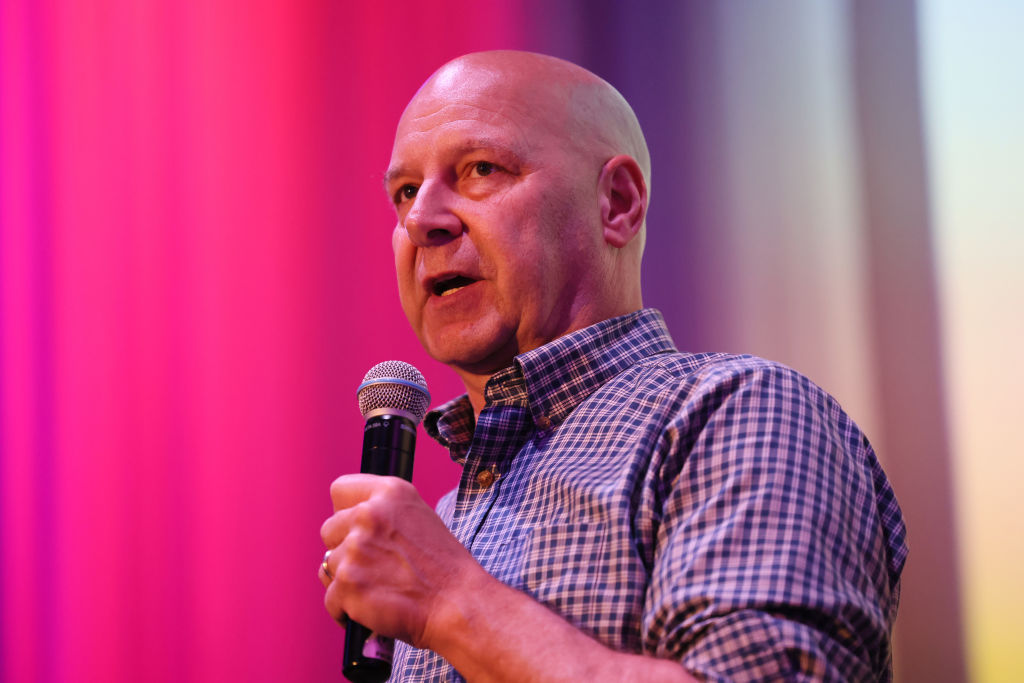 State Sen. Doug Mastriano, the GOP nominee, is a Christian nationalist and 'Stop the Steal' leader. (Getty)
Nazis and Messianic shofars: Mastriano has likened Democratic gun-control proposals to Nazi policies and referred to abortion as a "barbaric holocaust." He launched his campaign with a shofar blast by a man wearing a Lion of Judah Messianic prayer scarf. And he has called the separation of church and state a "myth." 
Guided by his Judaism: Shapiro, who proposed to his wife on a trip to Israel, launched his campaign with a video featuring their four children at the Shabbat dinner table. "I want them to know what I believe and how my faith motivates me to do public service," Shapiro said of the state's voters. "I have a responsibility to get off the sidelines, get in the game and do my part." 
Cases of bottled water were handed out on Wednesday in Jackson, Mississippi. (Getty)
Amid water crisis, Jackson's Jews prep for Shabbat and beyond: There is a bat mitzvah this Saturday at Beth Israel Congregation in Mississippi's capital. So, with the city's water systems failing in the wake of extreme flooding, the rabbi of its sole synagogue set out to procure drinking water for the family and their guests. He is also planning for High Holidays without readily available drinking water. But first, the congregation, which is on the north side of Jackson,   delivered supplies to a Black church in the harder-hit south. "The main thing that we're trying to advocate for," said one member, "is just getting water to folks who need it right now." Read the story ➤ 

First-person | The joys of catching a baseball at the Giants' Jewish heritage night: For our San Francisco-based intern, Jordan Greene, baseball and Judaism have always gone hand-in-hand. She grew up with season tickets and her brother's bar mitzvah was Giants-themed. Each year, the stadium welcomes Jewish fans for a special "heritage" night, giving away a bobblehead rabbi, an orange-and-black Giants menorah or a team shirt printed in Hebrew. At this year's game on Aug. 17, a few synagogue delegations tailgated with kosher hot dogs. And inside, Greene caught a ball lobbed into the stands by Joc Pederson, the team's hunky Jewish outfielder. It was, she says, "a Jewish heritage night miracle!" Read her essay ➤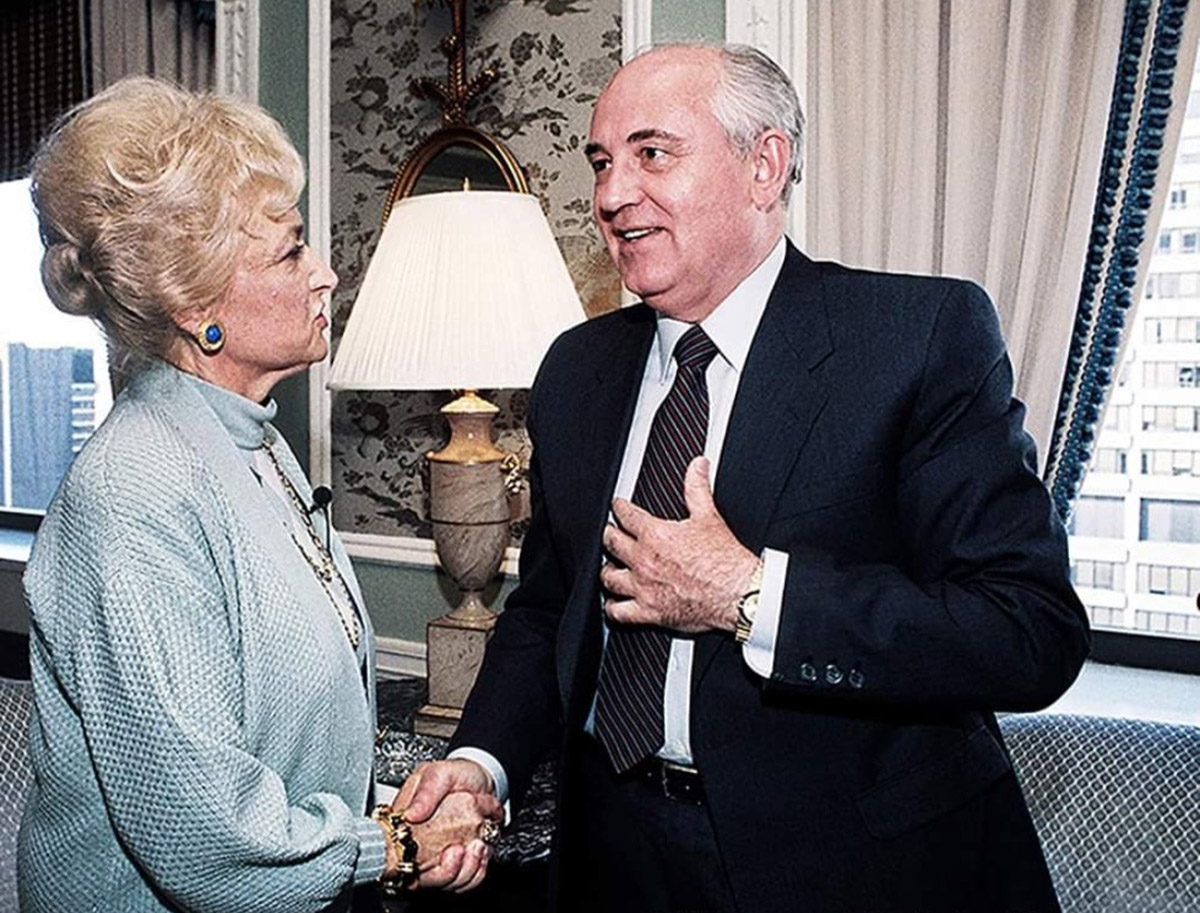 Mikhail Gorbachev met with Shoshana Cardin, chair of the National Conference on Soviet Jewry, in 1992 in New York. (Robert A. Cumins)
And two personal takes  on the legacy of Mikhail Gorbachev, the Soviet leader who died Tuesday at 91…
From Rabbi Pinchas Goldschmidt, the longtime chief rabbi of Moscow: "It was he who allowed Jews again to lead a Jewish life, study Hebrew, go to synagogue and be openly Jewish,"  writes Goldsmith, who recently fled Russia because of tension over the war in Ukraine. "It is bitterly ironic that his death comes at a time when the freedoms he sought to institute are being snatched away from the Russian people once again." Read his essay ➤

And from Rina Shamilov, an intern at the Forward and the daughter of refuseniks: "Gorbachev's work paving the way for our family to leave made him a hero to us," Shamilov writes. "Three decades later, the monumental significance of his intervention in our lives still feels fresh." Read her essay ➤
Tune in: In this very special episode of our Jewish advice podcast, host Lynn Harris and Forward archivist Chana Pollack take a deep dive into the secret history of the 116-year-old "Bintel Brief," unearthing the very first letter we published – about a watch thief in a Lower East Side tenement. Plus: You'll hear a cameo from Tevye himself, Zero Mostel. Email your own queries to [email protected] and listen now to the new episode ➤
Forwarding the News is now also available on our website. Click on the blue button below to share it on social media or send to friends.
WHAT ELSE YOU NEED TO KNOW TODAY
Israelis attend a memorial service at Munich's Olympic stadium the day after the 1972 massacre. (Getty)
🤝  Family members of the 11 Israeli athletes murdered by Palestinian terrorists at the 1972 Munich Olympics reached an agreement Wednesday with Germany, which agreed to pay them the equivalent of $28 million to compensate for their losses. The 50th anniversary of the massacre is on Monday, and the families had threatened to boycott the official commemoration ceremony because they considered Germany's prior offer of about $10 million too low. (AP)
⚖️  From The New York Times: "A U.S. federal court has ruled against the heirs of Jewish art dealers who sought to sue Germany in America over a trove of valuable medieval relics that the heirs said were sold under duress and at a drastic discount in Nazi-era Frankfurt." (NYT)
😮  A chaplain who forced inmates at a California women's prison to have sex with him has been sentenced to seven years in prison. Prosecutors said he exploited the women's faith by telling them that everyone in the Bible had sex and that God wanted them to be together. (AP)
🕍  Congress increased funding for security grants to houses of worship and other nonprofits to $250 million from $180 million. But it was hardly enough. 3,361 nonprofits applied for nearly $400 million, and less than half were approved. (Jewish Insider)
🇵🇸  Barbara Leaf, the U.S. State Department's senior diplomat for the Middle East, is scheduled to arrive in the region today for talks in Jerusalem and Ramallah. The Biden administration is hoping to persuade Palestinian leadership not to pursue a bid for full United Nations membership. (Axios)
🚑  Ten Hasidic refugees from Ukraine traveled to Israel, became certified EMTs and now plan on returning home to provide medical aid on the war front. (Jerusalem Post) 
🥯  The iconic Russ & Daughters eatery in Manhattan is working on a new cookbook called "100 Years of Appetizing." (Instagram)

What else we're reading ➤  Meet the U.S. evangelicals behind the latest West Bank land grab … Ruth Messinger's long second act honors 'an obligation to respond' … A brief Jewish history of Cel-Ray soda.
Was this newsletter forwarded to you or are you reading it on our website?
Receive it in your inbox each morning by clicking the blue button below.
Moses ben Nachman, aka Nachmanides, aka the Ramban. (Wikimedia/iStock)
On this day in history (1267): Rabbi Moses Ben Nachman, commonly referred to as Nachmanides or the Ramban, arrived in Jerusalem to establish a Jewish community. Nachmanides had left his home in Aragon, a city in Spain, because of the persecution of Jews, and, upon arriving in Jerusalem, founded a synagogue in the Old City that still stands today. After the Crusades forced him out of Jerusalem, Nachmanides settled in Acre, on the coast of the Levantine Sea, where he began actively teaching Torah and garnered a large flock of students. He remains one of Judaism's most influential scholars and is credited with taking a more mystical approach in his commentary on the Torah. 

On the Hebrew calendar, it's the fifth of Elul when the biblical prophet Ezekiel foretold of Jerusalem's impending destruction.