News
Josh Shapiro traces bid for Pennsylvania governor to his childhood work for Soviet Jews
In an interview, Shapiro says this is the first time a Republican opponent, Doug Mastriano, presents an 'existential threat' to democracy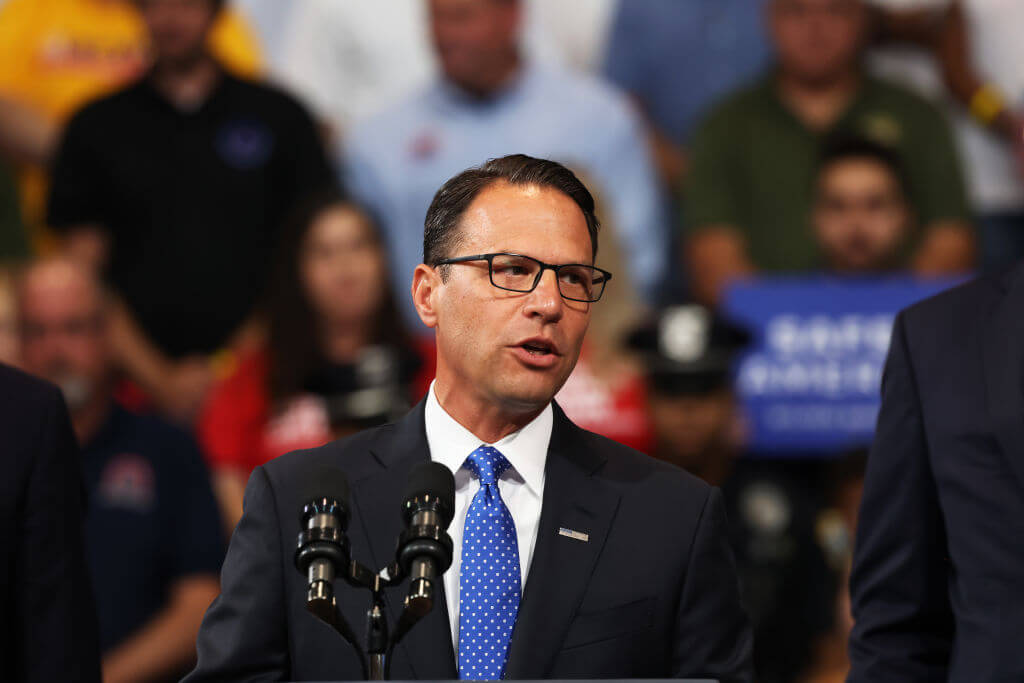 PHILADELPHIA – Surrounded by workers on a busy junction in downtown Philadelphia on a hot August afternoon, Pennsylvania Attorney General Josh Shapiro spoke at the top of his voice about "the union way of life," vowing to take "that fight from our parking lots to our coffeehouses and every place in between."
Shapiro, the Democratic nominee for governor in this critical swing state, traces his commitment to union-style organizing back to his childhood involvement in the early 1980s movement to free Soviet Jews. In an interview after a roundtable discussion about the importance of unions and living wages, he said he was motivated by his mother to join a grassroots letter-writing campaign that connected Jews around the world with Soviet "refuseniks" of similar ages living under the fear of punishment for practicing Judaism.
Shapiro, who is 49, said his parents "set a very good example for me to live a life of faith and service." Earlier, he had told the union workers that at a time of divisiveness in politics, his attitude is of "giving a damn" and  "lifting up all of God's children."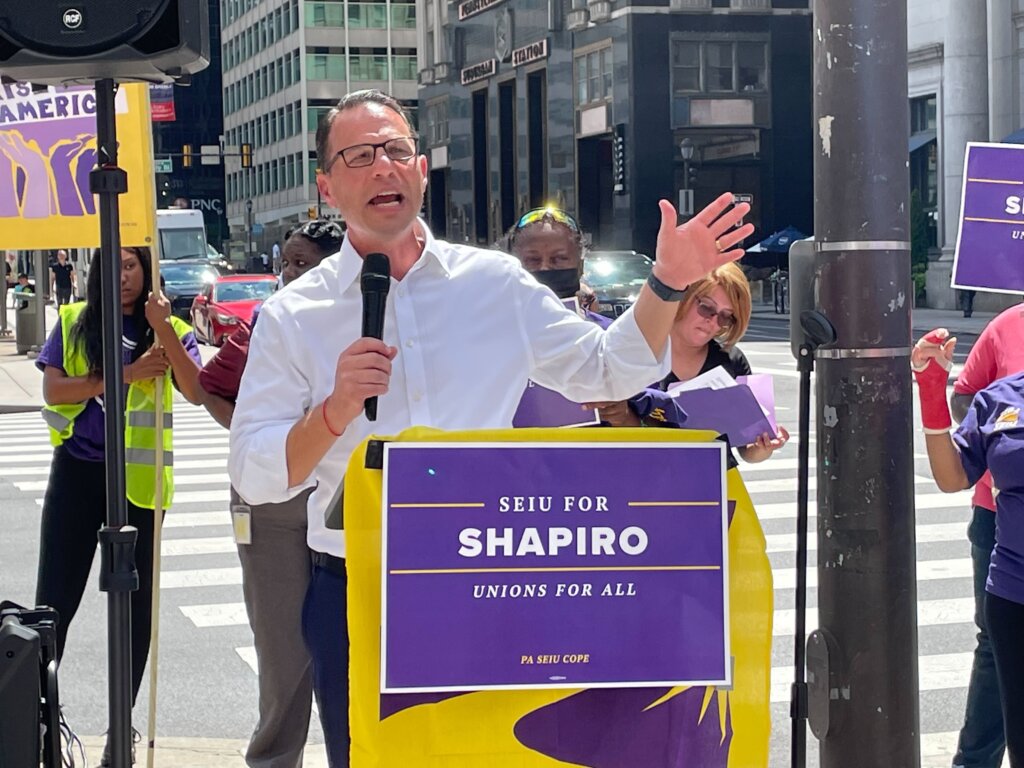 In what is expected to be one of the most closely watched races in the nation this fall, recent polls show Shapiro leading State Sen. Doug Mastriano, a self-described Christian nationalist and leader of the "Stop the Steal" movement contesting the results of the 2020 election, by single digits. 
President Joe Biden is planning to visit Philadelphia Thursday for a primetime address from Independence National Historic Park. On Tuesday, Biden praised Shapiro during a rally in Wilkes-Barre, Pennsylvania, as "a champion for the rule of law," saying: "He's going to make one hell of a governor." 
Mastriano, meanwhile, is backed by former President Donald Trump, who promoted a rally he is hosting Saturday with Pennsylvania Republicans as "epic."
Shapiro's Jewishness has already become a talking point in the race, largely because of Mastriano's open association with far-right and antisemitic groups. Several prominent Jewish Republicans have broken ranks to back Shapiro, and Shapiro's campaign aired television ads across the state last week highlighting Mastriano's relationship with Gab, a social media platform rife with antisemitism that was used by Robert Bowers, the man who killed 11 Jews at the Tree of Life synagogue in Pittsburgh in 2018.
"This is the first time in my public life where I really feel the existential threat that my opponent presents," Shapiro said in the interview near his campaign headquarters. He noted that since he first ran the state legislature in 2004, he has faced seven Republicans, but has "never worried" that if they won, "our democracy could cease to exist — that hate, antisemitism and racism could take over our system of government." 
A battle for the future of democracy 
Mastriano has, in recent weeks, condemned antisemitism amid mounting pressure from Democrats and Jewish Republicans alike. But he stopped short of denouncing Gab and its founder, who frequently shares his antisemitic beliefs and called Shapiro the "antichrist." 
Instead, he urged Shapiro "to get off Twitter because of the antisemitism being spouted on Twitter," citing a report by the Anti-Defamation League that found 4.2 million antisemitic tweets on the platform in 2017. 
Mastriano, who attended the march to the U.S. Capitol on Jan. 6, has compared the riot that resulted to the 1933 Reichstag fire and some of his statements have raised the ire of Jewish leaders, including some Republicans. 
He has likened Democratic gun-control proposals to Nazi policies and referred to abortion as a "barbaric holocaust." He launched his campaign with a shofar blast courtesy of a man named "Pastor Don," who wore a Lion of Judah Messianic prayer scarf. And he has called the separation of church and state a "myth" and said Islam is incompatible with the Constitution.
The Republican Jewish Coalition has not endorsed Mastriano and did not include him in a recent campaign event for Pennsylvania's GOP Senate nominee, Dr. Mehmet Oz. 
In recent weeks, several prominent Jewish Republicans announced their support of Shapiro, including Michael Chertoff, former secretary of homeland security under President George W. Bush; Sandra Schultz Newman, a former Pennsylvania Supreme Court Justice; and Lita Indzel Cohen, a former member of Pennsylvania's statehouse.
"This is not about me being Jewish," Shapiro said in the interview. "This is about the fact that we have a major party nominee for, arguably the most important race in the country, who is openly courting white supremacists to be part of his campaign, who believes that certain people shouldn't exist in this society, including me and people of color."
Proudly wearing his Judaism on his sleeve 
When he first rose to national attention in the aftermath of the 2020 election, Shapiro, who attended Jewish day schools, was televised with a menorah featuring the late Supreme Court Justice Ruth Bader Ginsburg over his shoulder. He and his family are practicing Conservative Jews who keep kosher and gather for Shabbat dinners, joined by Shapiro's parents and in-laws.
Shapiro, who has four children, said his wife, Lori, bakes the challah — which was featured in his campaign launch video — while he grills the fish "or whatever we're eating." 
"It's wonderfully chaotic as most Shabbat dinner tables are," he said. "We do the brachot together, we sit and talk, and my kids actually sit at the table and are part of the conversation and engage."
Shapiro said he became involved in the movement to free Soviet Jews starting at age 6, through his synagogue, Beth Sholom Congregation in Elkins Park, and the Forman Hebrew Day School. He recalled writing letters to a refusenik named Avi Goldstein, who lived in Tbilisi, and said he enlisted others from the U.S., Canada and England in a pen-pal program he called "Children for Avi."
"These are memories that probably have led me into this life of service," Shapiro said. 
He went to Akiba Hebrew Academy, now known as Jack M. Barrack Hebrew Academy, also the alma mater of CNN host Jake Tapper; Shapiro said the election for school president is the only one he has ever lost.
After graduating from the University of Rochester, where he was the first freshman student body president, Shapiro moved to Washington, D.C., to work as an aide to the late Sen. Carl Levin of Michigan, and then an adviser to Rep. Peter Deutsch of Florida. Both were Jewish Democrats. 
He proposed to his wife in 1997 under the 19th-century Montefiore Windmill in the Yemin Moshe neighborhood of Jerusalem, during one of more than a dozen trips to Israel.
Shapiro said his campaign-launch advertisement showing a pair of challahs under a cloth on the table was intended to let voters know that he is "grounded" by his family and his faith. 
"I want them to know what I believe and how my faith motivates me to do public service," he said. "My faith is what has guided me into a life of service. I have a responsibility to get off the sidelines, get in the game and do my part." 
All eyes are on Pennsylvania 
The Pennsylvania race is perhaps the most closely watched gubernatorial battle in the country this fall because a win by Mastriano would put a 2020 election denier in charge of a key battleground state's election system. 
A recent poll of 1,034 likely voters conducted by Emerson College has Shapiro leading Mastriano by 3 points, which is also the margin of error. Another poll by Franklin & Marshall College released last week gave Shapiro an 11-point lead. 
Mastriano, who derides his opponent as "Little Josh," has ignored the traditional media and refuses to answer questions from reporters on the campaign trail. Instead, he relies heavily on Facebook, where he livestreams campaign events, to reach voters directly.
Jill Zipin, chair of the Democratic Jewish Outreach Pennsylvania, said she's confident that Jews – estimated at 3% of the electorate –  will overwhelmingly vote for Shapiro. She described Shapiro as someone who lives by Jewish values, "not just miming the words he's saying, but with real compassion and value and honesty."