News
Pittsburgh Jewish officials call out GOP nominee for governor for association with far-right social media platform
Doug Mastriano is 'mining this racist, antisemitic haven for votes,' charged State Rep. Dan Frankel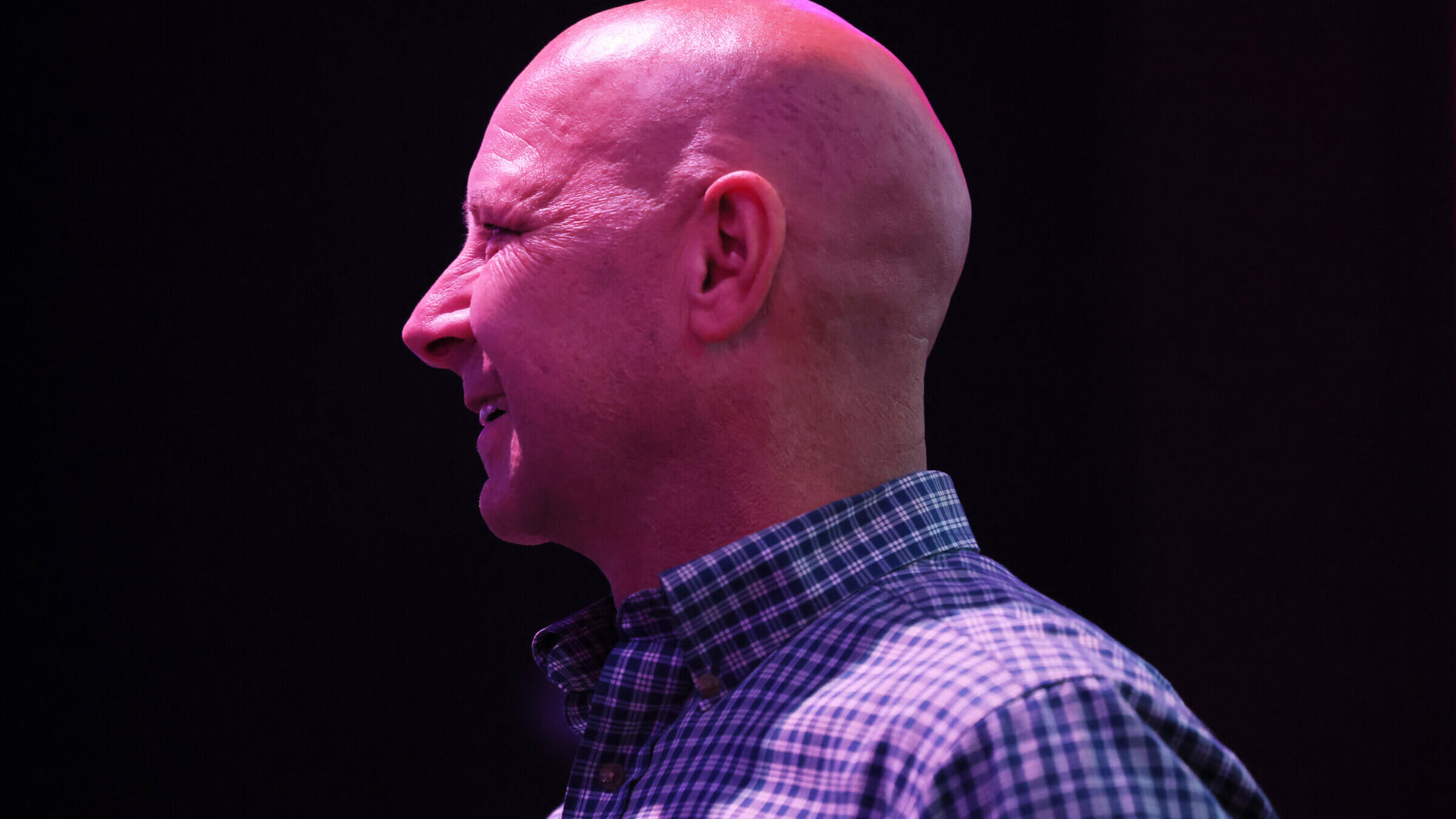 A group of Democratic officials and Jewish leaders on Thursday condemned Doug Mastriano, the Republican nominee for Pennsylvania governor, for his association with Gab, a social media platform for far-right extremists and an echo chamber for antisemitic tropes.
Mastriano, a Christian nationalist running against Pennsylvania's Jewish attorney general, Josh Shapiro, paid Gab a $5,000 consulting fee in April, according to recent FEC filings. The platform's  founder, Andrew Torba, endorsed Mastriano days after the transaction, writing on Gab that he hoped the candidate would "help pioneer a grass-roots movement of Christians in PA to help take it back for the glory of God."
In a news conference held outside the City-County Building in Pittsburgh, State Rep. Dan Frankel said that Mastriano is "mining this racist, antisemitic haven for votes because he believes that the hatred on those message boards will translate into an election victory for him on November 8." Frankel, who is Jewish, was joined by Pittsburgh Mayor Ed Gainey, State Senate Democratic Leader Jay Costa and Jeffrey Letwin, an attorney and past chair of the Holocaust Center of Greater Pittsburgh.
The Pennsylvania governor's race is one of the most closely watched in the country because its outcome could affect election-security policies in a critical presidential swing state.
Mastriano, a state representative and leader of the "Stop the Steal" movement aiming to overturn the results of the 2020 presidential election, attended the Jan. 6 Capitol riot and won the Republican nomination for governor in May following a last-minute endorsement by former President Donald Trump.
He has repeatedly promoted QAnon conspiracies and has compared the Jan. 6 attack on the Capitol to the 1933 Reichstag fire and Democratic gun-control proposals to Nazi policies. His campaign aide Jenna Ellis, a Trump attorney, has likened vaccine mandates to the Holocaust.
A recent poll showed Shapiro running 3 points ahead of Mastriano, a gap within the poll's 4% margin of error – and the two are locked in a dead heat among voters 50 and older.
In an interview, Frankel said that this gubernatorial election is "an existential moment" in the history of elections because of Mastriano's past comments and embrace of antisemites. Frankel, who represents the Squirrel Hill Jewish community for the last 24 years and does his daily workout at the local Jewish Community Center, said by being "unresponsive" about the matter Mastriano has made it clear he views his engagement with Gab as politically beneficial for him. "And if we sit back, don't call it out and don't try and hold them accountable, shame on us," he said.
Gab, launched in 2016 after Torba was banned from Twitter, has long been a home for hate speech and blatant antisemitism. Robert Bowers, the man who killed 11 Jews at the Tree of Life synagogue in Pittsburgh in 2018, was previously a verified user of the site, where he posted neo-Nazi propaganda and calls for violence against Jews, describing them as the "children of Satan."
"We have been getting 1 million hits an hour all day," Torba wrote on Gab's Twitter account after the Pittsburgh massacre, the deadliest attack on Jews in U.S. history.
Media Matters, a nonprofit group that monitors social platforms, highlighted recent posts by Torba including one promoting a conspiracy theory blaming Jews for "white genocide," and another praising Gab for offering "differing opinions" on the Holocaust. He also reposted a white nationalist that boasted about a "very good and true tweet" attacking "subversive Jewish lawyers and propagandists."
Huffington Post reported that, under the consulting arrangement, every new account on Gab now automatically follows Mastriano as well as Torba. The candidate currently has 38,000 followers.
Matt Brooks, executive director of the Republican Jewish Coalition, called Thursday evening on Mastriano to end his association with Gab and leave the site. "Instead of welcoming all Pennsylvanians who have concerns about Josh Shapiro's big government agenda, Doug Mastriano's campaign unfortunately seems intent on sending a message of exclusion," Brooks said in a statement shared with the Forward. "Jewish voters expect candidates to condemn antisemitism, whether it comes from the far left or the far right — and to shun those who espouse it."
On Wednesday, Jill Zipin, chair of the Democratic Jewish Outreach Pennsylvania, urged the regional chair of the Republican Jewish Coalition to condemn him. 
"It is deeply disturbing that an organization that purports to reflect the interests of the Jewish community finds it acceptable to support a candidate who underwrites a website so full of bigoted rantings," Zipin said.
Some Pennsylvania Republicans have already encouraged the Republican Governors Association to reconsider investing in the race because of Mastriano's extremism. Earlier this month, Shapiro announced that endorsements from 10 prominent Republicans, and a group of centrist GOP power players formed a PAC, Republicans4Shapiro, demonstrating growing opposition within the party for its nominee.
Shapiro has meanwhile accused Mastriano of trying to moderate his positions to broaden his appeal for the general election. Mastriano has recently deleted controversial videos and posts from his personal websites and State Senate Facebook page. The Mastriano campaign insisted these were automatically deleted after 30 days due to a "default Facebook setting," but some older posts remain on the page.
In a fundraising email on Wednesday, Mastriano promised to "ban the use of private funds (like Zuckerbucks) designed to influence our elections." The Anti-Defamation League has deemed the term "Zuckerbucks" an antisemitic twist on an age-old trope that claims rich Jews control levers of power.
This post was updated.