News
Pennsylvania GOP nominee distances himself from antisemitic media platform
Under fire for his embrace of Christian nationalists, Doug Mastriano denounces 'antisemitism in any form' but rejects criticism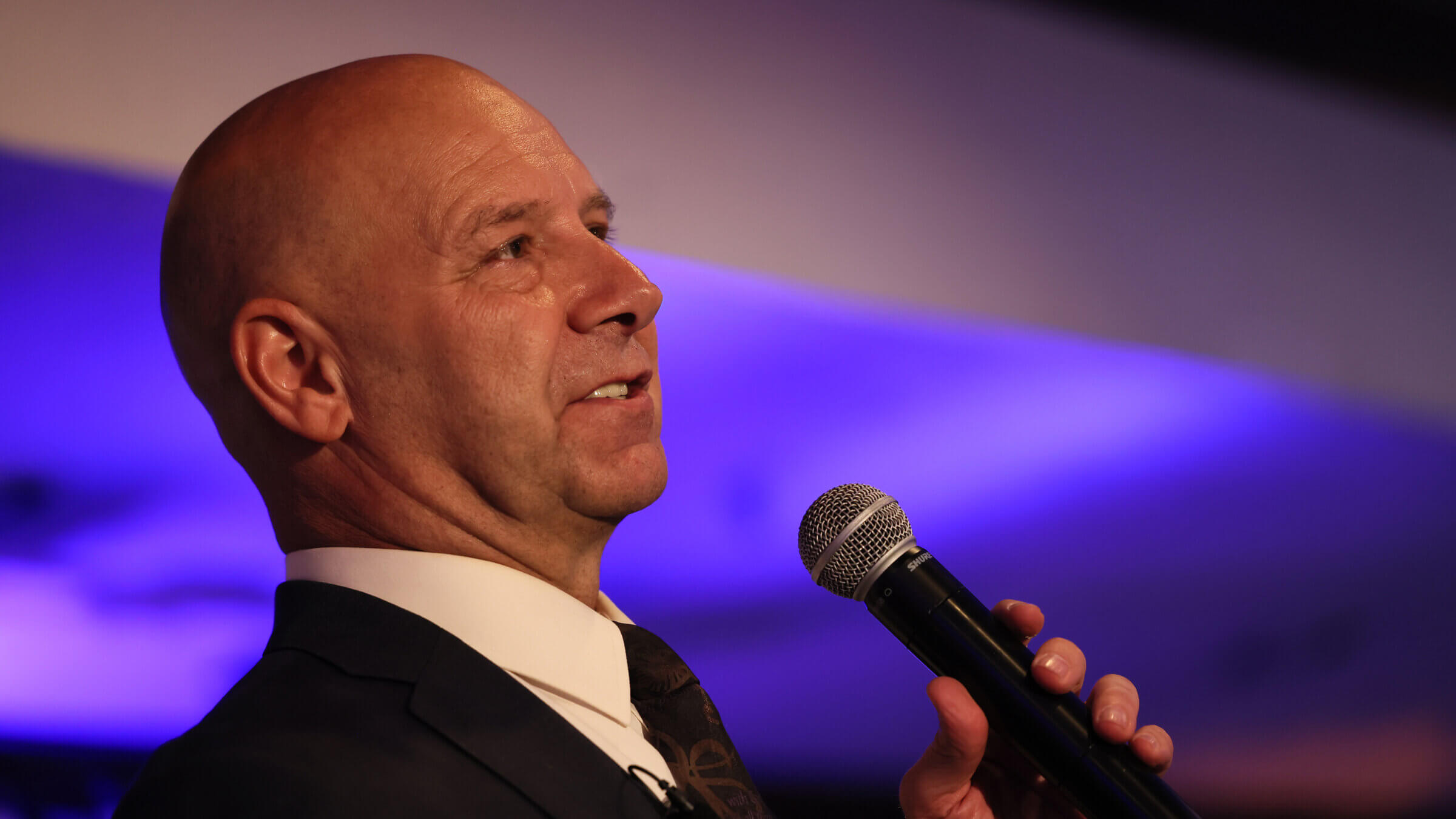 Doug Mastriano, the Republican nominee for Pennslyvania governor, condemned "antisemitism in any form" on Thursday amid widespread criticism for his embrace of an antisemitic social media platform.
Mastriano, running against Pennsylvania's Jewish attorney general, Josh Shapiro, came under fire last week for paying Gab, an online echo chamber for white nationalism and antisemitic tropes, a $5,000 consulting fee in April. The platform's founder, Andrew Torba, has shared his antisemitic beliefs and anti-Jewish conspiracy theories on the site and frequently promoted Mastriano's campaign. On Thursday, Mastriano deleted his Gab account.
The candidate's association with Gab and Christian nationalists, and his belief that the 2020 presidential election was stolen, has offended many Jewish and Democratic voters, and raised difficult questions for Republican leaders, particularly Jewish ones. Should they support, condemn or distance themselves from the GOP gubernatorial nominee?
In a recent video, Torba said that he and the candidate would not speak to non-Christian media and criticized Republican officials who "bend over backwards and kiss the boot" of American Jews because they mostly vote for Democrats.
Though Mastriano deleted his Gab account, and issued a statement saying Torba doesn't speak for him or his campaign, he stopped short of denouncing Torba — who earlier in the day asked his followers to donate to the Mastriano campaign and "chip in a few bucks to thank him for standing his ground." Neither did Mastriano ask Torba to reimburse him. The candidate also blamed political opponents for the flap. "Recent smears by the Democrats and the media are blatant attempts to distract Pennsylvanians from suffering inflicted by Democrat policies," Mastriano said.
Torba said in a statement that he doesn't speak for Mastriano or consult him. "The campaign paid Gab as a business for advertising during the primary," he said. "That's the extent of the relationship."
Rabbis react
Disturbed by Mastriano's embrace of Gab, a group of rabbis, lawmakers and Jewish Democrats held a rally earlier this week at the Horwitz-Wasserman Holocaust Memorial Plaza in Philadelphia urging Pennsylvania Republicans to publicly oppose Mastriano.
"As a Jew and as an American, I am alarmed that there's a nominee for one of America's major political parties that espouses hatred towards other people and other members of the Commonwealth," Rabbi Seth Frisch of the New Shul of America in Rydal, Pennsylvania, said in an interview.
Frisch noted that Mastriano kicked off his candidacy in January with the blowing of a shofar, a common practice for Christians at right-wing political events that signals their battle is spiritual, and said he wanted Pennsylvanians to be guided by God, or as Frisch put it, "his version of God." Frisch recalled his grandfather saying that "if someone tells you who he is and what they represent; what they have already done and what they would like to do, it is your job to believe them — and to call that out."
Mastriano, a state senator and leader of the "Stop the Steal" movement that aims to overturn the 2020 presidential election, attended the Jan. 6 Capitol riot and later compared it to the 1933 Reichstag fire. He also likened Democratic gun-control proposals to Nazi policies.
Political takes
Democrats have decried Mastriano as an extremist who can't represent all Pennsylvanians. Republican responses to him have been more disparate.
Democratic State Rep. Malcolm Kenyatta said Mastriano's association with Gab and reluctance to call it out is troubling.
"Mastriano would be incapable of going to the Tree of Life and Squirrel Hill community after that mass shooting in 2018 and with any level of sincerity to comfort that community and commit to them to get justice," Kenyatta said. Robert Bowers, the man who killed 11 Jews at the Tree of Life synagogue in Pittsburgh, had been active on Gab.
Matt Brooks, executive director of the Republican Jewish Coalition, has expressed concern that Mastriano's campaign "unfortunately seems intent on sending a message of exclusion" to Jewish voters and had called on the candidate to end his association with Gab. Brooks didn't immediately respond to a question as to whether Mastriano's move on Thursday to distance himself from Gab was sufficient.
A recent poll showed Shapiro running 3 points ahead of Mastriano, a gap within the poll's 4% margin of error — and the two are locked in a dead heat among voters 50 and older.
Jill Zipin, chair of the Democratic Jewish Outreach Pennsylvania, said the RJC shouldn't have just asked Mastriano to disavow Gab but should have publicly rejected him, and instead endorse Shapiro. "The Republican Jewish Coalition has the word 'Jewish' in its name, and Doug Mastriano in no way shape or form reflects Jewish values," she said. "So I would tell Republicans Jews, you are voting against yourself when you are voting for a man who espouses antisemitism and extremism."
Some Pennsylvania Republicans have already encouraged the Republican Governors Association to reconsider investing in the race because of Mastriano's extremism. Earlier this month, Shapiro announced endorsements from10 prominent Republicans.
Frisch said he felt compelled to wade into politics because of "the threat" of electing a person who "is in bed with all types of extremists that have attacked all kinds of Americans."