Forwarding the News
NY to vote on yeshiva education guidelines this week, after blockbuster NYT investigation roils community
Capitol rioter in Camp Auschwitz sweatshirt to be sentenced, the Netflix series every Jew should watch, why a shul nixed lox from its menu, and a sneak peek of Spielberg's autobiographical film.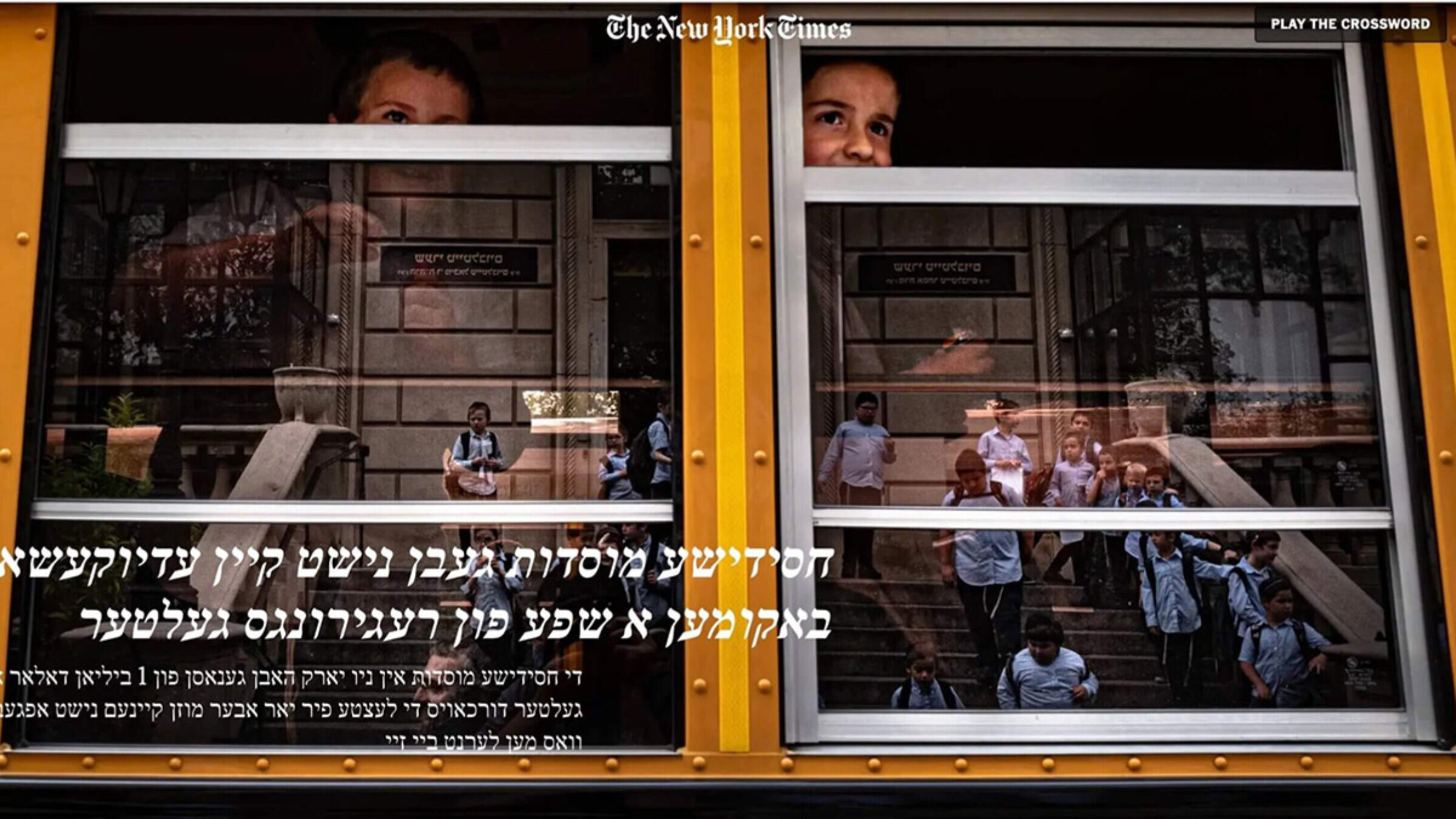 This article is part of our morning briefing. Click here to get it delivered to your inbox each weekday.
Our senior political reporter, Jacob Kornbluh, shares what's in his notebook…
New York's Board of Regents is slated to vote this week on a proposal that would allow the state to reject a yeshiva's secular curriculum. The department of education said the regulations to be presented at a meeting this morning would enable private schools to comply with state law "while also maintaining their unique culture and beliefs in the delivery of instruction." But Orthodox leaders have called the proposal "deeply disappointing." Schools that do not comply and districts that fail to monitor local private schools could lose state funding. Read the story ➤

The vote comes after The New York Times published a monthslong investigation of Hasidic yeshivas in Brooklyn and the lower Hudson Valley, documenting widespread failures in secular subjects by a network of more than 100 boys' schools that collectively received $1 billion in public funds over five years. The Times published the article in both English and Yiddish, the primary language spoken by many who use the schools.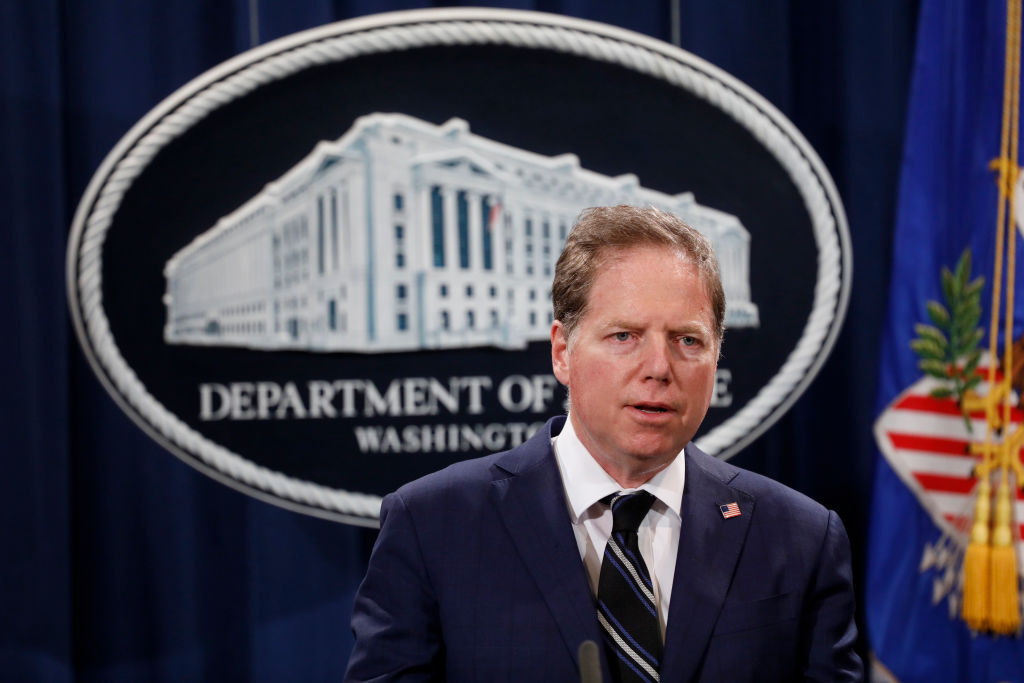 Geoffrey Berman at a 2018 news conference. (Getty)
Geoffrey Berman, the U.S. attorney for the Southern District of New York who was fired by Donald Trump in 2020, details in a new memoir a phone call he got during Yom Kippur services that forced him to work on the holiest day in the Jewish calendar. The book, whose official release date is tomorrow, also highlights Berman's efforts to return to their rightful owners art and other valuables stolen by the Nazis. Read our interview ➤
New York Gov. Kathy Hochul and New York City Mayor Eric Adams will address The Jerusalem Post annual conference in Manhattan today. Defense Minister Benny Gantz is among the high-profile Israeli politicians slated to speak at the event. 
Israeli Prime Minister Yair Lapid suggested on Sunday that a nuclear deal with Iran is unlikely before the U.S. midterm elections as talks hit an impasse this weekend ahead of an International Atomic Energy Agency meeting today. An Israeli official said Lapid's government had "succeeded in swaying the Americans from making additional concessions to Iran." This morning, Iran announced it had developed an advanced long-range suicide drone "designed to hit Israel's Tel Aviv, Haifa."
Meanwhile, Israel's finance minister, Avigdor Liberman, came under fire for saying that Benjamin Netanyahu employs the "exact methods" of Joseph Goebbels, the Nazi propagandist. The comparison came after a former aide said Liberman had hired him to kill a police superintendent two decades ago; Liberman accused Netanyahu of being behind the allegations, which Liberman denounced as a "blood libel."
But wait, there's more…
Second Gentleman Douglas Emhoff is scheduled to meet this afternoon with the National Council of Jewish Women to discuss abortion.


The United Nations General Assembly kicks off on Tuesday, with speeches by President Joe Biden and Lapid scheduled for next week.


Biden is hosting a daylong "United We Stand" conference at the White House on Thursday focused on combating hate.
With both humor and seriousness, 'Mo' delves into the complex life of a Palestinian in Texas. (Netflix)
What American Jews can learn from watching 'Mo' on Netflix: The series is based on the real life of its star, comedian Mohammed Amer, a self-described "Texan Palestinian" – and it offers plenty of humor about the Mideast conflict. When two recurring characters, one Jewish and one Palestinian, start shouting about Israel, Mo shouts back: "Rabin, Arafat, you guys done recording your podcast?" Then a storyline about a Native American and his claim on a local olive grove flips the script. Our columnist Rob Eshman says the season's final episode should be required viewing for every Jew. Read his essay ➤
The Olympian who defied Hitler: Kurt Epstein competed for the Czech water polo team in the 1928 Olympics and then took part in the 1936 Olympics in Berlin, known as the "Nazi Olympics." Most Jews boycotted the event, but Epstein went to prove wrong Hitler's claim that Jews were inferior to Aryans. When the Nazis later occupied Czechoslovakia, Epstein was deported to Auschwitz, where his parents and both of his brothers were killed. After the war, he went back to the Olympics, this time as a coach. An exhibit about his life just opened at a Czech museum. Read the story ➤

And one more: Here are all the Jew-ish things to watch for at tonight's Emmy Awards
Forwarding the News is now also available on our website. Click on the blue button below to share it on social media or send to friends.
WHAT ELSE YOU NEED TO KNOW TODAY
Shira Haas has been cast as Sabra, an Israeli superhero, in Marvel's next 'Captain America' movie. (Wiki/Getty)
🦸  Shira Haas, the Israeli actress known for her roles in "Unorthodox" and "Shtisel," has been cast as a Marvel superhero. In "Captain America: New World Order," set for release in 2024, Haas will portray Sabra, a kibbutz-raised superhuman spy who first appeared in comic books in the early 1980s. (Variety) 
⚖️  From Ryan Reilly of NBC News: The sister of Robert Packer — the Jan. 6 rioter wearing a "Camp Auschwitz" sweatshirt when he stormed the U.S. Capitol — is asking a judge to show leniency, writing that it is "easy to judge a book by its cover." Packer, who pleaded guilty to illegally entering the Capitol, is set to be sentenced on Thursday. The sister concedes his sweatshirt "could be considered in poor taste." (Twitter)
🎭  You'll recall that last week we reported on the actress Lea Michele taking over the iconic role of Jewish comedian Fanny Brice in "Funny Girl" on Broadway. Well, Michele tested positive for COVID after just a few performances and Julie Benko — perhaps the busiest understudy in the business — is back in the lead role. Michele is expected to return on Sep. 20. Read our August interview with Benko. (NBC News)
🐟  David Matlow claims to have the largest collection of Theodor Herzl memorabilia – including a sardine can featuring the father of modern Zionism. "He knew he needed images to inspire the people and he became one of those images," said Matlow, a lawyer in Toronto whose images we have featured on the Forward's Instagram. "And he was like a superstar to the Jewish people." (Australian Jewish News)
🍣  A Manhattan synagogue announced that it will no longer serve lox after Shabbat services out of concern for the climate. Rabbi Shuli Passow of B'nai Jeshurun wrote that smoked salmon will be "eliminated from the menu so we can do our part to reduce the environmental impact of pollution and overfishing." He added: "We know that for some this is a heretical move. We are here to support you as you process this change." (NY Jewish Week)
Shiva call ➤  Marc Lewitinn, a COVID patient who spent 850 days on a ventilator, died at 76. Lewitinn leaves behind a legacy as a strong supporter of Israel and Jewish causes – including helping Ethiopian Jews flee their country and persuading the U.S. government to deport a Nazi collaborator. Doctors believe he was likely the longest-surviving intubated COVID patient. (New York Times) 

What else we're reading ➤  A tiny Christian college in Michigan is infiltrating Florida's schools … Noah's Ark mosaic puts ancient Jordan synagogue on tourist map … A Bethlehem boutique hotel is changing perceptions of disabled Palestinians.
Was this newsletter forwarded to you or are you reading it on our website?
Receive it in your inbox each morning by clicking the blue button below.
Lorne Greene as Ben Cartwright on 'Bonanza' and Commander Adama on 'Battlestar Galactica.' (NBC/ABC)
On this day in history (1959): The first regularly scheduled TV series shot in color, "Bonanza," premiered on NBC. It became one of the 10 longest-running shows in U.S. history, and co-starred Lorne Chaim Greene, a Jewish actor who played the beloved father Ben Cartwright. Greene later starred in the hit sci-fi show "Battlestar Galactica" as Commander Adama and died on Sept. 11, 1987, at the age of 72.
On the Hebrew calendar, it's the 16th of Elul, the yahrtzeit of Simon Wiesenthal, the Holocaust survivor and Nazi hunter. (He died in 2005.)

In honor of National Video Game Day, check out the secret Jewish history of video game characters.
Steven Spielberg's semi-autobiographical new film about growing up Jewish in postwar Arizona premiered at the Toronto Film Festival Saturday night. Called "The Fabelmans," it tracks Spielberg's childhood fascination with making movies and is set for a wide release on Nov. 23. "A better holiday gift I cannot imagine," declared one reviewer.  You can watch the trailer, released Sunday, above.
–––
Play today's Vertl puzzle, the Yiddish Wordle
Thanks to Jacob Kornbluh, Sarah Nachimson and Talya Zax for contributing to today's newsletter. You can reach the "Forwarding" team at [email protected].