Theater
Julie Benko is getting her big break in 'Funny Girl' — and she's not afraid of comparisons
Hubbub surrounded Beanie Feldstein's departure and Lea Michele's arrival. But Benko is the real winner, starring for all of August.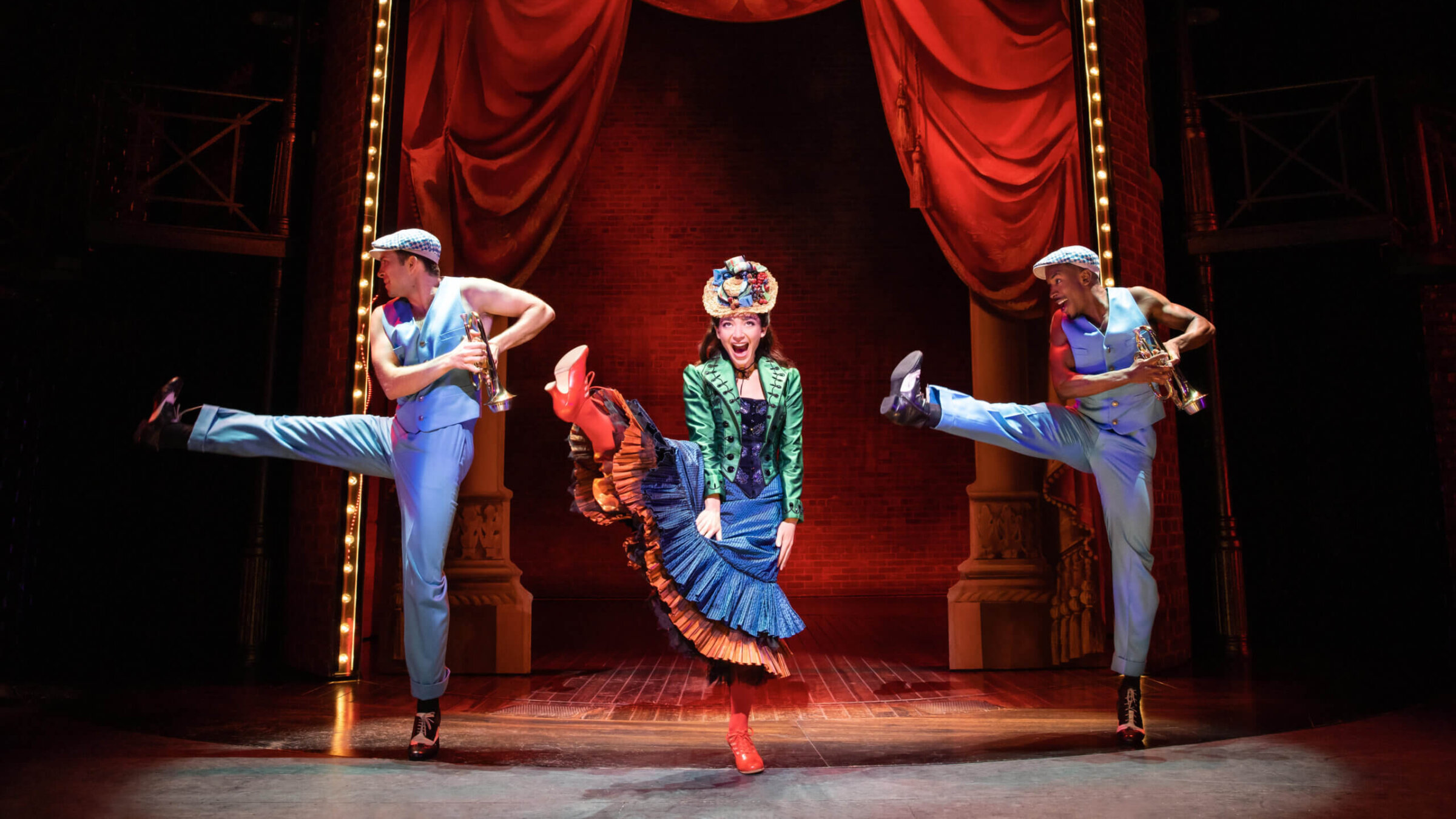 Starring in "Funny Girl" is intimidating; it's impossible to avoid being compared to Barbra Streisand. Julie Benko, who is playing Fanny Brice in the Broadway revival for the month of August, is up against more than that — viewers might also compare her to Beanie Feldstein, who left the show at the end of July, or Lea Michele, who will star come September. And then there's the controversy caused by Feldstein's months-early departure.
Benko, a Connecticut native who grew up doing community theater, seems untouched by the hubbub, just as excited to talk about the album of "quarantunes" she's releasing with her husband, musician Jason Yeager, as she is to chat about Fanny Brice. When we spoke by Zoom, she was charming and full of smiles, even when she almost cried — again — at the memory of the call from her agent telling her that she'd star for all of August. (Benko will also continue to perform every Thursday after Michele begins.) 
Fanny Brice is not Benko's Broadway debut — that was as an understudy for Cosette in "Les Miserables" in 2014 — and the actor is a veteran of regional theater productions. But getting to anchor the show on Broadway is undeniably her big break. It makes for an easy comparison to Streisand, who was also a relative unknown, a Broadway sophomore when she was cast as Fanny Brice for the 1964 premiere of "Funny Girl." 
Benko, however, is putting her own spin on the role — she has only seen Streisand in the movie of "Funny Girl" once and isn't planning to watch it again anytime soon. She shared her take on the Fanny, the show and her big break in our conversation, lightly edited for length and clarity, below.
So there's obviously some resonances here with Barbra Streisand and you getting your big break as a relatively unknown name — how does that feel?
I have to say, it's very meta-theatrical. Not just as Barbra Streisand, though obviously it was a star-making vehicle for her, but also as Fanny Brice. Even in the show, right in the first 15 minutes, she sings, "I'm the greatest star." She's like, "I'm the greatest star, I am by far — but no one knows it." 
There have been times, especially as the understudy, where people were expecting to see someone else, I think they see the little white slip, and they get disappointed. There were a couple of times — not many, but a couple — where the light came up on me, and there was no entrance applause. 
I just thought, "Well, they don't know me yet." After "Greatest Star," 10 or 15 minutes in, I remember saying that line, "I am the greatest star, I am by far — but know one knows it," and I would hear some people laughing. Because they're like, "Yeah, I don't know her!"
And then I would finish the number, and I could just feel everybody in the audience suddenly on my side. You can feel them cheering for you and feel like they are excited to be there because they are witnessing this moment, and they feel like they've discovered something. It feels like a totally meta-theatrical parallel of what the show's about.
This is a very Jewish show that's a big part of Jewish cultural history — how does it feel to enter that lineage?
It's a lot of fun. I get to say some Yiddish phrases on stage. I get to define "heimish." And my family was coming over right at this time. Even Fanny Brice's birth name, Borach, was a Hungarian Jewish name. Benko is also a Hungarian Jewish name — it's actually totally possible that we're related!
On a personal level, I love history, I love the theater, I love studying Jewish history. So to get to be a part of this place where they all connect is really special. Look, I was watching this DVD, [holds up case] "The Golden Age of Second Avenue" — just for fun! Because I enjoy studying the Yiddish theater.
By the way — I am so excited to be doing this for the Forward. My grandparents and great-grandparents subscribed to the Forward, and my uncle is a rabbi and he always sends me articles from the Forward. There aren't that many Jewish people in the cast, and I remember I told the people in my dressing room, I said, "The Forverts!" They didn't get it. I was like, "If you were Jewish, you'd be excited."
Did you bring a sort of Jewish background or history to the cast, then? Or was there a dramaturg advising the cast about the culture of the era?
I've had some of my castmates ask me questions — I've explained certain Jewish things about the character or what's happening in a certain moment. 
We didn't have a dramaturg on this production. I did a lot of my own research because I'm a big fan of history. I read a number of books about Fanny, some biographies, and in one there were excerpts of her journals and reflections. I went to the Lincoln Center Performing Arts Library and I was chatting with one of the librarians there and he found some footage of her in the Gypsy Rose Lee archives and so I went and watched it. She's in "The Great Ziegfeld," which you can watch on HBO Max and she's on YouTube and there are recordings of her radio stuff. 
So I did a deep dive — much more than I did for Barbra Streisand. I didn't know "Funny Girl" growing up and I wanted to be able to approach the character of Fanny and honor her through my own unique lens. Also knowing that if I were to try to do a Barbra impression, no one would be happy — no one wins.
Do you feel the weight of Barbra pressing on you?
I think the fact that I've only seen the movie one time — and now only want to see it later — has been helpful in managing that expectation. Some people say I sound like Streisand, some people say I sound nothing like Streisand. All I can say is that I sing the songs the way that feels authentic to me, and healthy in my own instrument. I am just trying to make it honest and truthful based on the character I get to live in.
What was it like getting to work with the cast, all of these big names, Beanie and Jane Lynch?
Beanie is the nicest, kindest person you could ever meet. For my first show, she gave me a fanny pack with my initials on it and said, "Welcome to the Fanny pack." She couldn't have been more supportive and kind.
Jane Lynch is just — she's so great. When I tested positive for COVID-19, she texted me and was offering me all these things, steroids and all these things. I was like, "You're getting very Method at becoming a Jewish mother."
What did it feel like being cast, even as the cover, which you'd done for other shows?
I remember they put out the press release saying that Beanie was playing Fanny, and I thought, "Wow, that's great casting." I sent it to my agent and said, "I'd love to be her cover!"
I didn't hear anything. I think they had auditions, but I couldn't get one to begin with. They went through a number of rounds, and finally they invited me to do a self-tape in November 2021 and I got the callback. I didn't tell my family because I was like, "they'll get too excited." 
When my agent called to tell me I got it, I just said, "Are you kidding?" I just really didn't believe it.
What was it like getting word that you were going to star for August? 
When my agent called to tell me, I cried. I might cry again just thinking about it. A lot of stuff has happened that I don't think anyone could have predicted. In my wildest dreams, I never could've dreamt it — that's a line from the show. 
I'm the fourth person to have a contract that says "Fanny Brice." There was Barbra, Mimi Hines, Beanie and then me. I felt like, what a gift to be entrusted with such a complicated, rich, challenging role, and for longer than most regional theater runs.
There's not just one Fanny; there's a lot of Fannies. The show was able to do well even after Barbra left — it still ran for at least a year and a half with Mimi Hines. So it's not defined by one performance. It can hold so many different kinds of people.
To me, it felt like such a huge acknowledgment of all of the work that I've done in my career — I've come up in the chorus, understudying. I've spent a gazillion years in theater school; I did my undergrad and went back for my master's after working professionally for a number of years. It just felt like this moment of saying, "You've worked so hard at this craft and in this theater life, and now you get a moment to celebrate that."
It's not even about being on Broadway. I remember, when I made my Broadway debut, in "Les Miz," I was standing in the wings and I just started weeping because I couldn't believe I was going to make my Broadway debut. But I'd been with the "Les Miz" tour for years — I was wearing the same costumes I'd worn for years, and I was on the same set I'd been on for years. As soon as I walked out on stage, I looked around and I went, "Oh, it's just theater. It's the same thing I've been doing this whole time." 
To me, doing theater wherever feels great, no matter where it is. But when I got the call, I just cried. I've been working professionally now for 14 years. So to feel like I have a break where I get to lead a company like this, it just feels really meaningful.