In three scenes, the actor-singer-director formed new standards of beauty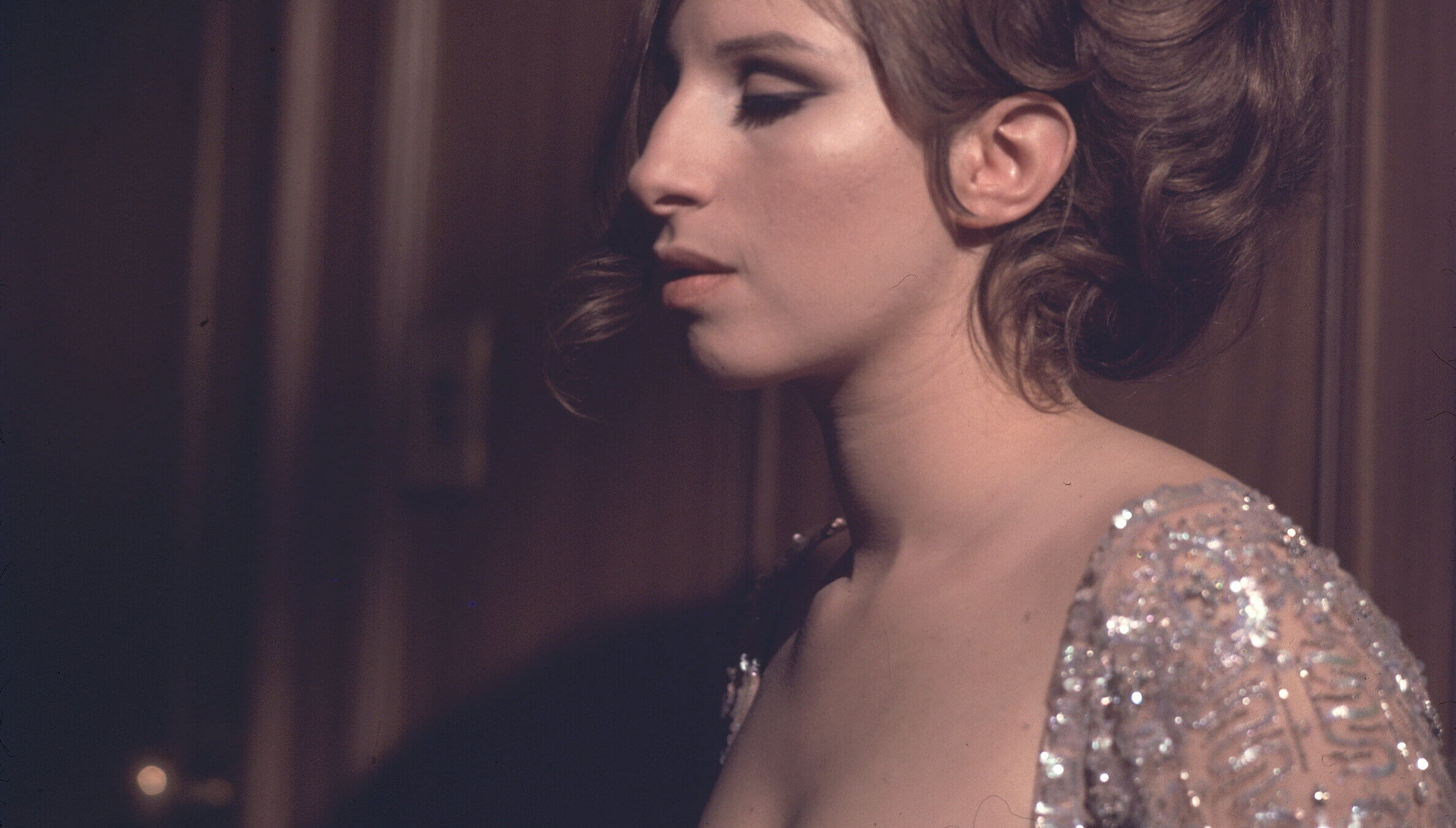 This essay is part of the Forward's list of 125 greatest Jewish movie scenes. You can find the whole list and accompanying essays here.
To be a 13-year-old movie geek in the 1960s, one who was female and Jewish, meant a daily immersion in whitewashed ethnicity. Millie Perkins, a gentile, was cast as the lead in "The Diary of Anne Frank." Susan Kohner, whose mother was the great Mexican actress Lupita Tovar, played the biracial daughter of Juanita Moore, who was Black, in "Imitation of Life." Natalie Wood, whose immigrant parents were Russian Orthodox, played the Puerto Rican-born heroine Maria in "West Side Story." 
I could not fail to notice that almost every other young woman on screen seemed to be a cornsilk blonde with eyes of cornflower blue and the upturned nose of a Dresden doll. It was a conformist era, and I did not conform. Worse, I was too timid for nonconformity. Enter Barbra Streisand, who upended everything, making it possible for Jewish women to play Jewish women   – and to be desirable in their Jewishness. There are three different sequences of  Streisand,  released at different times of my life, that had an extraordinary impact on me, and continued to reshape both feminine standards of beauty and  feminist thinking
 "Color Me Barbra." Streisand's second TV special, on CBS, in March 1966 changed the way I saw myself and redefined beauty for a new generation.
How could "Color Me Barbra,"  a TV special in which Streisand wandered through a museum, imagining herself as Thomas Eakins' "The Concert Singer" and suggesting her resemblance to Modigliani's "Portrait of a Polish Woman" be formative?  How could a show that featured Streisand serenading an anteater with "Look at that Face" and a baby elephant with "Try to Remember" be anything more than mildly diverting?  Yet it was both. The precise nanosecond I saw Streisand's profile next to a bust of Nefertiti, I thought, "Yes! This is classical beauty. I am a classical beauty." I could make that leap because of Streisand's poise and pride in herself. 
I immediately "got" the subtext of the show: Beauty is not in the eye of the beholder; it is in the soul of the beheld. And if you, like Streisand, possessed confidence, vitality and wit – if you could laugh at yourself as well as others and had a particular talent – you could captivate. That was a force more potent and more active than decorative beauty, which is passive.  Streisand proved why an original fascinates more than an archetype. She was physical. She sang the body eclectic. People called her "offbeat," that 1960s euphemism for "different." And in the case of Streisand, different meant Jewish.
"Color Me Barbra" preceded the singer's 1968 movie debut as Fanny Brice in "Funny Girl," the character she originated on Broadway. The moment in that film when Barbra becomes Streisand is the scene where she appears as an awkward duckling (none dare say ugly) in a Ziegfeld Follies parody of "Swan Lake."  Who looks at the precision pointe work of the corps de ballet when Streisand dances to the beat of a different drum? Naturally, the underlying metaphor of the number is the duckling's transformation to Swan. Still, Streisand 's performance in her debut, and so many roles that followed, raised the question, why settle for swan when you're a rare bird? (I wish YouTube had existed when I was a teenager, so I could have replayed the moments when she performs changements, cupping breasts so they don't jiggle, and a bit later pushes away Prince Siegfried's head when he rests it on her bosom.)
Streisand's singularity and take-charge persona are manifest in much of her screen work, but especially the movies in which she directed and starred, which were revelations in part because the camera eye was curious rather than judgmental. I'm looking at you, "Yentl." By the time of its release in 1983, I was a film critic and many of my colleagues, a plurality of them male, dismissed it as a vanity production. True, Streisand co-wrote, starred and directed the film adapted from an Isaac Bashevis Singer story. But did anyone dismiss Clint Eastwood or Denzel Washington for being a director and star? (You don't have to be a woman or a Jew to hear the sexism and antisemitism in the barbs aimed at Streisand.) 
What struck me about "Yentl ," the story of an early 20th century young woman who poses as a man so she can continue to study Talmudic law, was its delicacy in showing that extending our sons' prerogatives not extended to our daughters is patently unfair. "Yentl" was released roughly a year after "Tootsie" and "Victor/Victoria," both about performers who dress as the opposite sex to find work. In these latter two, respectively a situation comedy and a farce, the cross-dressing is  played for laughs. Thoughtfully,"Yentl," played it as fable.
In two remarkable scenes we see Streisand as Yentl's male alter ego, Anshel, behold the scrumptious Hadass (Amy Irving), as the song, "No Wonder," expresses the inner thoughts of Anshel/Yentl.  Director Streisand shows that while Anshel appreciates Hadass for her feminine charms and submissiveness, and while as Anshel, Yentl enjoys the male privilege of being served and adored, ultimately, she wants to be a woman valued for her intelligence, impossible in her current context. Using music and a character, posing as someone she was not, Streisand found a film language to communicate that divided self and a way to reconcile it. How that resonated with feminists like me in 1983, as did the denouement of the film, where Yentl sets off to a new world, hoping to create a new context for herself and others.
When the history of 20th-century women is written, Barbra Streisand will get a chapter (or three) as the singer who could variously win, break and tickle hearts with a song; as the actress and director whose dynamism was an action movie in itself; and as a woman, the one who created the new criterion for beauty. Offbeat, and always ahead of her time.