125 greatest Jewish movie scenes
In 'Call Me by Your Name,' a scene of Jewish (and gay) discretion
Queerness and Jewishness — forms of Otherness — are overlapping identities in Luca Guadagnino's Italian film.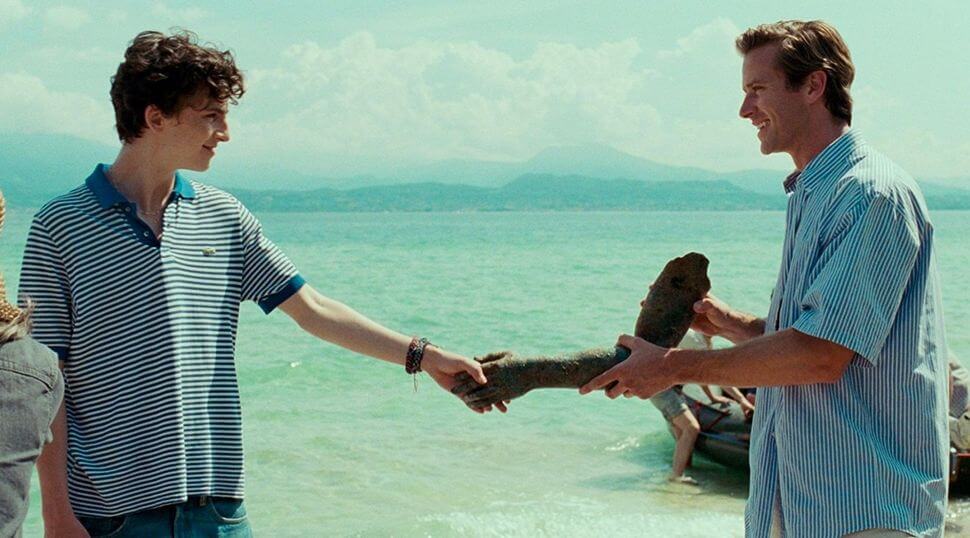 This essay is part of the Forward's list of 125 greatest Jewish movie scenes. You can find the whole list and accompanying essays here.
Luca Guadagnino's lush Italian masterpiece, "Call Me by Your Name," is full of romantic subtleties: long lingering looks, brief touches, meaning-laden passages read aloud. But nothing is ever fully overt, in keeping with the central family's European, intellectual sensibilities; anything otherwise would be gauche.
As a result, though nearly every major character in the film is Jewish, they largely keep that quiet; Elio, the teenage star (Timothée Chalamet in his breakout role), says his family are the only Jews to ever set foot in the tiny Italian town they summer in — at least until his father's graduate student assistant, Oliver, arrives, played by Armie Hammer at his most charming.
"I'm from a small town in New England, I know what it's like to be the odd Jew out," Oliver replies.
Judaism, as becomes obvious, is not the only way in which Oliver and Elio are Other; as the movie progresses, the graduate student and the teenager fall in love. But they have to tread carefully. In one scene, the nature of their clandestine relationship, and Elio's own largely obscured Jewish identity, is spelled out for us.
When Elio gets a bloody nose, Oliver is the one to take care of him, beginning the halting development of their intimacy. Elio notes Oliver's Star of David necklace, and tells the older man that he, too, used to have one, but he never wears it. Oliver, rubbing Elio's feet — something he says his bubbe used to do for him, though this feels far from grandmotherly — asks why he doesn't display his Judaism, and Elio replies: "My mother says we're Jews of discretion."
The same is true of their relationship as it begins to grow; they are careful to be discrete. When Elio attempts to express his burgeoning feelings, Oliver shuts him down, saying they can't talk about such things. When Elio tries to be affectionate in public, Oliver pulls him into a hidden alley before they can touch. 
But discretion doesn't exactly mean their relationship is hidden, just as their Judaism is there, albeit subtle. It's clear that Elio's parents, who are hosting Oliver, notice the pair's feelings for each other, exchanging glances without saying anything aloud. The other teenagers Elio hangs out with catch on. And, though never mentioned explicitly, it's clear that their courtship is accepted and supported.
And as the two become more comfortable in their relationship, Elio begins to openly wear his Judaism, flaunting a Star of David necklace that he chews on when he thinks about Oliver.
Though Oliver eventually leaves, and their relationship ends, the comfort with Judaism — and perhaps with queerness — persists. In the final scene, Elio, dressed in a flamboyant button-up printed with abstract faces, walks through the house, lit up for Hanukkah, the family's housekeeper making latkes. He cries at the loss of Oliver, but his Judaism, the menorah cozily flickering in the background, is comfortable.